The Cotswolds. The name itself holds so much renown across the globe. Simply saying the name conjures images of tiny thatched-roof cottages or golden-hued buildings crafted out of locally produced Jurassic limestone from which a predominantly rural landscape emerges. With these buildings comes 787 square miles of rolling hills which conceal some of the most beautiful villages in all of England. Nowhere brings quite a quintessentially British aesthetic to life! It is as if the worlds of 18th-century Romantic literature, the likes of Jane Austen, or landscape paintings by John Constable have somehow managed to jump into reality. And what's more, in a sea of modernism, this rustic and simplistic style, is thriving! To help you navigate and plan the perfect getaway to the Cotswolds, this compiled list ranks the top 5 Cotswolds villages for you!
castle combe
Without a doubt, Castle Combe is the pinnacle of the Cotswolds. Situated in the Wiltshire countryside that is jaw droppingly beautiful, with slowly flowing streams, magnificent gothic cathedrals and emerald ivory making its way up building walls. There's no satellite dish or tv aerials in sight, and there's certainly a feeling that nothing has changed around here for centuries. Belle's charming little village in Beauty and the Beast has nothing on Castle Combe and it's easy to feel like royalty walking around these ancient streets.

It is believed that the area was originally settled by Celts in ancient times. According to most accounts, the village owes its name to a Norman Bailey castle that stood about 1/3 mile to the north. While this castle no longer exists, there is a 14th-century market cross erected where the three principle streets of the lower village converge. During the 15th-century weekly markets were held and prospered under Millicent, the wife of Sir Stephen Le Scrope and then of Sir John Fastolf, a Norfolk knight who was the lord of the manor for fifty years. This is the same knight who inspired William Shakespeare's Falstaff and who promoted the woollen industry. As a result, Castle Combe became a medieval village that now holds a very special place in English history; as the centre of a thriving wool trade!
This village is a perfectly preserved slice of medieval history and architecture, one that looks like it has been plucked out of the pages of a fairy-tale book! It is easy to see why this tiny village has earned its reputation for being one of the most photogenic places in England!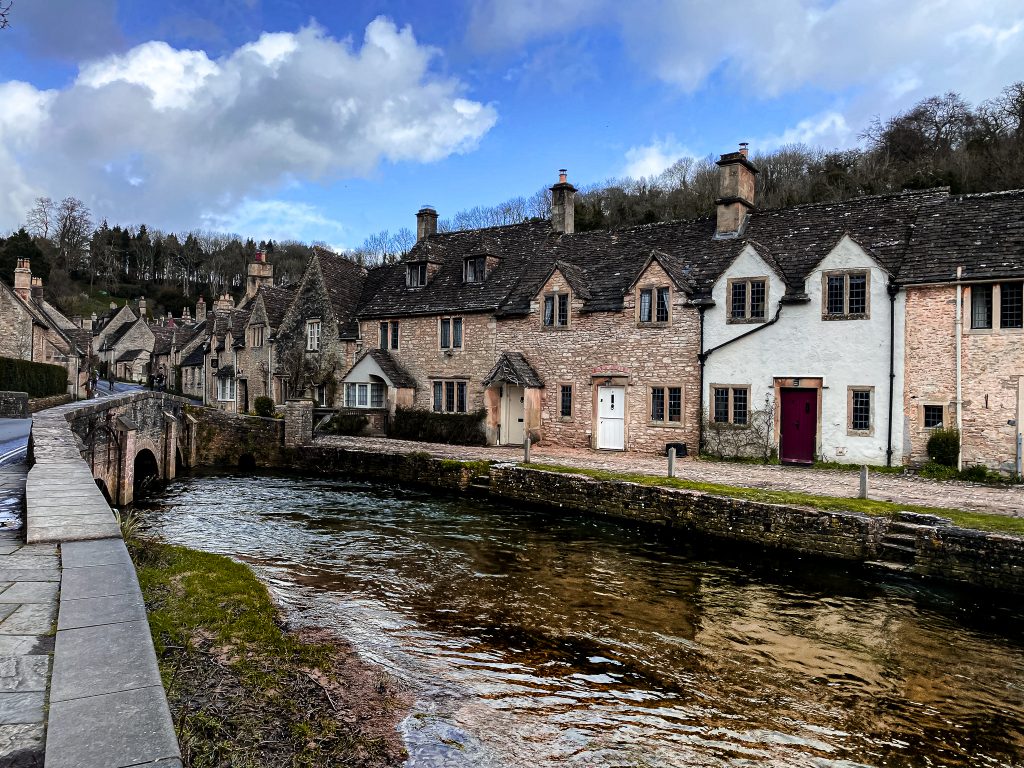 lower slaughter
Dating back to over a thousand years, Lower Slaughter is built on the banks of the River Eye, a slow-moving stream that connects Lower with Upper Slaughter and is crossed by two footbridges. Yes, this might sound like the last place in the world where you'd find the most elegant and picturesque village in England. However, the towns name actually derives from the Old English 'slough', meaning 'wet land'.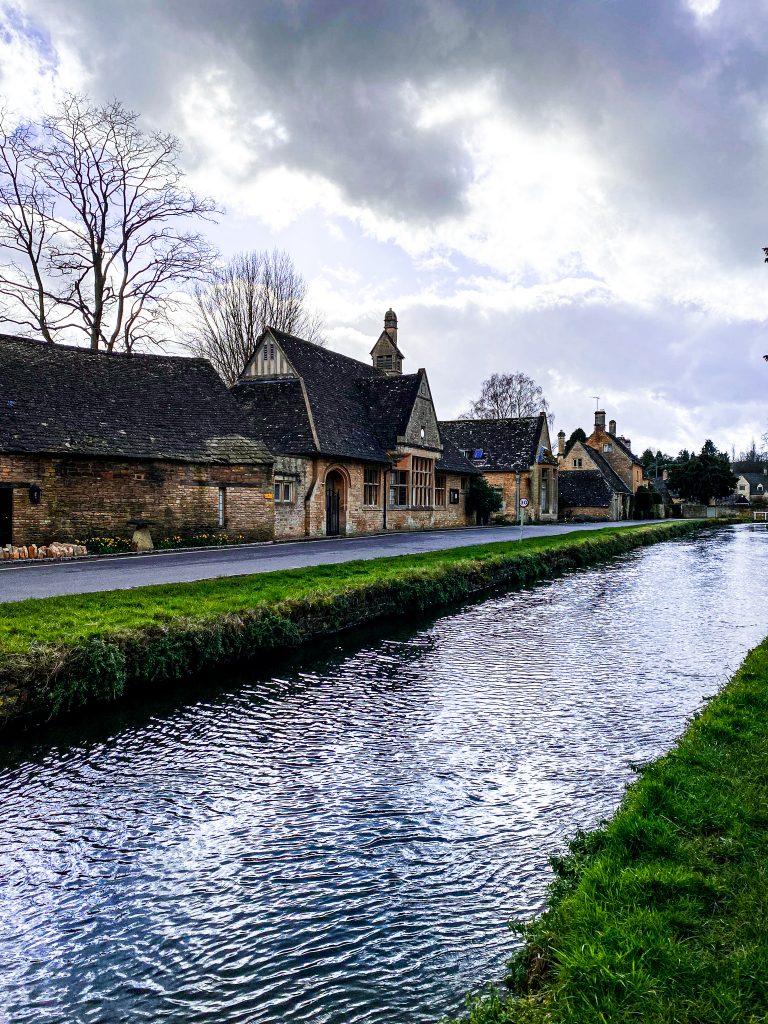 This quaint settlement was originally attested in the Domesday Book as 'Scolstre,' meaning that Lower Slaughter dates all the way back to the Middle Ages, and possibly even earlier. After all, here in the Cotswolds people have been living and working for centuries!
There's also a stunning 13th-century Anglican parish church that is dedicated to St. Mary the Virgin and an incredible 19th-century Water Mill that includes an undershot waterwheel and a chimney for additional steam power. The sound of melodious birds chirping adds to the serenity of the water, making this quaint village the perfect location for a peaceful afternoon!
Upper Slaughter
While connected to Lower Slaughter, there is a completely different frequency to Upper Slaughter. The first was situated on long, flat terrain, whereas the latter commands higher ground with parts of the village, including the church, towering over acres of tiny thatched cottages. This distance from the water changes the atmosphere completely. Earlier everything was calm and tranquil, but a short 10-minute walk away from Lower Slaughter, alters the place and now it is starkly full of energy. From two pheasants mating to the cherry blossom trees budding early, there's life and activity all around.

It's strangely hopeful, and as the sun shines, there's this distinct feeling that the village is not haunted by its own history. Indeed, its history is unusual but uplifting; it is the only village in England to not lose a single man in World War One or World War Two. The 17th century style, Eyeford Manor House, with its Baroque details and classic Cotswolds stone adds to the idyllic nature and charm of the village. It is not surprising that the poet John Milton was inspired by its grounds to write his legendary Paradise Lost.
Chipping campden
A contrast to these small villages is Chipping Campden. Much larger in size, and certainly populated by more people, this old wool merchant's town has an elegant terraced High Street running through the centre. Dating from the 14th century, the towns' place name, like many Medieval settlements, reveals the purpose behind establishing the area. 'Chipping' derives from the Old English cēping, meaning 'a market; a marketplace'. Wonderfully, this tradition evades time as locals set up camp for the day; selling locally produce products which include very rural things like animal skin rugs.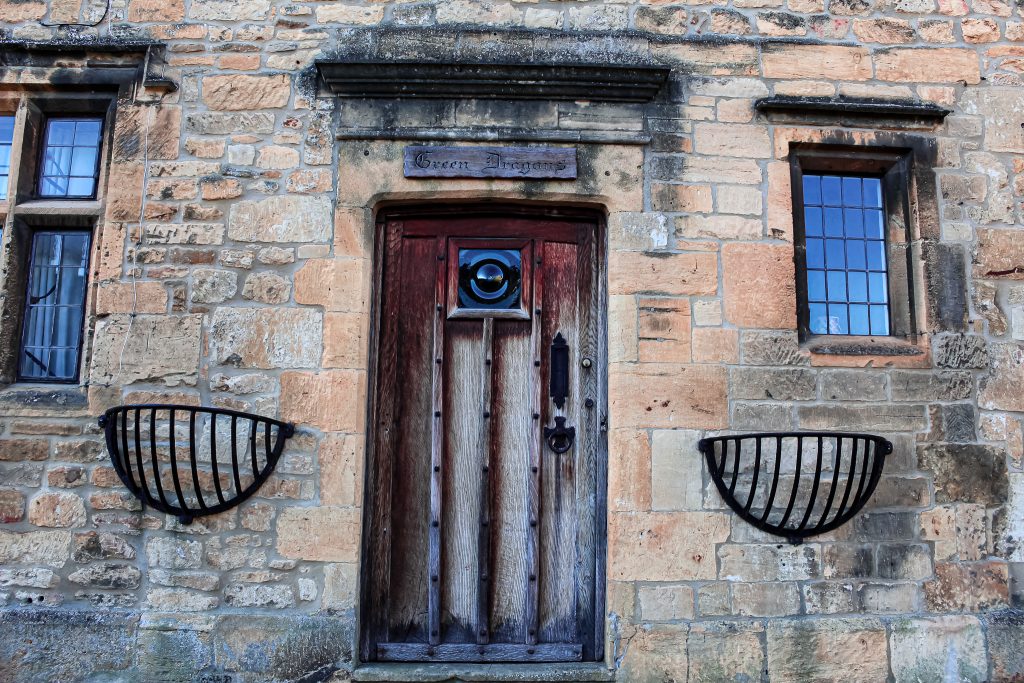 Proceeding down the High Street, quirky shops, old inns, hotels and restaurants are all housed in the characteristic honey-coloured limestone buildings. However, Chipping Campden is set apart from other Cotswold towns. It boasts a wealth of fine vernacular architecture; a style characterised by the use of local materials and knowledge, usually without professional architectural training. These vernacular houses include a wide range of buildings, building traditions and methods of construction, bringing to life the individuality of the town and the unique and changing identities of its previous residents. The age of the town is evoked by the weathered stones while the grand early perpendicular church of St. James pays homage to the original wool merchant, William Grevel. There is a plaque describing him as "the flower of the wool merchants of all England".
Bibury
There are many historic buildings to feast your eyes on in Bibury; from Bibury Court to the distinct Arlington Mill. However, Bibury's claim to fame and the reason why it earned its stripes as the most beautiful village in England, is the picturesque Arlington Row cottages. Think Poldark meets Lark Rise to Candleford and you'll just about imagine its quirkiness and quintessential English vibe! Originally built in 1380 as a monastic wool store, these buildings were later converted into a row of cottages for weavers in the 17th-century. They are now in the care of the National Trust and it is no wonder they are immaculately preserved!

These cottages overlook a water meadow and the Arlington Row river. It is easy to imagine an elderly labourer of the 17th-century sitting on a bench here, contemplating life while smoking a tobacco pipe. It has the appearance of having been left behind in another century. However, due to its National Trust status, Bibury sees more tourists than any other village. For this reason alone, Bibury takes fifth place in this top 5 Cotswolds villages list. The amount of people, cars and busses shatters the illusion of a small country village. To avoid this, head over here early and catch the sunrise sparkle over the water.
Exploring the Cotswolds is a unique experience and this top 5 Cotswolds villages list will help you prepare for any upcoming trip. If you are looking for more quaint, picturesque villages, check out Portmeirion Day Trip Guide, Off the Beaten Track: Uncharted England or Lacock: A Quintessentially English Village.
If you are inspired by the photos in this top 5 Cotswolds villages article, make sure to head to the subscribe box at the top of the page to grab your FREE How to Take Professional Travel Photos Guide!
Like it? Pin it!