'One step at a time'. It's a phrase I use when undertaking a task that's proving a challenge. And as I'm ascending the insanely large stairs of this medieval castle, while the 30-degree heat clings to my skin, it's looping in my mind and propelling my feet forwards. But the awaiting view makes the effort entirely worth it. What's before me is much like the Great Wall of China. There's a classic crenellated parapet undulating through bushy trees and coiling in ribbon-like formation around the historic town of Óbidos, Portugal.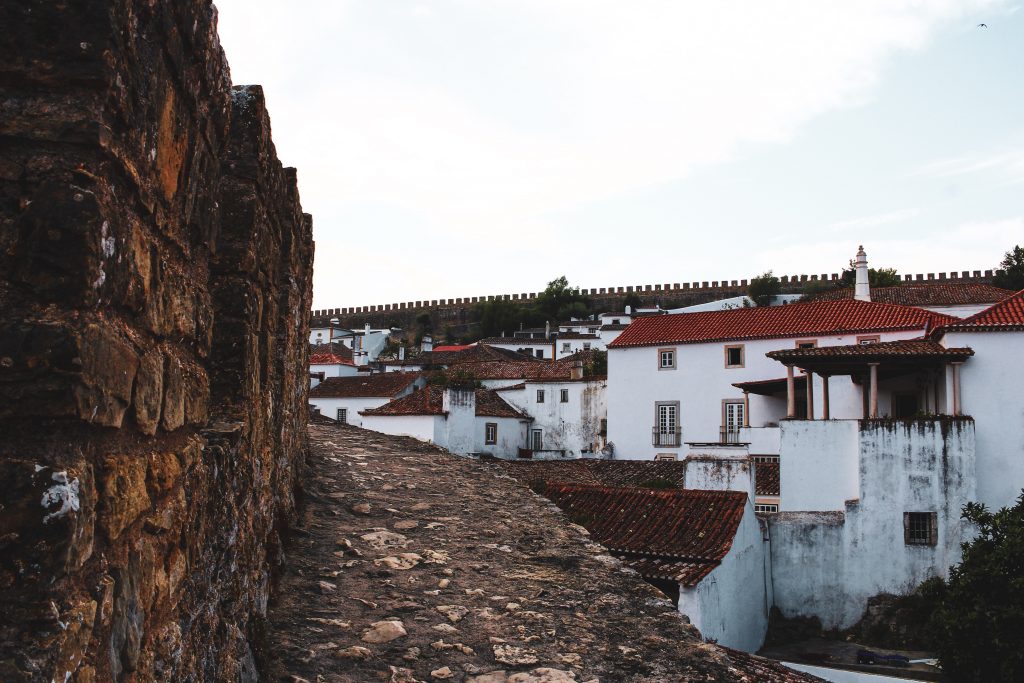 There's also a slight reference to the Berlin Wall (but without its intrusive and divorcing connotations). The terracotta roofs within the enclosure are divided from the outside world only by the battlements' wall. A labyrinth of cobblestone streets, flower-decked whitewashed houses with their borders livened by a splash of bright yellow or blue paint, and local crafts populating the doorsteps are the prevailing scene. And if you didn't know any better, you'd be convinced that you were in the 14th Century, and life is as simple as it seems!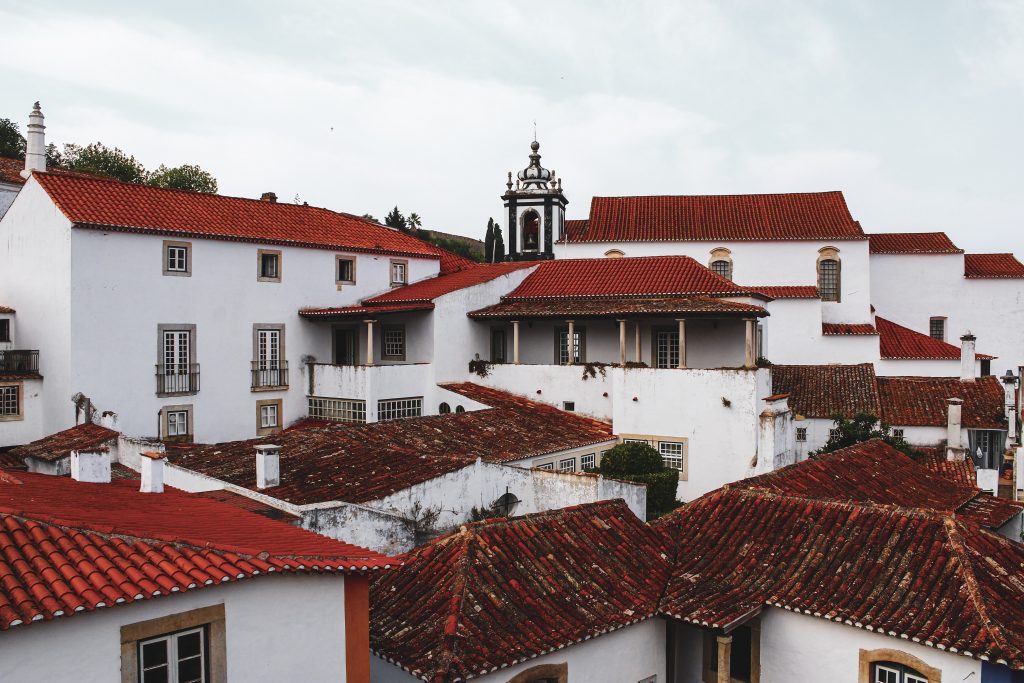 A Wall with a View
The rolling greenery oozes a dandelion-yellow warmth after having spent many sleepy days under the Mediterranean sun. The encompassing mountains fade into a hazy horizon, leaving the imagination to wonder at what point does the sky begin? This romantic setting is befitting the town the Portuguese call the "Wedding City", after a tradition whereby ancient kings gifted the village to their queens as wedding presents. The broccoli-looking trees climb to the base of the hefty turrets and beyond the local houses' windows. In some parts, there's a distinct idea of living within the woods. But a prevailing thought enters my mind as I survey this land. I imagine a Prince Charming clambering the trunks to deliver his Rapunzel from captivity. How many happy-go-lucky, besotted lads nowadays act on such an idea, to steal a few brief moments with their childhood sweethearts?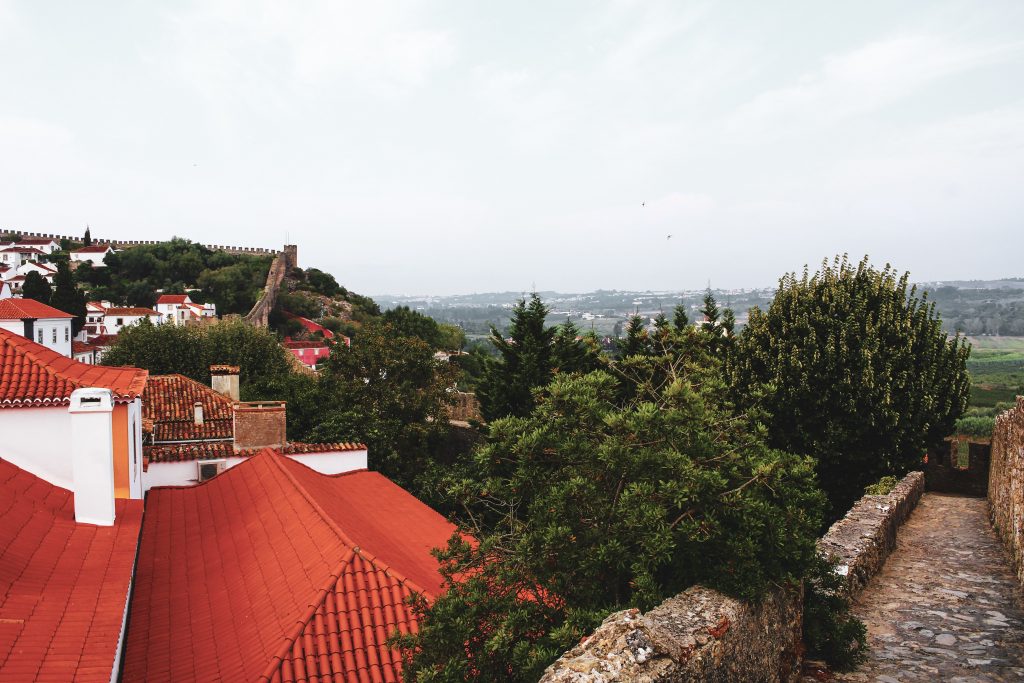 A Place of Friendship
With a population of just over 3,000 people, there's an undeniable closeness in Óbidos, and it doesn't just come from the medieval walls. It's evident everybody knows everybody. And if there was a young lover breaching the threshold of his lady's windows, then it's an inside secret – kept alive by the locals' knowing glances.
Slow Lifestyle in Óbidos
Now I cautiously descend the medieval wall, once again saying to myself 'one step at a time'. Although this time it's more to reassure me that I'm not going to slip on these uneven steps. I see narrow alleyways lined with red umbrellas, under which there are families diverting themselves with local seafood specialities. However, the couple next door – oblivious to anything other than themselves – tries the locally sourced Ginja de Óbidos. A local invention – a Portuguese cherry liquor, also found in Lisbon – but here the shot of Ginja comes in an edible chocolate cup. There's something quite romantic about combining alcohol and chocolate. They are customarily the go-to items for a valentine, and perfect for the town founded on romantic gestures.
Local ceramics of blue and white, handmade scarfs and loose white clothing typical of warmer climates, charming sketches of Óbidos and postcards frame the shop facades on the Ru Direita. It's a community shaped by its landscape, but also by its past. Moorish influences are in every nook and cranny, returning to the early days. During this time the Moors established a fortification on this mountain, and later in 1148, the Moors took the area, led by the first King of Portugal, Afonso Henriques.
Óbidos Is A Bibliophile's Paradise
Navigating my way through the gossiping locals, I reach the entrance of Óbidos castle. Here, the 13th Century Church of Santiago has been remodelled as the Grande Livraria de Santiago – "The Grand Bookstore of Santiago". Where the marble altar used to stand, there's a display of bestsellers. Moreover, the pews where congregants used to kneel and pray are replaced by magnificent shelves of art books, biographies and novels in all manner of languages. The market has experienced similar rebranding. The crates that once held vegetables are now fixed to walls, containing books on travel, wine, and cooking. Even the once wine cellar, Livraria da Adega, has many books for your perusal while you sip the local Vinho.
A Fairytale Ending
Ending at the reason for my starting position seems fitting – the seemingly impregnable Óbidos Castle. In keeping with the rest of the town, Óbidos castle (one of the seven wonders of Portugal) still embraces its Moorish influences. However, there's no doubt the castle's new function is more intoxicating. It's now one of Portugal's finest Pousada. And spending the night here, with its ancient architecture and classic fairytale-castle interior, reinforces my initial statement. This is the town with "lost in time" qualities.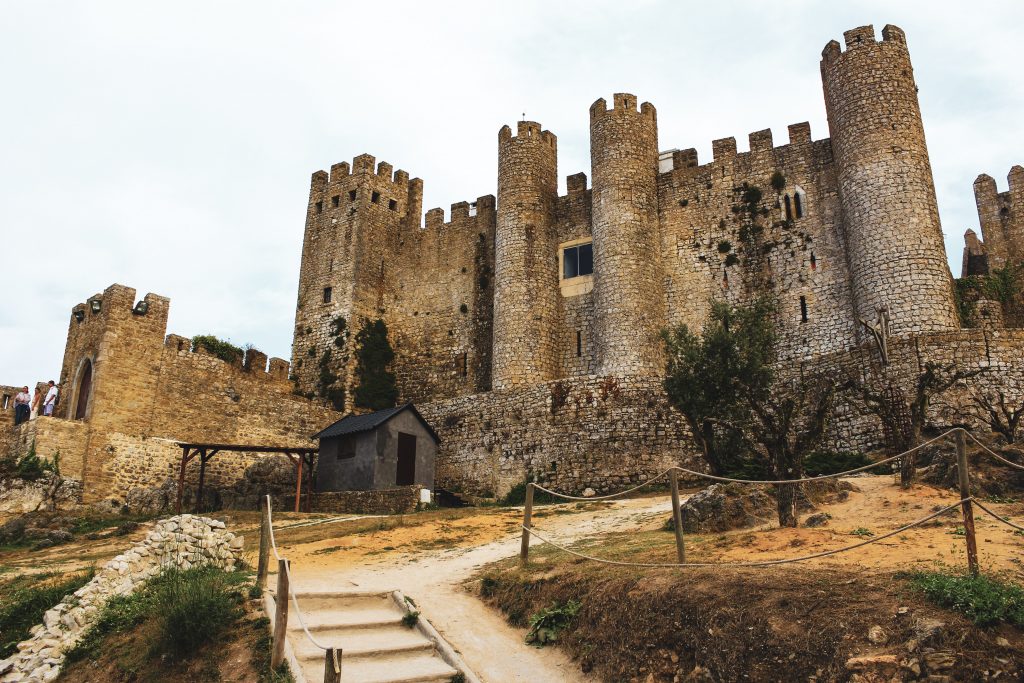 Meanwhile, for more guidance on what you can do in Portugal, check out my 10 Day Portugal Itinerary!
Finally, head to the subscribe box at the top of the page. This will keep you updated with my travels or for future inspiration. Sign up at this box to also grab your FREE copy of my PDF guide. Moreover, this guide is about How to Take Professional Travel Photos!