There's no denying Cornwall holds a special place in many hearts, being the leading destination for staycations in the U.K. and a place of unimaginable beauty to global viewers. Its sparkling turquoise sea is hugged by rugged coastlines dotted with romantic ruins of old tin mines and castles. Poldark fans to surfing enthusiasts adore this landscape, and the famous Cornwall microclimate adds an unusual weather system to the U.K. that we Brits crave. Of course, the city has its busy days during the summer, but this tried and tested guide to Falmouth, Cornwall, is full of hidden gems and natural wonders. We even cover the alternative things to do in Falmouth, like eating Jordanian cuisine in an ancient castle. So, get ready to be inspired to book your next trip as we go into detail on where to stay, eat and explore in and around Falmouth, Cornwall.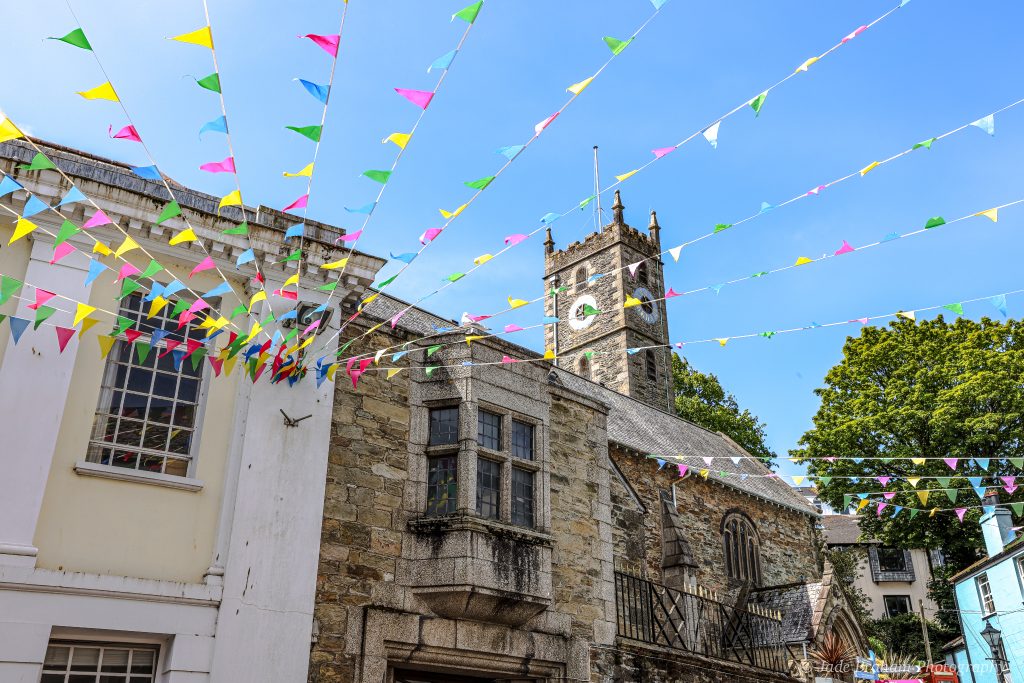 How to get to Falmouth, Cornwall
For those heading to Falmouth, Cornwall from South West Wales like we did, or London, you'll need to take the M4, M5 and then the A30. Alternatively, there are train or bus journeys you can opt for from all over the U.K. as Falmouth does have a train and bus station.
Where to stay in Falmouth, Cornwall
There are many luxury hotels in Falmouth, Cornwall, like The Greenbank Hotel, the oldest hotel in Falmouth with harbour views. Another great option is St Michaels Resort Hotel which overlooks Gyllyngvase Beach. Equally, there are numerous luxury houses and cottages in Falmouth to rent, including a quirky shepherd's hut. However, if you'd like a combination of the two, then I have the perfect gem for you.
The Merchants Manor Falmouth is an adult-only hotel in a 100-year-old building with vintage furniture, exposed wooden panelling and local artwork. The rooms range from single to king-sized beds with duck-down duvets and walk-in showers, some of which have a private balcony overlooking the pool area. The master bedrooms are situated in the original house and close to the Linen Rooms Spa. If you desire a massage, book well in advance because the spa's small team are only reachable via email and can take a while to respond. This caused a lot of confusion during our stay.
However, unique to the Merchants Manor Falmouth are the two luxury self-catering private residences. The first, Lookout, has a 22m glazed terrace with views of the sea, two bedrooms and a private jacuzzi.
We opted for Landlubber, a two-bedroom apartment with timber frames, oak cladding, green and white handmade tile interiors, and glass walls. There's a Scandinavian vibe rather than Cornish, and the 30m private deck and jacuzzi overlook the hotel's fantastic sub-tropical garden. In summer, this garden is a haven for catching a few rays as there are multiple jacuzzis, sun loungers, an outdoor dining space and a garden bar that serves the best watermelon cocktails.
Both apartments give you access to the hotel's spa and three AA rosette restaurant, which was voted Falmouth's best dining experience.
Where to eat in Falmouth
Aside from the restaurant at the Merchants Manor Falmouth, there are three other dining options that I want to point out. For those looking for a laid back environment, where spending hours drinking is a social pastime, head to Beerwolf Books. The pub is somewhat of a secret, presumably because it is tucked away from the main streets. It has a mock Tudor facade with a traditional pub and bookshop interior. In addition, it is only a couple of minutes from Falmouth's main high street and the St Mawes ferry terminal.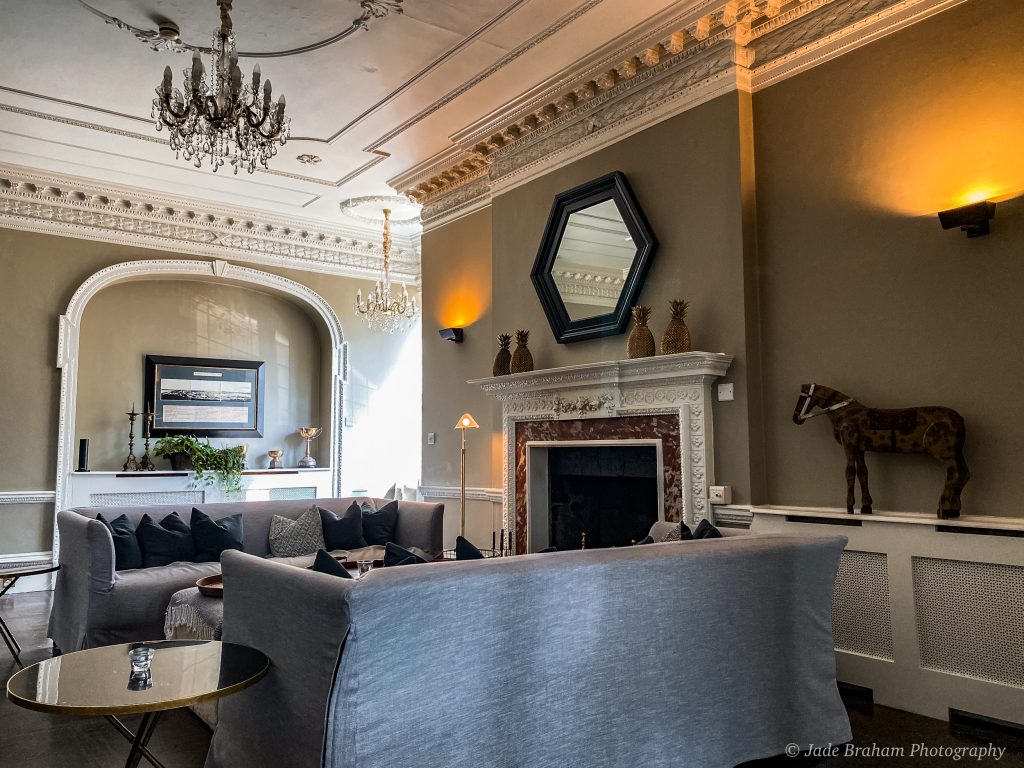 Secondly, the Thai Orchid Falmouth is the town's first and oldest Thai restaurant. The interior is like stepping off a plane into Thailand, with authentic wall hangings, carpets and lanterns adorning the space. The food is equally exquisite, with the Chicken Satays and Yellow Curry being among the finest dishes served.
Lastly, the Harbour View is another great place to eat in Falmouth as it's not only allergy-friendly, but it also allows your fluffy four-legged friends to accompany you. It also has a 360-degree view of Falmouth Harbour. Its smashed avocado, chilli, lime and coriander dressing with tomato, pumpkin seeds, rocket and pitta bread is to die for.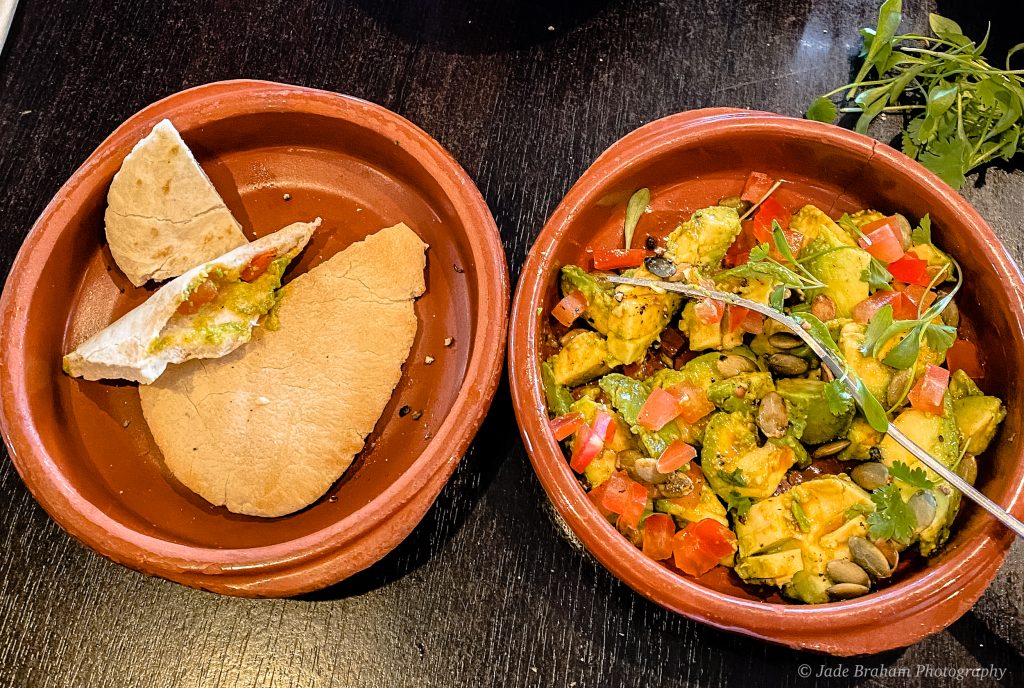 Things to do in Falmouth, Cornwall
Along Falmouth's many high streets, there are some fantastic boutique shops, as well as bakeries. Of particular note is the Cornish Bakery that serves delicious delicacies like the Vegan Curried Cauliflower and Onion Bhaji, and Raspberry Croissants. Visiting the Maritime Museum in Falmouth for the town's national and international history, or lounging the day away at some of the best beaches in Cornwall, like Gyllngvase and Swanpool beaches, are popular recreational activities. Even sitting a while at its natural harbour and horseshoe-shaped bay allows you to watch the sailing boats and cruisers glide by. However, there are some less popular activities you should try and hidden gems to discover!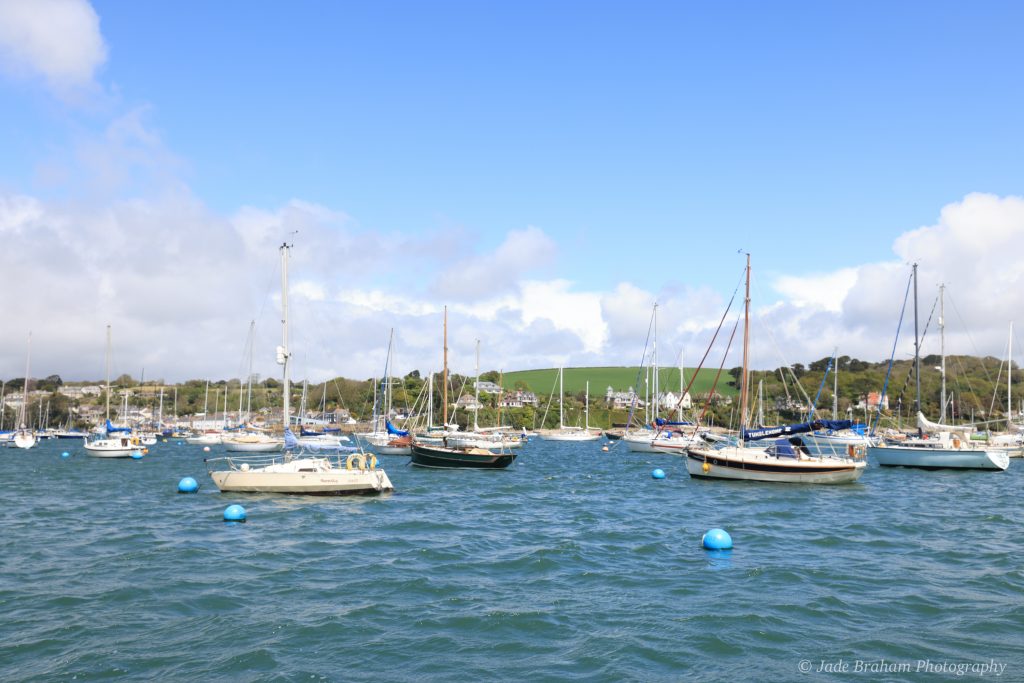 1. St Mawes in Cornwall
From Falmouth, there is a short ferry to St Mawes. St Mawes has rows of white-washed, and pastel cottages intermix with a Mediterranean climate. The Carrick Roads – a large natural harbour – the English Channel and its sheltered bay glisten under the sun, and traditional British summer activities like fishing, crabbing, sailing, and seashell hunting are enjoyed by all ages.
There's a cluster of top-notch places to stay beyond renting a twee cottage, and The Idle Rocks is amongst the best luxury hotel in St Mawes with its sea-view terrace. The sunny disposition of the locals also makes choosing a place to eat local cuisine feel like winning the lottery. A personal favourite is another luxury hotel in St Mawes called the St Mawes Hotel. It has a "from the heart, from the hearth" philosophy, meaning they only serve locally sourced ingredients from farmers and fishers.
The lighthouse on St Anthony Head and St Mawes Castle have exquisite sea views, adding charm and appeal to the village. Walking to both is a pleasant pastime and feels like strolling along a Portuguese harbour, leaving little doubt as to why St Mawes is one of Cornwall's Areas of Outstanding Natural Beauty.
St Mawes Castle has a fascinating history, being one of several fortresses built between 1539 and 1545 to counter an attack from France and Spain. Today, it is one of the best-preserved coastal artillery forts historically belonging to Henry VIII.
2. Pendennis Castle
Situated on the Falmouth headland is the mighty and commanding Pendennis Castle. This is St Mawes' twin castle in both appearance and age, having been built at the same time to defend Falmouth Harbour against invasion. Like its counterpart, Pendennis Castle features a similar circular design, with a round tower and surrounding quarters. This design was intended to allow gunfire from any angle and level.
3. Trebah Gardens
Those visiting Falmouth, Cornwall tend to opt for The Lost Gardens of Heligan or Glendurgan Garden, especially as the latter has its famous maze. However, Trebah Gardens is equally phenomenal and has the bonus of fewer crowds. Its whopping 26 acres of Cornish valley includes footpaths stretching over four miles and a private beach on the Helford River!
You'll find canopies brimming with exotic flowers and 100-year-old rhododendrons, camellias and magnolias. There's also the Mallard Pond which is Trebah Gardens' most iconic view, and you can also find the Koi Pool. This was created in the 1980s and is home to a dozen 10-15-year-old Koi Carp.
Day Trips from Falmouth
Outside of Falmouth's immediate vicinity, there are so many historical, cultural and natural sites to see that'll leave you wondering what on earth is worth visiting. In keeping with the article's theme, our suggestions only include the best hidden gems in Cornwall that allow you to escape the crowds this autumn and enjoy Cornwall's vast countryside in all its glory.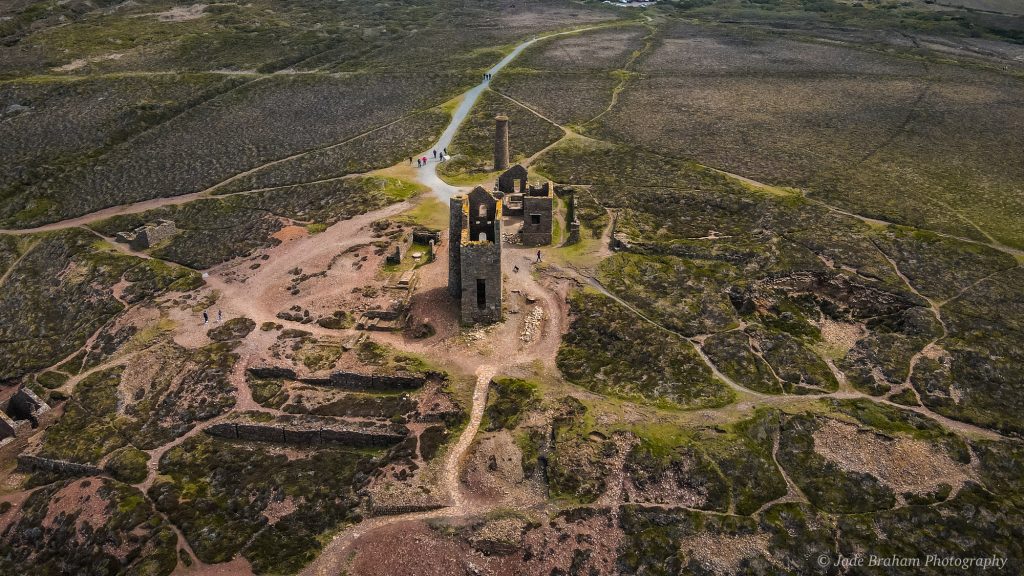 1. Marazion + St Michael's Mount
St Michael's Mount in Cornwall is perhaps one of the county's most famous attractions. But the true hidden gem is the village it resides in, Marazion. A little over 30 minutes from Falmouth, Marazion is a quaint fishing village in Cornwall that's often overlooked by many in a rush to get to the castle.
Yes, St Michael's Mount's serpentine (and rather slippery) causeway is as alluring as the myths surrounding the giant that once lived here. The St Michael's Mount castle is equally mind-blowing, with its facade evoking serious Harry Potter vibes. If you come at low tide, you can approach the island on foot. Otherwise, a small boat will take you across.
However, Marazion has some of the best restaurants in Cornwall, with the Godolphin – a hotel, restaurant and bar – taking first place. The charred local broccoli with roasted garlic hummus, dates and toasted sesame is among the finest dishes here. There are also many shops in Marazion, including boutique jewellery outlets and small side alleys with white-washed cottages that scream Cornwall's rustic charm.
2. Carn Brea Castle Restaurant + Carnkie
As cliche as this will sound, Carn Brea Castle Restaurant is the definition of a hidden gem and one of the best restaurants in Cornwall. It's a 30-minute drive from Falmouth, Cornwall but well worth the adventure as the outcrop in which Carn Brea sits was first inhabited over 6000 years ago. The castle itself was first built in 1379. Its purpose was to be a chapel to St. Michael. In 1790, it was converted into a castle folly by the Basset family, who used it as a hunting lodge. Now, it specialises in Jordanian and other middle eastern cuisines. Surrounding the restaurant is the idyllic countryside of Carnkie, a honeypot bursting with derelict mines, known as the Basset Mines.
3. Carn Euny Ancient Village
A little over an hour from Falmouth, Cornwall, this village has the best-preserved remains of an ancient settlement in South West England. With no other visitors around at the same time we went, this ancient site truly is one of the hidden gems in Cornwall. It is free to enter. Occupied from the Iron Age to the Roman period, Carn Euny has stone houses from the 2nd-4th centuries and an incredible stone-walled underground passage. This is known as a fogou, a feature that can only be found in Cornwall.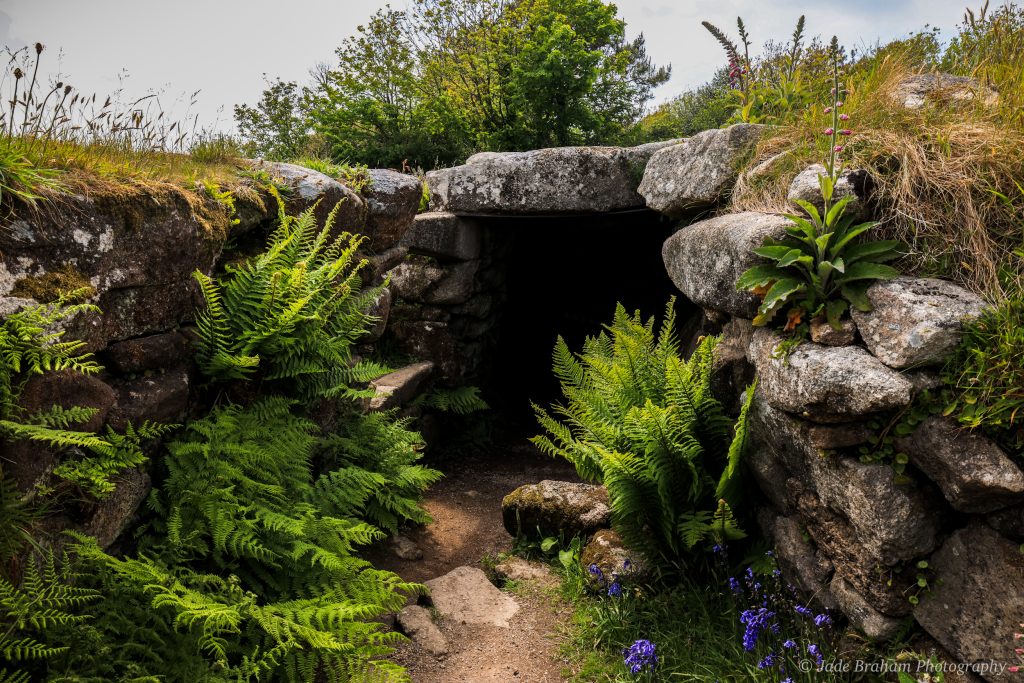 Nearby is a sacred Madron Holy Well – a wishing well encompassed by the Madron clootie tree. This tree is adorned with multi-coloured ribbons and personal objects. Here, the custom of tying cloth to the tree dates to Pagan worshipping. It's continued today as many wish to believe in the tree's healing powers.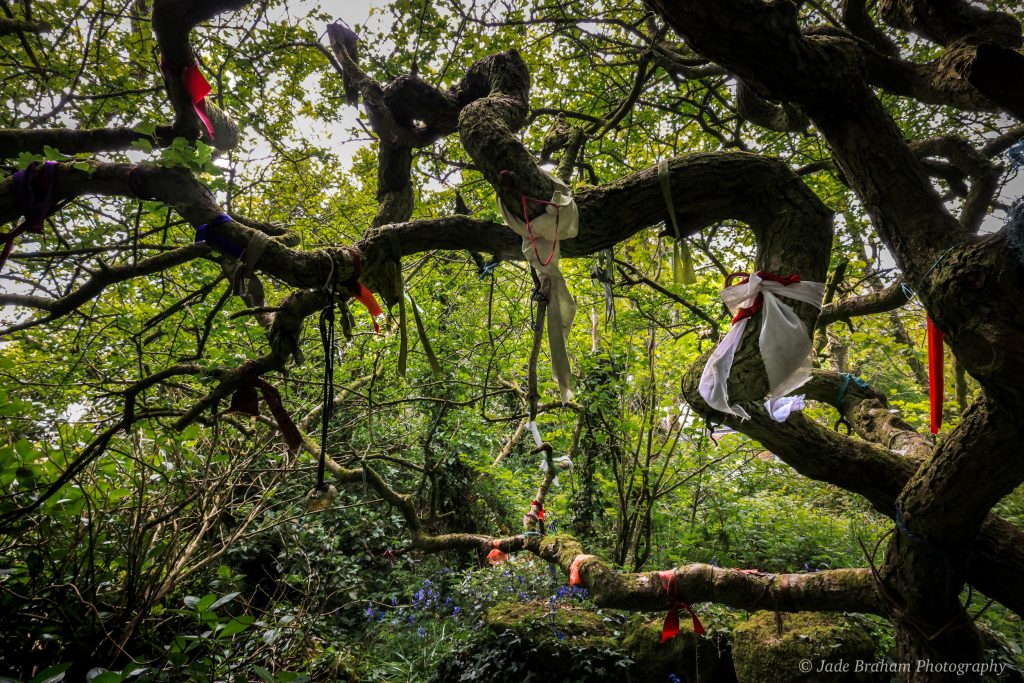 4. Lanhydrock House
Another favourite amongst the hidden gems in Cornwall is Lanhydrock House, which I consider the best of National Trust in Cornwall. So, if you're looking for a day spent in luxury, timeless elegance and pretty autumnal walks with no crowds, then look no further!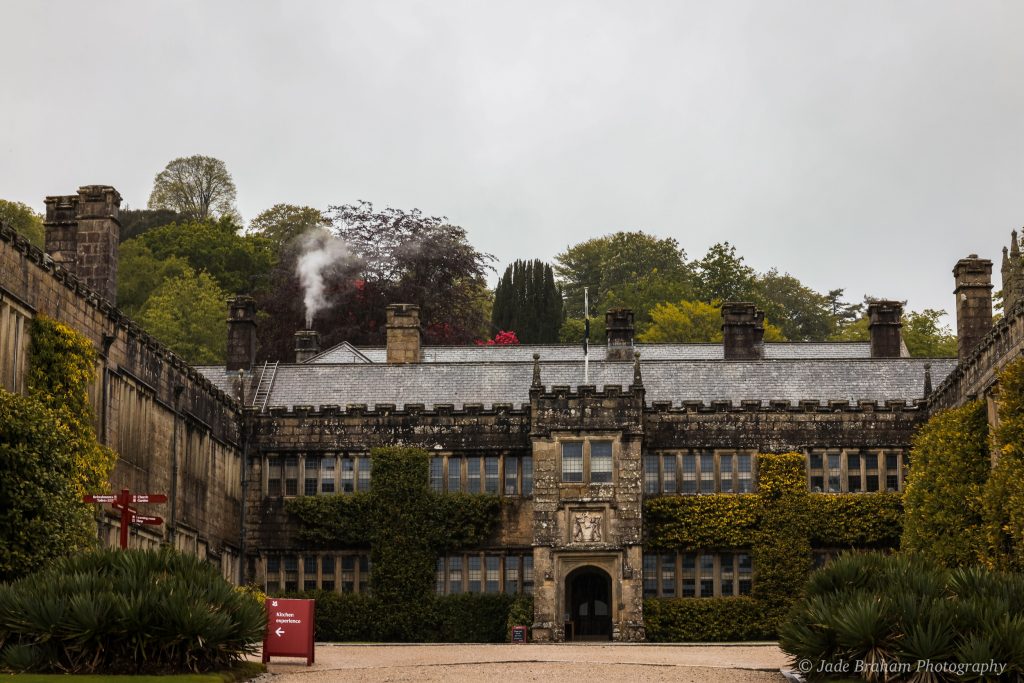 Built of local granite and grey slate around an inner courtyard, the manor dates from 1640 and sits between Bodmin, Lanlivery parish and Lanivet parish, and is less than an hour from Falmouth, Cornwall. What you can see today is the Victorian architectural style used to rebuild after a fire. However, the property's lavish gatehouse and its 116-foot long gallery survive from the earlier house.
Outside, the gardens include a formal parterre, herbaceous borders and a higher garden containing rhododendrons, magnolias and camellias. Its ancient woodlands and riverside paths are full of cattle grazing and the occasional deer, so why not pack a picnic and enjoy the sights?
5. Chapel Porth Beach + Wheal Coates
Just over 30 minutes from Falmouth, Cornwall is Chapel Porth Beach. This is one of those hidden gems in Cornwall that gets overlooked for its neighbouring Wheal Coates Mine. However, the beach is expansive with acres of sand, smugglers coves, waves made for surfers, and a dramatic cliffside carpeted with gorse and heather.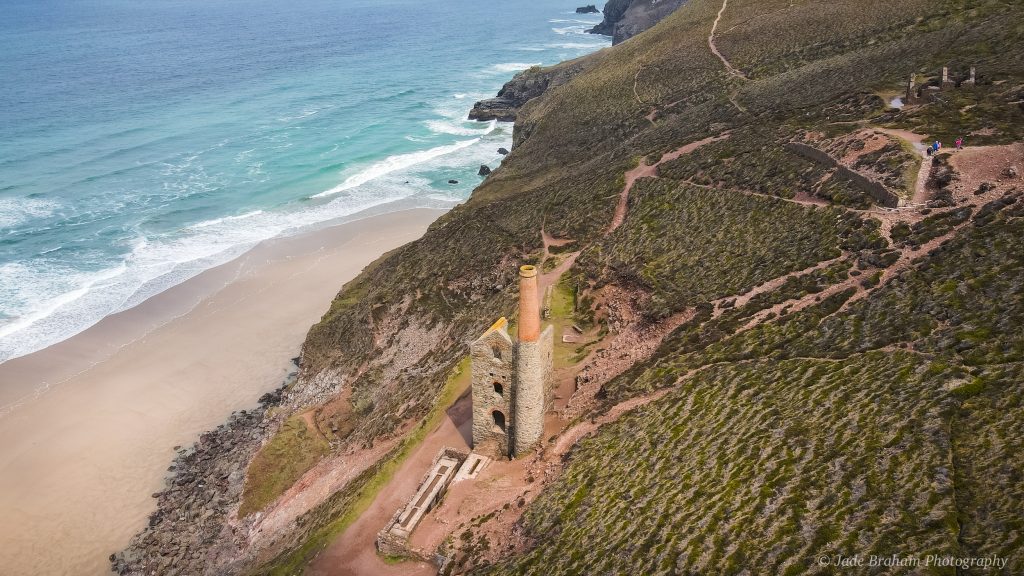 6. Porthleven Harbour
Under 30 minutes away from Falmouth, Porthleven Harbour is a quaint fishing village in Cornwall. It is the most southerly working port in the United Kingdom with massive sea walls and historic buildings. In the old days, Porthleven harbour had over 100 drifters used to fish pilchard and mackerel. Today, it retains the character of a fishing village in Cornwall, with its unspoilt views, famous clock tower, and granite harbour and pier.
Porthleven is a great place to start walking the Cornish coastal path as it has a quiet and friendly atmosphere and several restaurants. In addition, many shops display and sell local arts and crafts, and there's a beach that is well-known to surfers.
West of the harbour entrance, and only at low tide, you can find rock pools and the Trigg Rock. This is a 50-ton rock, and what's unusual is that it cannot be found anywhere else in the U.K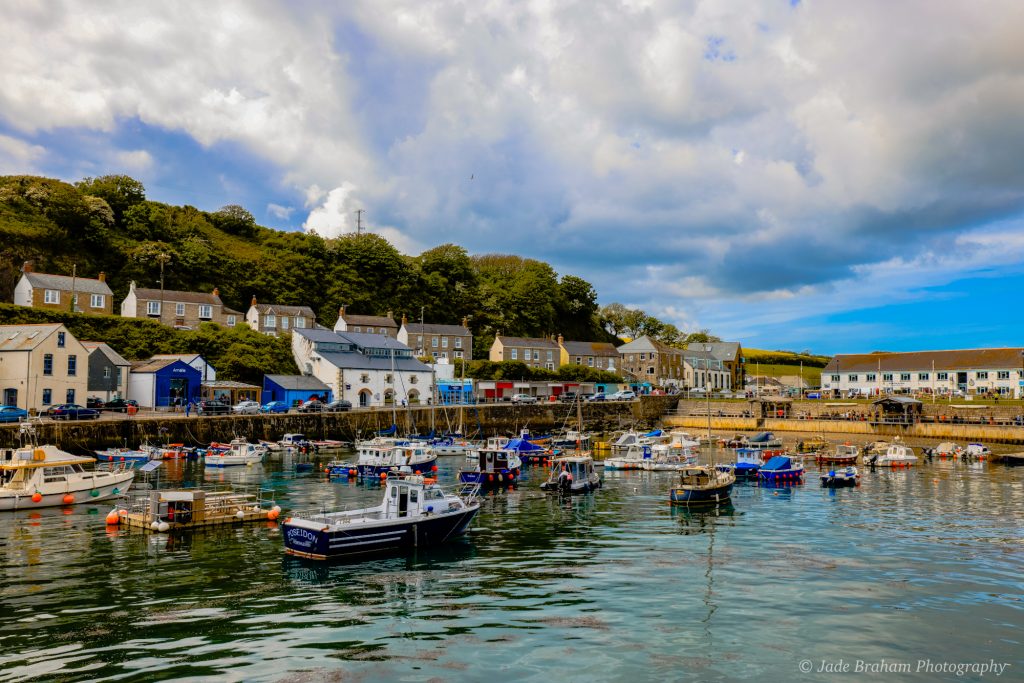 7. Wheal Owles + Botallack Mine
Over the last few years, Botallack Mine has become another famous National Trust in Cornwall location due to Poldark filming there. It is just over an hour from Falmouth, and you can see the counting-house, sawmill, a carpenters' shop, workhouse and the famed Crowns engine houses. The latter cling to the rugged landscape, making it the perfect Instagram photo spot.
However, less than 10 minutes away, near St. Just, is the lesser-known Wheal Owles engine house that sits atop the cliffs peering down to Botallack. In my opinion, being at Wheal Owles gives you a much better view of Botallack Mine and the coastline.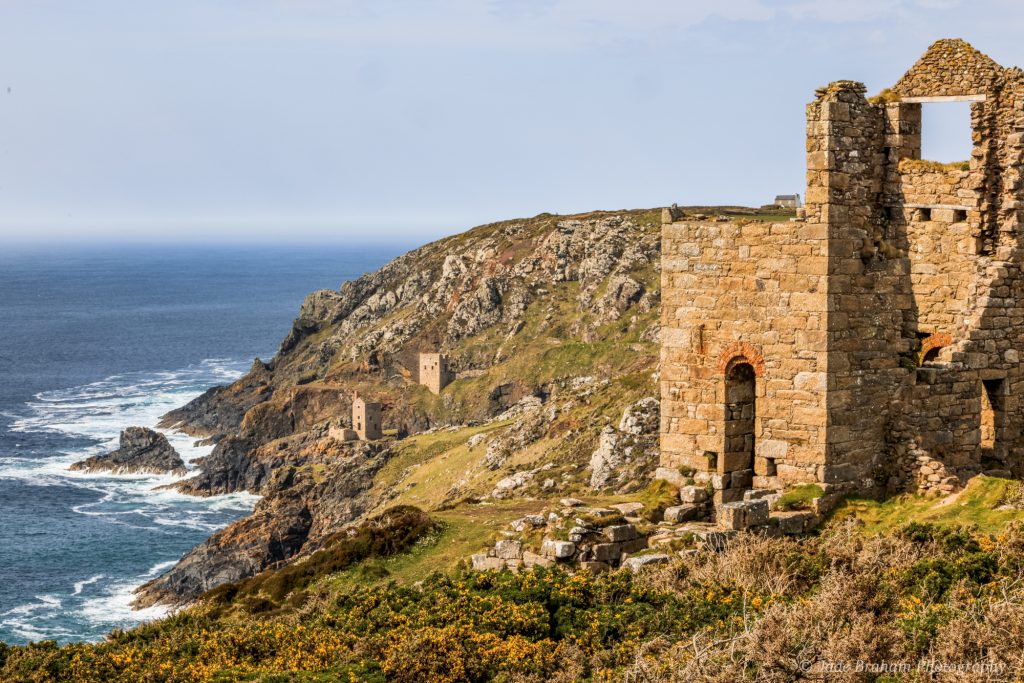 8. Kenidjack Valley
Near Botallack Mine and only an hour from Falmouth is Kenidjack Valley. This valley has a secret cove and eerie arsenic works. These are my favourite hidden gems in Cornwall. The coastal path leading down to the cove passes the Kenidjack Arsenic Works. These are one of only a handful of arsenic works used in Cornwall to roast sulphur and arsenic. From here, you'll see Porthledden Cove, which is perhaps one of the prettiest beaches in Cornwall as it stretches 300m and has outcrops of granite dykes and pink tourmaline. Be aware that there's little to no beach at high tide, but at low tide, there are excellent snorkelling opportunities, rock pools to explore, and it's great for surfing. Photographers or artists will likewise adore this location as its view is of Cape Cornwall.
9. Mullion Cove
Of the two fishing villages in Cornwall included on this list, Mullion Cove is smaller and more mysterious. It is only 40 minutes from Falmouth and is situated on the west coast of the Lizard Peninsula. The cove also has unusually shaped islands that emit a Nordic vibe. It is considered a historic lifeboat station and has retained this authenticity by not allowing cars to park at the harbour. The beach and cove can be explored at low tide; otherwise, opt for one of its coastal paths.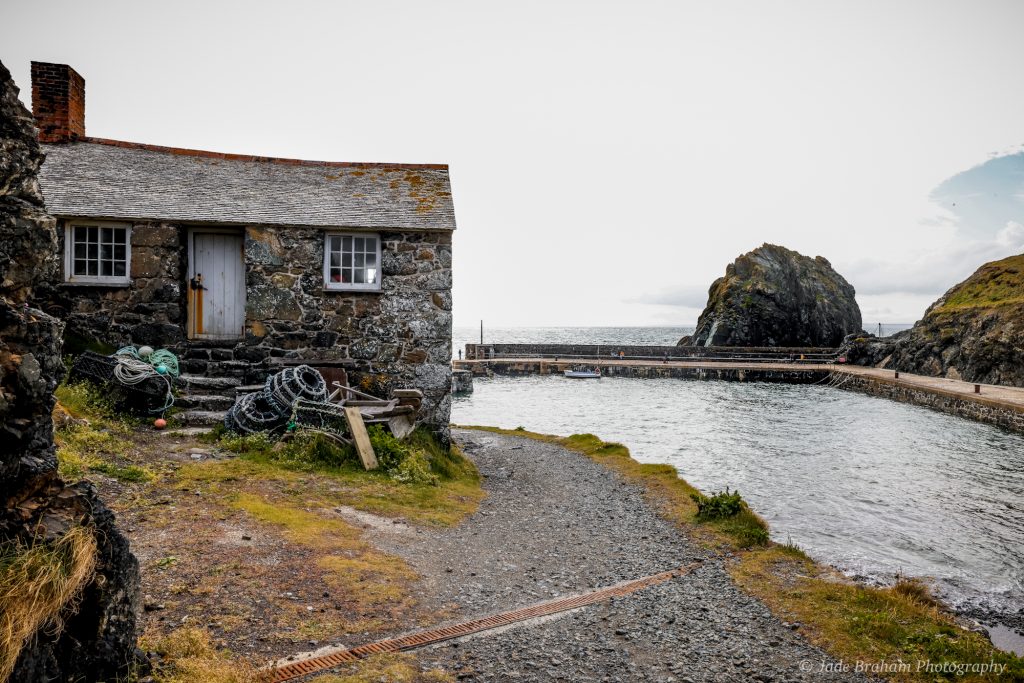 I hope you enjoyed this guide to Falmouth, Cornwall and if you're interested in hidden gems, check out the best secret castles of South Wales.
Do you have a favourite from this list of hidden gems in Cornwall or a place in Falmouth that you can't wait to visit?
Let me know in the comments below!
And make sure to sign up for my newsletter (sign up is below) to stay up to date with the best places to visit in the U.K.