The castle is, and probably always will be, an iconic token of power, nobility, imprisonment of the vulnerable or different, and of buried treasure. It stands as a continual encouragement for fantasies, folklore and daydreams. For who doesn't imagine that the castle walls hold the narratives of the valiant knights, loyal princesses, and the occasional forbidden love? Even now when magnificent castles have been substituted for the building of glass skyscrapers, they have the power to draw thousands to their doorsteps, promising mystery, untold stories and answers to our collective past. With over 600 castles and the most castles per square mile anywhere in Europe, Wales is a cornucopia of history and beautiful ruins overlooking charming countryside. And South wales is no exception! Here are 11 of the best castles in South Wales, which will undoubtedly leave you begging to known more about the Middle Ages and Welsh culture.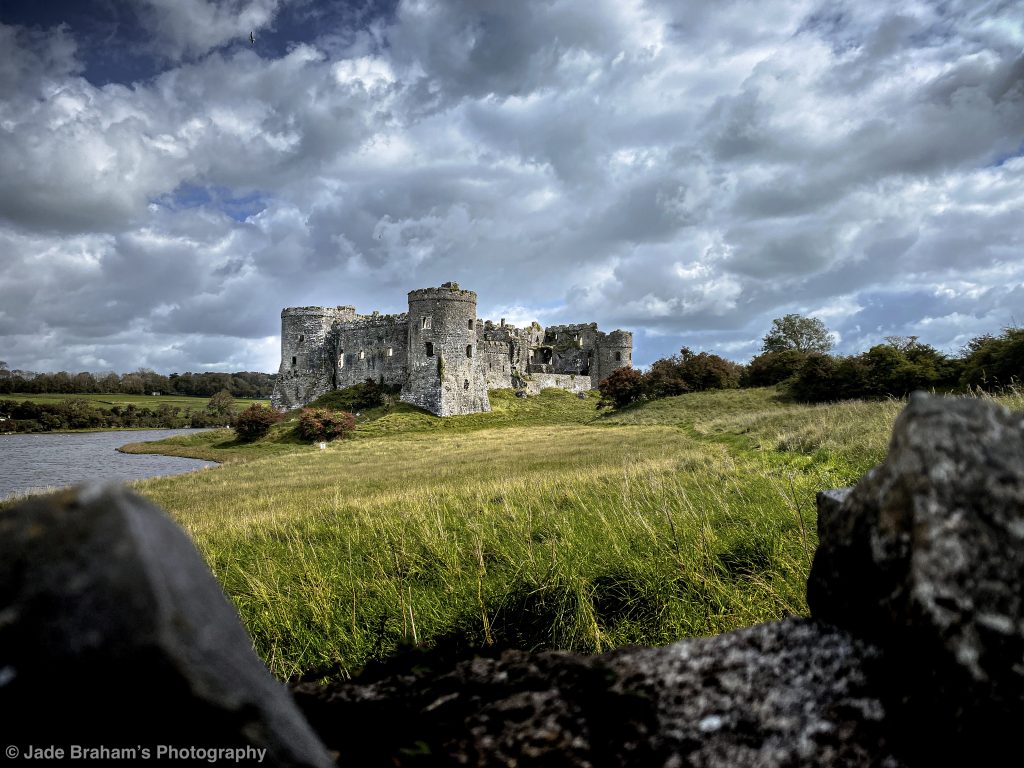 The best 11 castles in South Wales
Raglan Castle
Surrounded by immaculate lawns that are superseded by a dense dominion of trees, the silhouette of this impressive fortress-palace is the living embodiment of a fairy-tale castle. As one of the last true castles to be built in Wales, Raglan Castle's glorious design continues the idea of "going out with a bang".
With this concept in mind, Raglan focuses on appearance over substance with its moated Great Tower dominating the grounds. This was built by Sir William ap Thomas in 1435. Additionally, its gatehouse, built by Thomas' son, Sir William Herbert, presents some of the best-flared machicolations in the country. These were historically used to allow archers to fire missiles down on attackers – intimidation and good impressions were, and are the castles' key objectives. This seems fitting for the once home of Henry Tudor, and for its position as one of the best castles in South Wales!
Nowadays, travellers can also see the expansion work undertaken at Raglan Castle, including one of the finest Renaissance gardens in Britain. Wandering around the castle also affords the opportunity to discover exquisite long gallery, decorative lookouts, large medieval bay windows and an original water-filled moat. When visiting make sure to head over early as it gets busy with eager onlookers and make sure to end your trip by sampling the local cuisine in the Raglan Castle café.
Address: Raglan Castle, Castle Rd, Raglan, Usk, NP15 2BT
Telephone: 01291 690228
Entrance Fee: Yes
Carreg Cennen Castle
Haunting, dramatic and ghostly, Carreg Cennen Castle appears to be the real-life version of Weathertop – the eerie summit where the Ringwraiths stabbed Frodo in Lord of the Rings. Situated atop a limestone precipice nearly 300ft above the River Cennen, this ruin dominates the skyline for miles and overlooks spell-binding views of the Carmarthenshire and Brecon Beacons countryside. Typical of the welsh countryside, rolling hills, compact farmhouses, grazing sheep and noisy cows populate the surrounding fields, adding an element of romance and charm to this already impressive and remote site.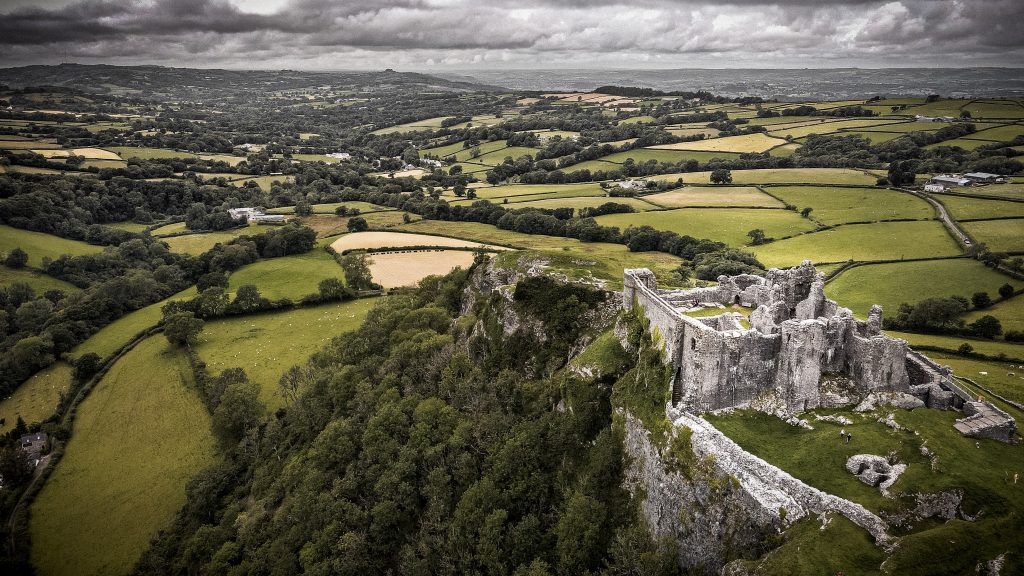 Carreg Cennen Castle translates as 'castle on the rock above Cennen', and what remains not only dates to the 13th Century but to King Edward I's period of castle building in Wales. However, there's archaeological evidence to suggest that the Romans and other pre-historic peoples occupied the terrain beforehand. Nowadays Carreg Cennen Castle sits on a private working farm which guests must travel through to reach the fortress.
From here, guests must embark on an invigorating climb past the gift shop, tea rooms and the resident Longhorn Cattle. For those looking to embrace the natural surroundings, the Carreg Cennen Castle walk is about 5.5 miles and starts from the castle car park. It then drops down to cross the river Cennen before rising on the other side through bucolic woodland and into open moorland, heading back to the castle.
Address: Carreg Cennen Castle, Trapp, Llandeilo, SA19 6UA
Telephone: 01558 822 291
Entrance Fee: Yes
Carew Castle & Tidal Mill
The imagination is a wonderful thing, and there's a reason we're in constant search of places that make us think because with thinking comes feeling. But in order to peel away the layers of a location travellers must set forth on their own two legs and let their eyes be willing to see the distant corners of, and alternatives to, the straight and narrow path. Indiscreet red berries hidden beneath an odd mixture of smooth leaves and razor-sharp branches frame the substantial contours of Carew Castle. It's an edgy look and the mind can't help but conjure ideas of Into the Woods meeting dark magic.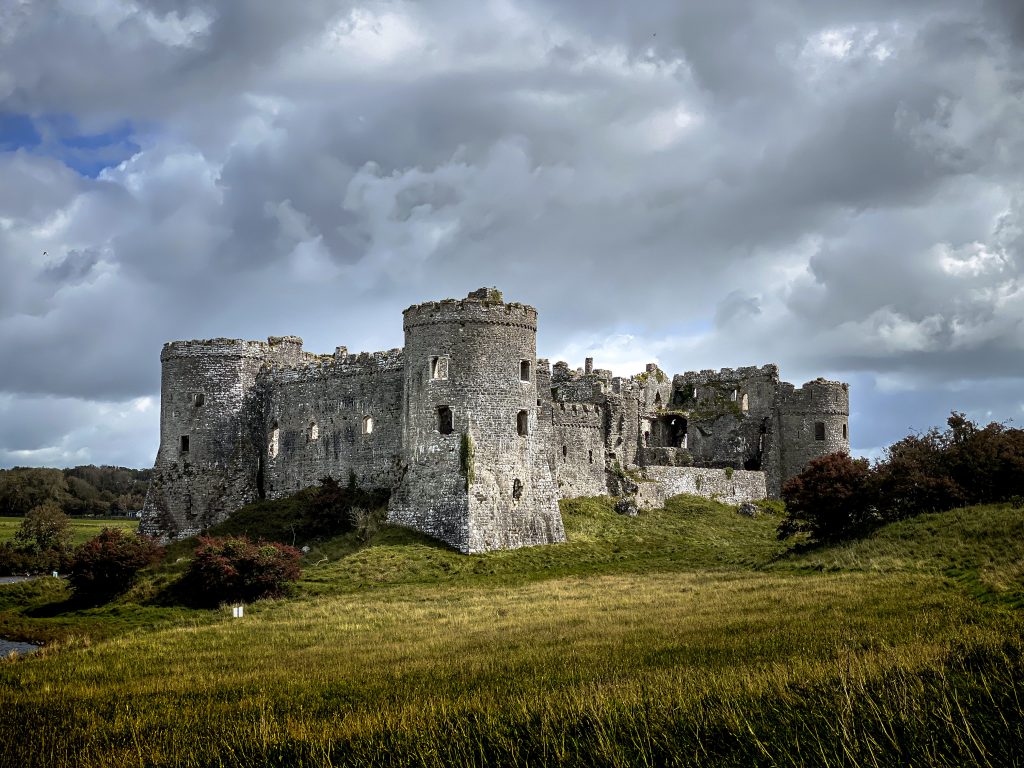 However, less than a mile along this path the Carew Tidal Mill foregrounds an expansive green field with a more ruined castle on display. A completely new scene arises – one of a country lasses dolefully waving farewell to her valiant knight. Stories are at play here, and if you have an active mind, then Carew Castle is the castle in South Wales for you.
Sitting on a still 23-acre Millpond, the castle stretches over 2,000 years with its own narrative of Civil War, knighthoods, kingmakers and Elizabethan machinations. It is one of the most architecturally diverse properties in Wales with its Norman fortress and elements of an elegant Elizabeth mansion. Continuing with this theme of unique buildings the Tidal Mill here is the only restored Tidal Mill in Wales bordered by a Medieval bridge and a circular mile-long country walk suitable for buggies and wheelchairs.
Address: Carew Castle, Carew, Tenby, Pembrokeshire, SA70 8SL
Telephone: 01646 651782
Entrance Fee: Yes
Dinefwr Castle
The folkloric castle in Dinefwr Park is a 12th Century fortress overlooking the sweeping Tywi Valley, meandering Tywi River and the technicolour dream coat of villages – Llandeilo. Run by the National Trust, Dinefwr Castle was once the chief seat of the Kingdom of Deheubarth and in the possession of Lord Rhys, otherwise known as Rhys ap Gruffydd. A slender staircase leads to the high tower and main battlements, from which guests have extensive views of the surrounding deer park and Nature Reserve.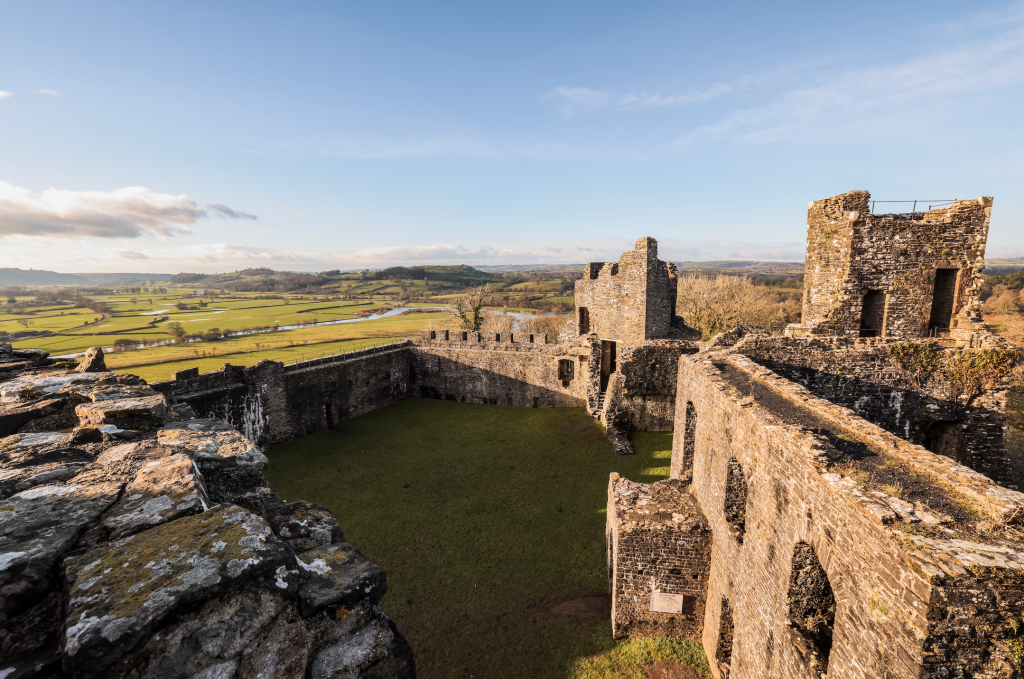 From here a circular walk takes guests around the National Nature Reserve which holds an 800 acres estate and its Newton House. It has over 300 trees that are at least 400 years old, plus ancient pastureland, landscapes valley views populated with fallow deer and rare white park cattle that date back to the myth of the Lady in the Lake at Llyn Y Fan Fach, Brecon Beacons.
Address: Dinefwr Park, Newton House, Llandeilo, Carmarthenshire, SA19 6RT
Telephone: 01558 825910
Entrance Fee: Yes (if you park in the carpark), No if you park in Llandeilo and walk up to the Castle via the local footpath
Dryslwyn Castle
Positioned halfway between Llandeilo and Carmarthen, Dryslwyn Castle sits atop an isolated rocky knoll in midst of the verdant Tywi Valley. Founded in the 13th Century Dryslwyn Castle was once an important seat of the ancient South Wales kingdom of Deheubarth, and in 1287 it witnessed the conflict between Welsh and English forces.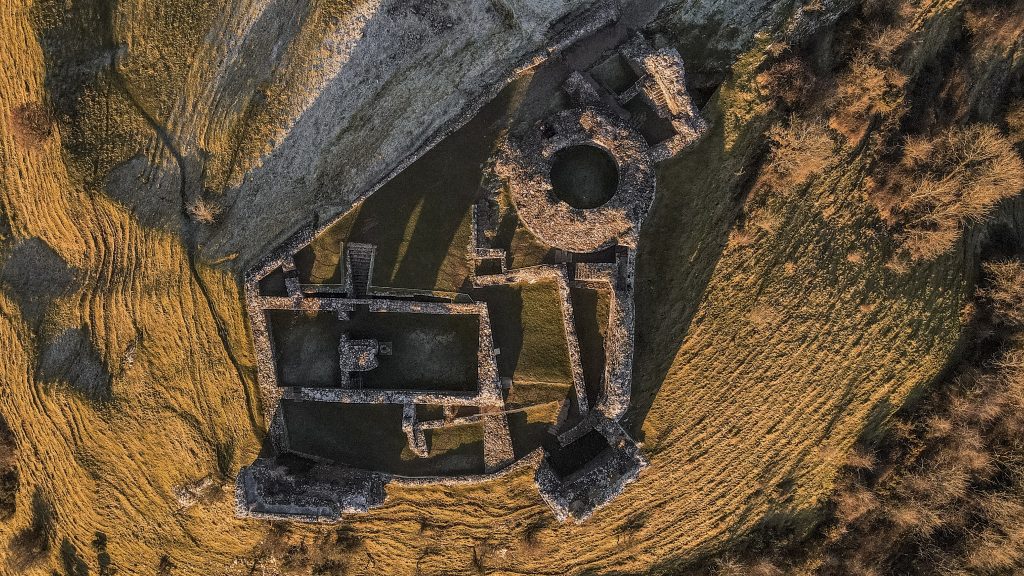 After the Welsh lord, Rhys ap Maredudd, started an uprising the English responded by dispatching 11,000 troops to lay siege on the castle. The attackers eventually destroyed a large section of the walls and the castle fell into the hands of the English crown. It is now considered to not only be one of the best castles in South Wales, but it is also thought to be the most important remaining structure built by a Welsh chieftain.
What's left today is a most extraordinary view of the valley, the dominating Paxton's Tower on the opposite hill and Dinefwr Castle directly behind it. The hike up to Dryslwyn castle is clearly defined, albeit a challenge. Prepare to break a sweat, get your heart pumping and occasionally barter with the immovable resident sheep.
Address: Dryslwyn, Carmarthen, SA32 8RW
Entrance Fee: No
Paxton's Tower
Protruding out of the score of hills blanketing the parish of Llanarthne, Paxton's Tower is a grand neo-Gothic design that's been ostentatiously garnishing the countryside since the 19th Century. Once the colour of pink, the tower is and never has been, a retiring violet from the public eye and its quirky oddness bluntly points to its purpose of not being a blended-in part of the landscape. The caprices of its maker, William Paxton, are clear as day, especially if you combine a visit to the National Botanic Garden of Wales (formally his Middleton Hall Estate) just a few minutes down the road. Both Dinefwr Castle and Dryslwyn Castle can be descried from here which can make for a lovely day trip hopping around the Welsh castles.
The truth behind its construction is a point of contention. There's one school of thought that says Paxton built it to commemorate the death of Nelson at Trafalgar, whom he might have met during his military days. However, a more likely story is that William Paxton built Paxton's Tower because he was nettled at his defeat in the local elections and wanted to remind voters of everything they could have had. A final notion records that Paxton simply built the tower to show off his wealth, status and power. Whatever the reason he certainly achieved the latter.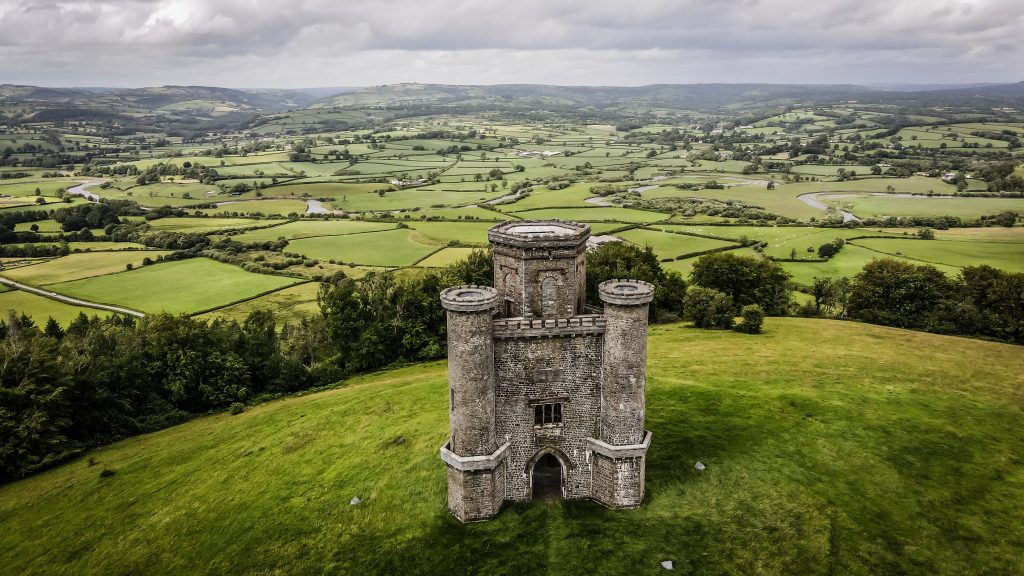 Address: Paxton's Tower, Llanarthne, Carmarthenshire, SA32 8HX
Entrance Fee: No
Laugharne Castle
Dylan Thomas, Mary Wollstonecraft and Mary Shelley. Literary icons in their own right. But they share a more meaningful connection than that. They all lived and were inspired by the ancient borough of Laugharne. And situated on the town's estuary of the River Tâf is Laugharne Castle, a 12th Century establishment with ties to the Normans, the Tudors, the English Civil War and peace treaties. Now it's considered one of the most romantic ruins in Wales with its domed roof and a circular stairway. Unlike many of its contemporaries, the layers of history are preserved here with a greenish stone indicating alterations in the mid 14th Century which is significantly different in colour from the red sandstone used to build the rest of the castle.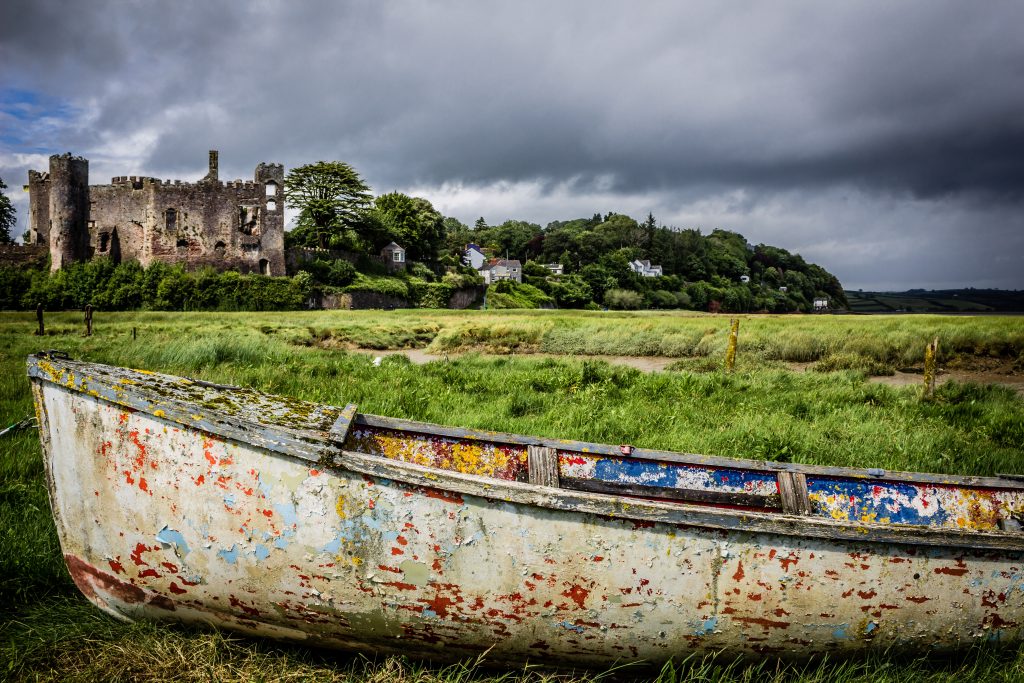 Address: Laugharne Castle, King St, Laugharne, Carmarthen, SA33 4FA
Telephone: 01994 427906
Entrance fee: Yes
Kidwelly Castle
There are certain moments that change the course of history. For the British, that moment was the Norman Conquest of England in 1066. William the Conqueror subsequently made feudalism more widespread, the English language was absorbed by thousands of French words and new architecture was introduced in the form of motte and bailey castles. Kidwelly Castle was a product of that invasion. It began as a Norman 'ringwork' castle made of wood in the 12th Century. But many decades later in the 1280s, the Chaworth brothers created the stone 'castle within a castle' that we see today.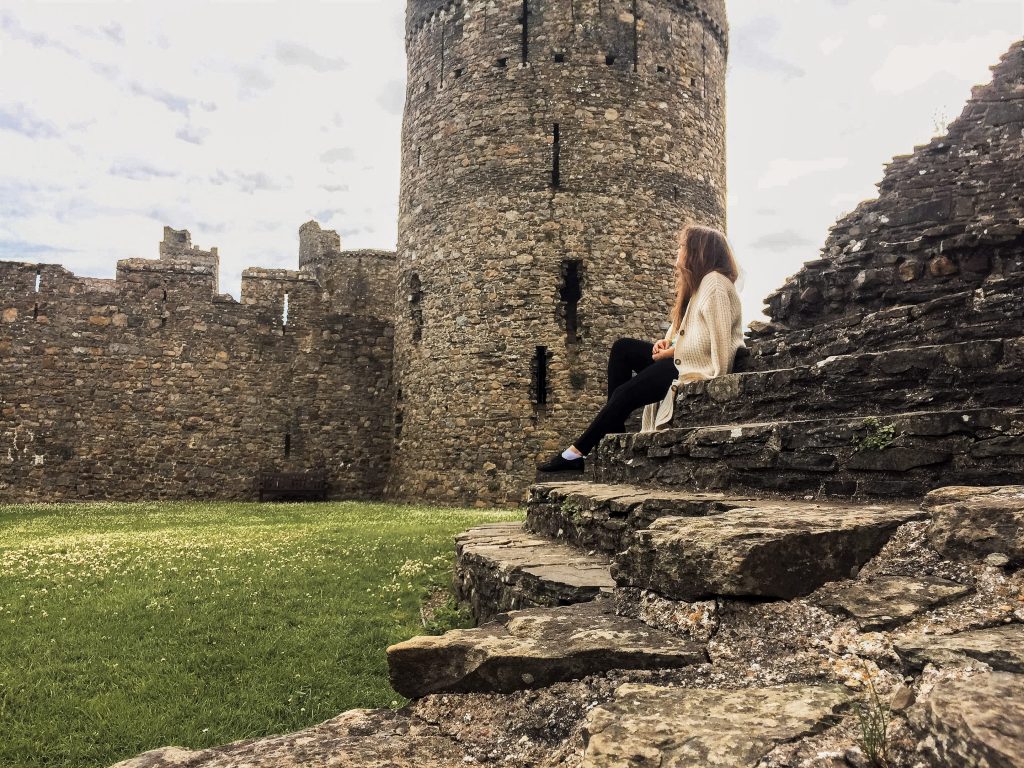 Travellers visiting this Cadw castle will first be acquainted with the great gatehouse with its drawbridge and portcullis. It's easy to imagine Welsh attackers trying to shield themselves from the arrows and rocks raining down on them. Once you breach these outer defences, you'll come face-to-face with the imposing four towers of the inner ward and realise why the inevitable fate of the attackers was death. Once guests traverse the well-preserved battlements, they'll marvel at the idyllic situation of the castle overlooking the River Gwendraeth and Kidwelly town. Although if you visit during one of the many rainy or misty spells, you'll be convinced you've seen the resident headless ghost of Gwenllian ferch Gruffydd, wife of the Welsh prince Gruffydd ap Rhys who was beheaded here in 1136. It's no wonder this castle in South Wales was used for the opening scene of Monty Python and the Holy Grail.
Address: Kidwelly, Carmarthenshire, SA17 5BQ
Telephone: 01554 890104
Entrance fee: Yes
Pembroke Castle
Oval in shape, perched on the Wogan – a peninsula of land extending into Pembroke River – and looking over a serene millpond, Pembroke Castle is the biggest in Pembrokeshire and the best Norman fortress in the whole of the UK. While size does not always equal power, in Pembroke Castle's case it does. It was once the central hub of Norman control in South West Wales and the region's centre of power for centuries. Similar to Kidwelly Castle, this Welsh castle is dominated by an impressive gatehouse and an extensive five-storey keep on the inside, but it also has a maze of tunnels and Wogan's cavern – a substantial subterranean cave. The walled town of Pembrokeshire also contains multiple features of Norman buildings which you can explore before stopping for lunch in one of its numerous cafes.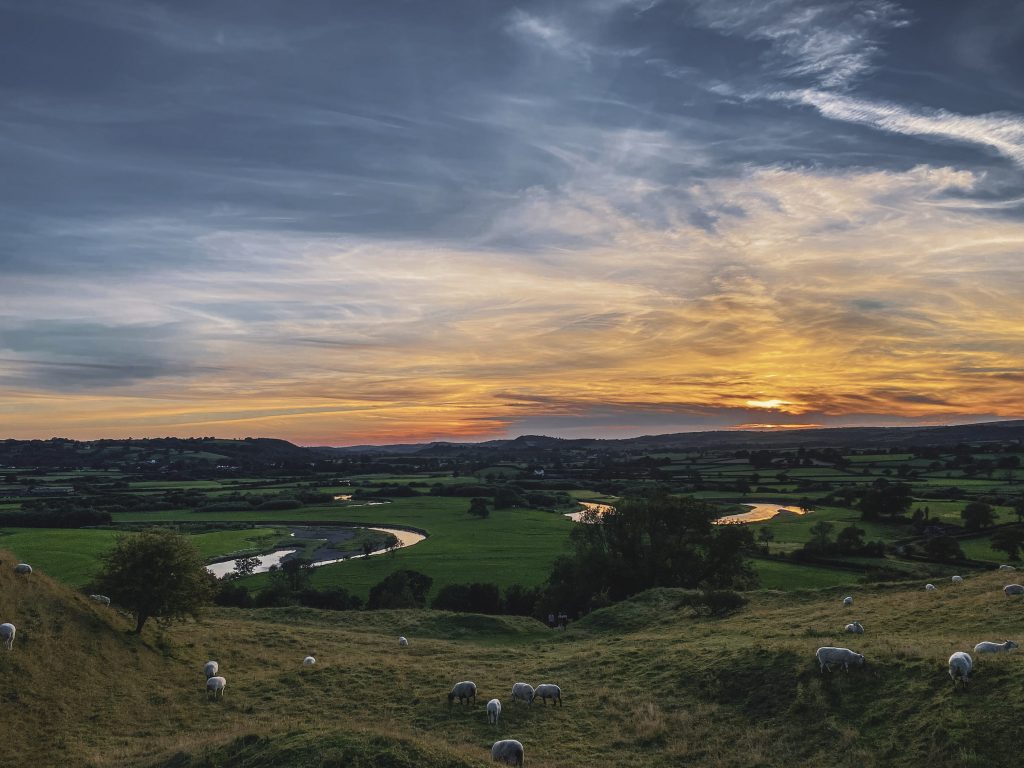 For any history buffs, you can enjoy a free guided tour that runs hourly and takes guests to the room where Henry VII (father of Henry VIII) was born. On this tour, you'll also learn about the circular keep, the gatehouse and cave, and you'll hear some funny anecdotes that bring the castle's past to life.
Address: Pembroke, Pembrokeshire, SA71 4LA
Telephone: 01646 681510
Entrance fee: No
Llansteffan Castle
A country road leads to Llansteffan Castle. On one side there's green farmland overshadowed by a grand manor house bearing the Welsh flag, while the other side is comprised of a dense jungle of trees dancing into an arbitrary formation. There's no mistaking it – you're in the heart of the Welsh countryside and it's time to put your walking shoes on! The view from the castle reaffirms this with its rolling hills in one direction and the sea and sand of Tywi Estuary and Carmarthen Bay in the other.
This site has been occupied since prehistoric times and its rugged stone walls date from the 12th Century and enclose an Iron Age promontory fort dating to 600 BC. Despite its ruined state, there are a few well-preserved buildings that indicate Llansteffan was once a building with great architectural sophistication. The main feature is the twin-towered gatehouse built around 1280, and its Guard chambers flanking the main entrance still has its murder holes in the vaults. One thing is for certain, Llansteffan Castle still maintains its ability to intimidate, making it one of the best castles in South Wales.
Address: Llansteffan Castle, Church Rd, Carmarthen, SA33 5JX
Entrance fee: Yes
Oystermouth Castle
Mumbles is known for being one the prettiest villages in Swansea, and its Oystermouth Castle sits regally on the high limestone ridge with glistening views of Swansea Bay and the neighbouring restaurants and cafes. It was founded by William de Londres after the capture of Gower by the Normans, but it was later torched by the Welsh of Deheubarth. In 1215 Llywelyn the Great took ownership but it was short-lived as the government of Henry III of England gave it to John de Braose who added a high curtain wall, internal buildings, a chapel which still holds remnants of an ornate medieval painting, basements, and three-storey residential buildings with ornate fireplaces.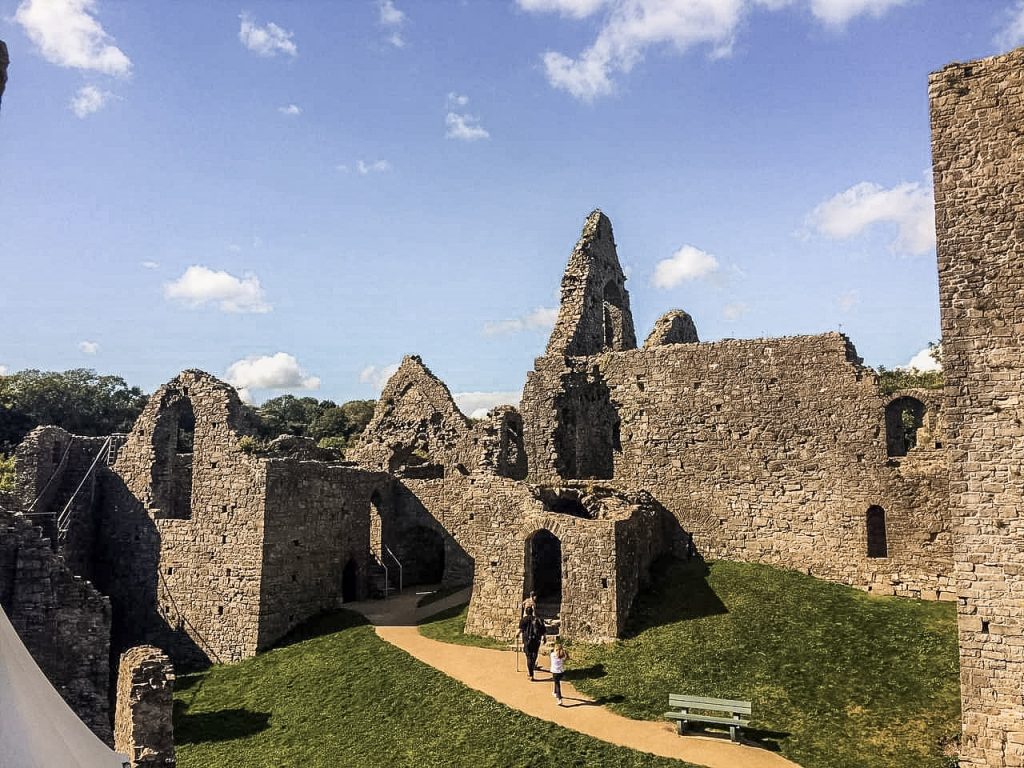 On approaching the castle you'll see that this is one of the smaller castles in South Wales but there's still an abundance to see. On its south side there is an arched passage flanked by what were originally two half-round towers. Thanks to the restoration work visitors can now see ancient graffiti art from the 14th Century, a private staircase leading from vaults to banqueting halls and a 30-foot-high glass bridge.
Address: Oystermouth Castle, Castle Avenue, Mumbles, Swansea, SA3 4BA
Telephone: 01792635478
Entrance fee: Yes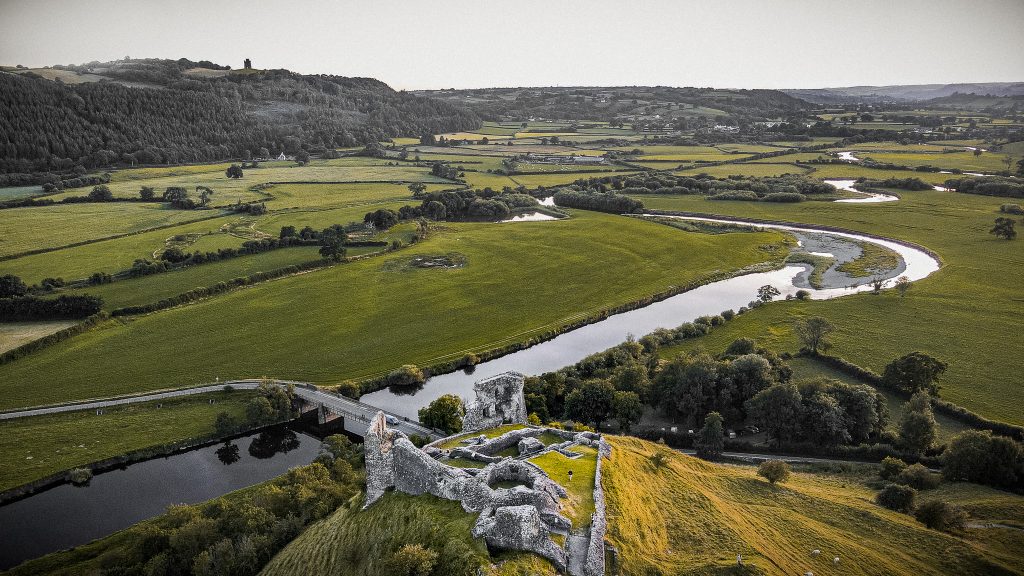 Final Thoughts on the castles in South Wales
All of these castles in South Wales are within driving distance of each other and make for a perfect couple of days exploring lesser-known gems of Wales.
For more road trips in Wales, check out my Portmeirion day trip guide, my 3-day North Wales itinerary or my Elan Valley Road Trip in Mid wales.
Finally, head to the subscribe box at the top of the page to stay updated with my travels or for future inspiration. Sign up at this box to also grab your FREE copy of my PDF guide on How to Take Professional Travel Photos!