Morzine in France is known for being one of the best ski resorts in Europe. In fact, it's considered the epicentre for skiing in the Portes du Soleil ski area. As you'd expect, it has become a highly sought-after ski resort with outstanding pistes, canyon-shaped mountains, and traditional wooden chalets with hanging baskets of blooming flowers. It's beyond romantic in wintertime, but during the summer, Morzine turns into an idyllic haven with lush meadows, nature-intensive activities and lots of great restaurants. Sounds incredible, right? Well, Au Coin du Feu Chalet is where you need to base yourself to see all this. It is run by Chilly Powder – one of the most renowned chalet companies in France – with English couple Francesca and Paul at the helm. This Chilly Powder chalet is ideal for families as there is a creche and kid's club, but its twee walls are also the epitome of affordable luxury travel. Think private bar, outdoor hot tub, massages in a yurt and outstanding cuisine.
Intrigued? Read on to find out more about Chilly Powder's Au Coin du Feu Chalet.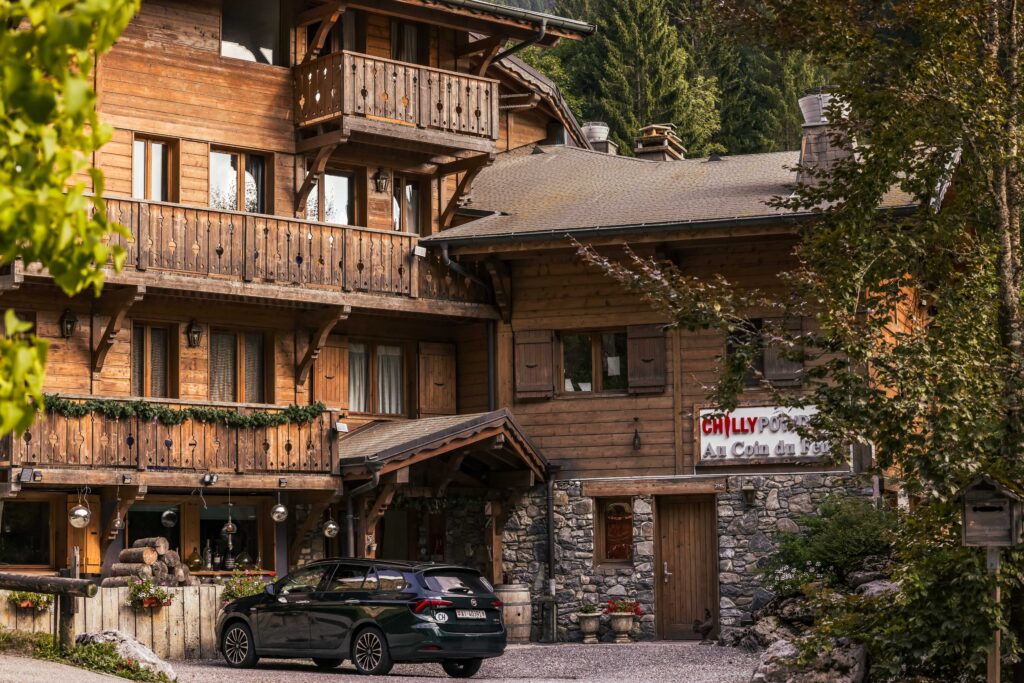 Chilly Powder – The Hotel and Staff
The first sign of great a hotel is always the staff's attitude. I'm happy to announce that those working at Chilly Powder couldn't have been nicer, more professional or more enthusiastic. In short, the staff were exceptional. Even before I got out of my airport transfer, a beaming manager, Nick, greeted my sister and me. He offered to carry our luggage to the allotted rooms and gave us a whistle-stop tour of the chalet. He made sure that we knew what time dinner was served, especially the pre-meal drinks and canapes. I was really grateful for this!
The chalet has a sociable and community spirit which is enhanced by its open-floor design. The lounge and dining area were separated only by a four-sided fireplace, which doubled as the home to the chalet's resident lizard. Don't worry; he was in his own cosy, glass habitat. I later learned that the hotel was named after this fireplace as its name 'Au Coin du Feu' translates to 'at the fireside'. Even better than this is Chilly Powder's cosy mezzanine, which sits above the dining and lounge area. This mezzanine is filled with books, board games, objects and framed photographs that clearly, once, meant a lot to the chalet's owners.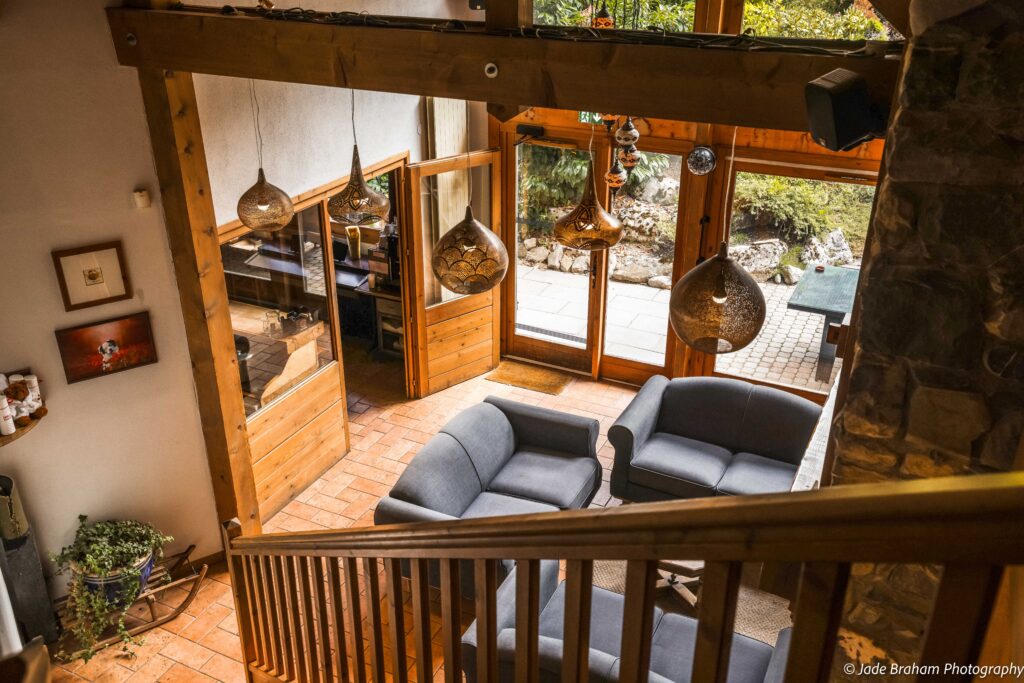 The Rooms at Au Coin du Feu
There are 17 ensuite rooms at Chilly Powder's Au Coin du Feu Chalet. These sleep up to 46 persons and range from twin to double rooms. Of these 17 rooms, there are 11 designed for families, and many have fun names like The Toy Room. We stayed in The Oriental, which has Japanese clothing, images of Koi fish, and fans lining the walls. The room had Egyptian cotton bed linen, and complimentary robes were left on the bed for each guest. These robes had a hilarious print of a chilli wearing sunglasses while skiing! I think this summed up the chalet perfectly! But the statement piece was the balcony which had extraordinary views. I stood there for ages just listening to the birds! Pure bliss!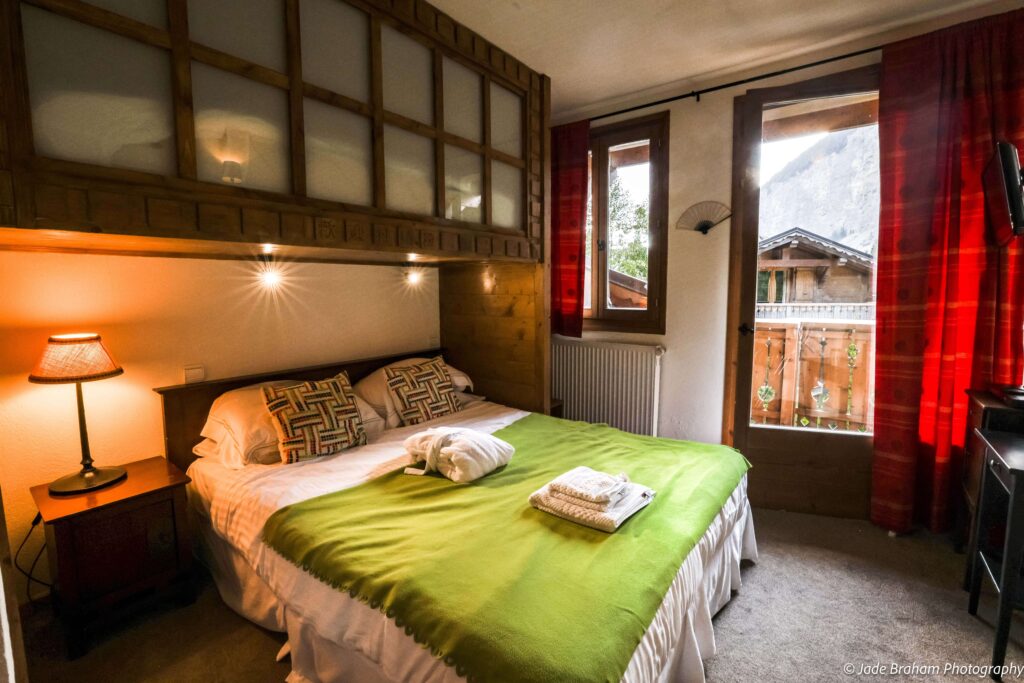 Food at Chilly Powder
Put simply, the food at Chilly Powder's Au Coin du Feu is exceptional! There isn't a single aspect of dining or breakfast that I could fault. I really loved having pre-dinner canapes because this allowed us to interact with the other guests, which was enhanced by the long tables. No one dined privately, which was a lovely change and made the dining experience feel like dining at home with family members. Plus, the canapes of cucumber, mushroom and vegan cheese sticks were delicious!
Each night the menu changed, but a few noteworthy dishes are the cheese and spinach starter, followed by spiced cauliflower, boiled potatoes, and lamb served with mint sauce. The chocolate fudge cake with raspberry dressing was likewise unforgettable! Sometimes, dinner was served outside, buffet-style. Everything that's good in the world is laid out on a table for guests to take as much, or as little, as they want. I'm talking about freshly-made bread, tomatoes, cucumber and carrot sticks, chicken, mozzarella and potato salad!
To top it all off, breakfast is served with continental or cooked options. It wouldn't be France without the day starting with a lightly buttered croissant and creamy pain au chocolate! These were heaven, and I could have eaten 20!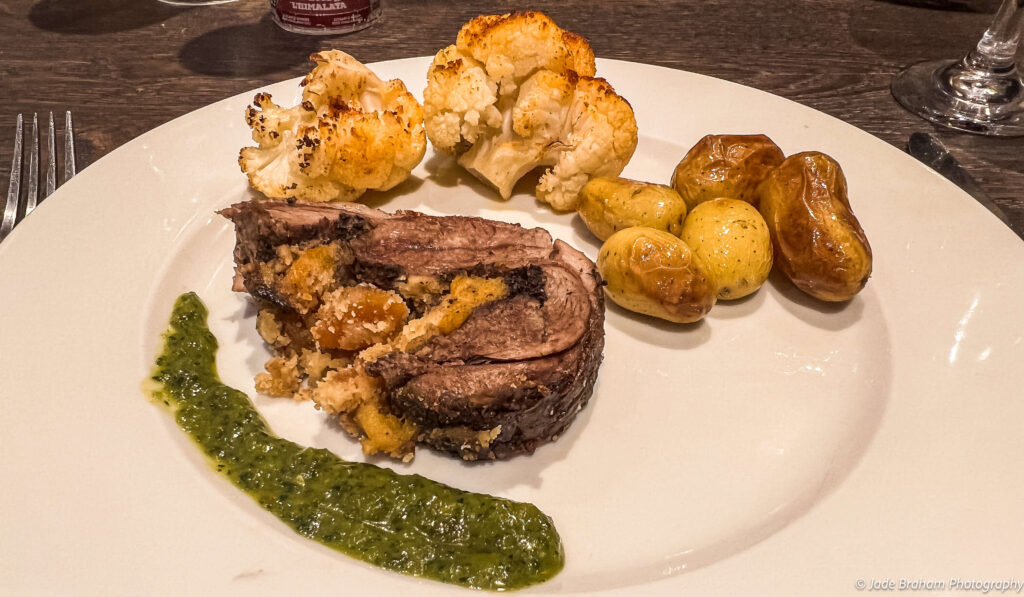 Things to do at Chilly Powder
As previously mentioned, Au Coin du Feu Chalet is only a few minutes from Morzine. In winter, the hotel has ski slopes on its doorsteps. But in the summertime, these have amazing hikes. Two must-try hikes are Le Pleney (accessed by the Le Pleney Gondola) and Pointe de Nyon, which has paths leading to the Nyon Guerin Lake and Pas de I'Aigle. Pointe de Nyon has the most turquoise waters in the area, while the Nyon Guerin Lake leads to a 15-metre-long glass lookout platform with views of Mont Blanc and Lake Geneva. If hiking isn't for you, the Parc des Dérêches has several swimming pools and spa facilities, while the town centre has plenty of independent shops, designer outlets and bakeries to try. My favourite cuisine-focused shops were La Bonbonnière and Le Miladiou. The former has delicacies like strawberry tarts, almond tarts, raspberry meringue and lightly powdered almond croissants. Another great place to visit while in Morzine is La Cascade de Nyon, which sits at the bottom of a gorge and is 10 metres high. There are serene plunge pools here which are fantastic after a long hike.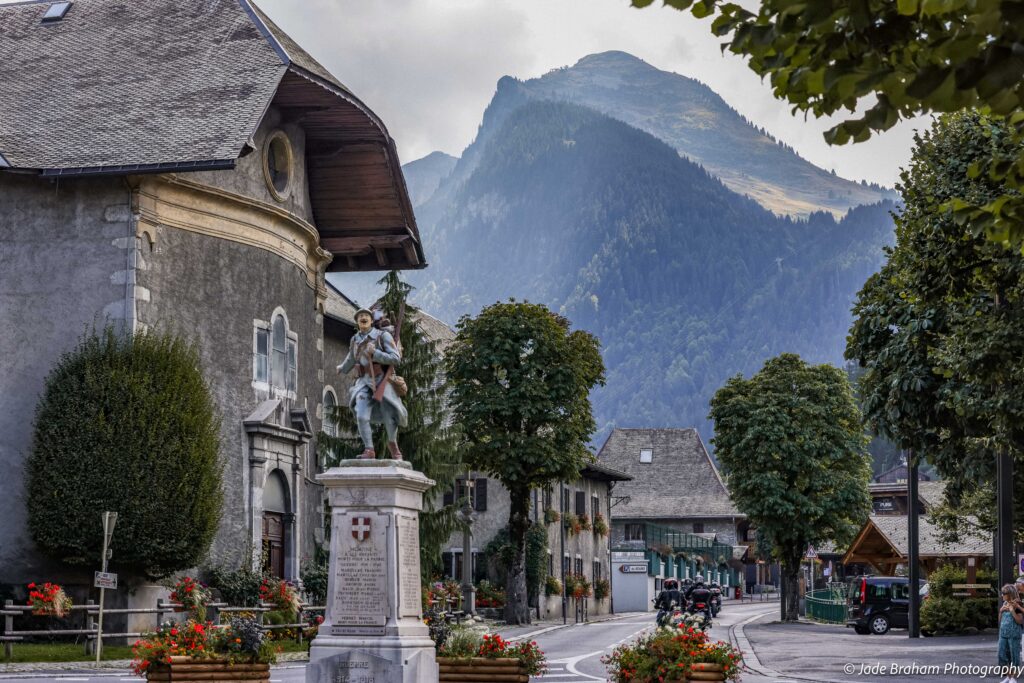 Final Thoughts on Chilly Powder
If there's one thing to know about Chilly Powder's Au Coin du Feu Chalet, it's that they'll take care of you. The location is a wellness and nature haven, as is the hotel's massage yurt and jacuzzi. On top of this, the hotel has all the necessary comforts to make your time here feel like your home away from home!
Would you visit Chilly Powder's Au Coin du Feu?
Chilly Powder operates year-round, offering active summer holidays for individuals, groups and families looking to experience the stunning Portes du Soleil region. Summer prices start from £595 per week based on two adults sharing a standard bedroom, or £1,660 for two adults and two children sharing a standard family bedroom. Prices are based on a half-board basis with wine included in the evening meals. Self-catered chalets and winter ski holidays are also available. To learn more or to making a booking, contact Chilly Powder on [email protected] or 020 7289 6958 or visit www.chillypowder.com
Like it? Pin It!