Wales is known for its spectacular countryside, which is dotted with unspoilt beaches, towering mountains and small communities holding onto their Welsh identity and traditions. All of this is bordered by the 870-mile Wales Coast path, which is the first path in the world to follow a country's entire coastline without interruption. This coastal path is known for being a walkers' paradise, starting near Chester in North Wales, going along Anglesey and finishing in Chepstow in the southeast. But if you're like me and don't want to walk all of the Wales Coast Path, then you can pick and choose which incredible places you'd like to visit.
So, let me show you my favourite spots along the Wales Coast Path.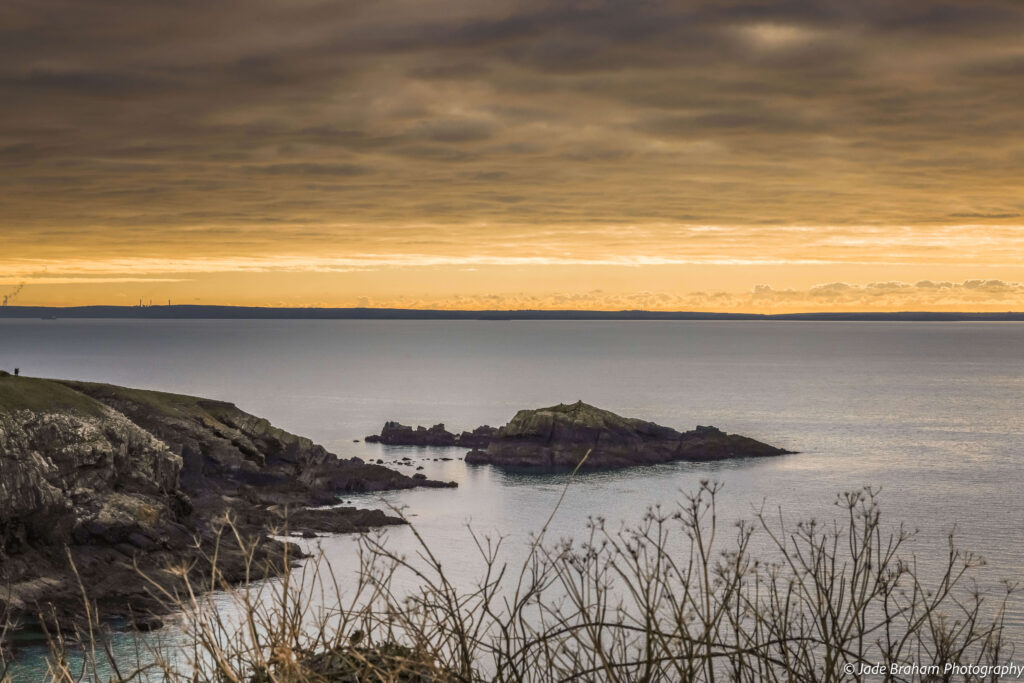 Wales Coast Path in North Wales
1. Conwy
Known for being one of Britain's best-preserved medieval towns, Conwy is a gem among Welsh communities, and it sits on the Wales Coast Path. This coastal path runs along Conwy's quayside, passing docked sailing boats and Britain's smallest house. This house measures just 72 inches wide and 122 inches high. But the most impressive site in Conwy is Conwy Castle, a 13th-century fortress built by King Edward I, and its 1,400-yard crenellated walls wrap around the entire town. Conwy Castle is one of the most impressive medieval castles in the UK, and it has the most intact medieval royal apartments. It beats the Tower of London in that respect. For a complete contrast, head over to Aberconwy House or Plas Mawr for an outstanding medieval merchants' houses. These are some of the finest examples of Elizabethan townhouses.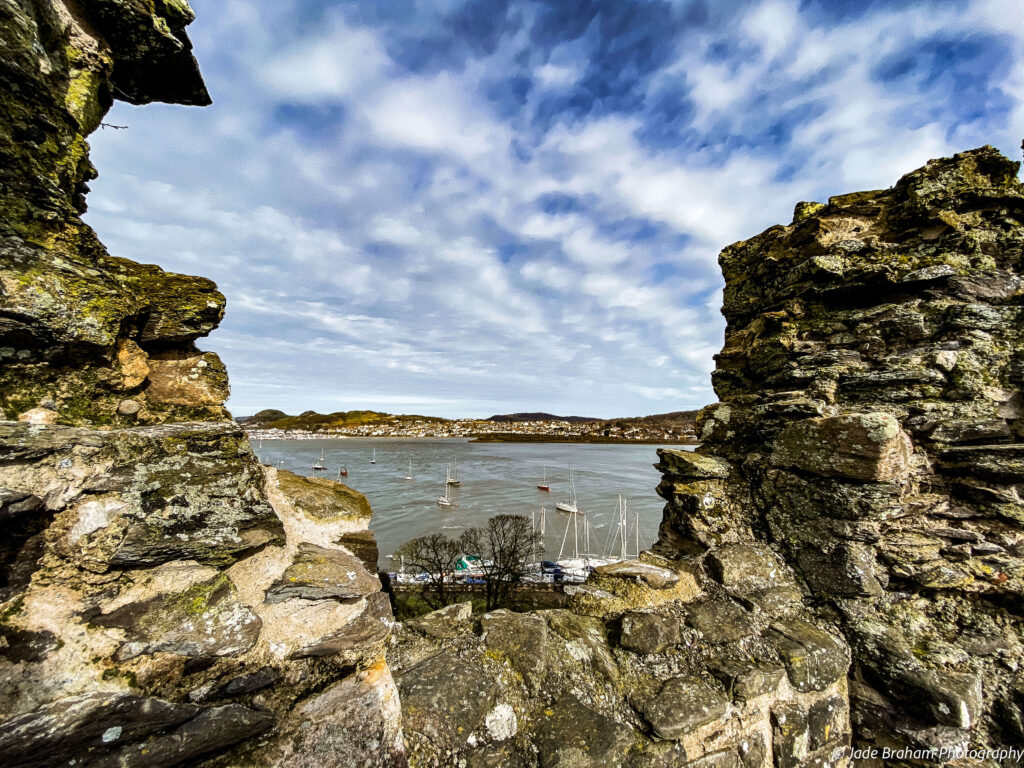 2. Portmeirion
The whimsical architecture of Portmeirion gives visitors a slice of Italy that's situated in the heart of Gwynedd. This Italianate village, featuring porticoes, verandas, Italian colonnades and pastel-hued townhouses, was inspired by Italy's Portofino and created by architect Clough Williams-Ellis between 1925-75. While it's not exactly on the Wales Coast Path, it's a must-see because it's so unique, and it sits on the sandy beaches of the Dwyryd Estuary. There's much to do here, including an Italian-style gelateria, a 70-acre sub-tropical forest and a 1950s-style bar. The village was famously used in the filming of the 1960s TV show, The Prisoner, which TV buffs will enjoy seeing. You can also stay in the 4* Hotel Portmeirion, starting from £119 per night.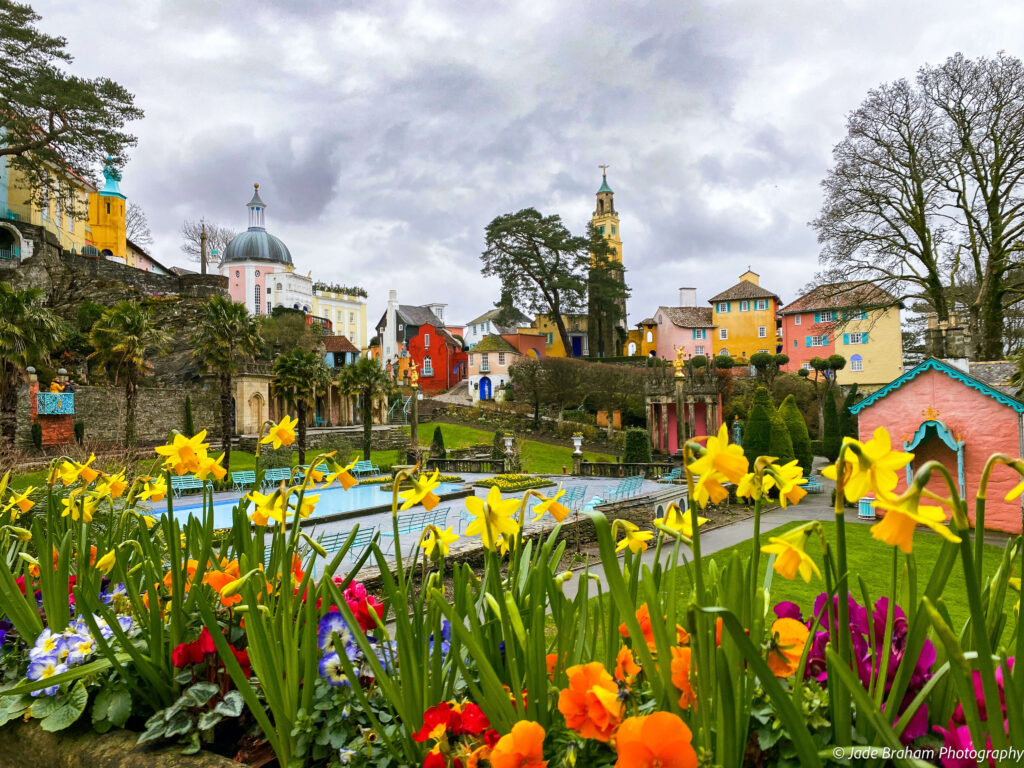 For more North Wales travel inspiration, check out my North Wales 3-day itinerary here.
Wales Coast Path in Mid Wales
1. Aberaeron
One of my favourite things to do in Mid Wales is to visit Aberaeron, a traditional seaside Regency town. Unlike Tenby, which is a Regency town originally built for holidaymakers, Aberaeron is a rare example of a purposely planned Georgian town built for the shipbuilding industry and fishing port. It was the brainchild of the Reverend Alban Thomas Jones Gwynne, and any fans of Bridgerton and Jane Austen should venture here for its period-style character. The most obvious thing to see is the multi-coloured houses, Harbourmaster Restaurant, which showcases fresh Cardigan Bay fish, and The Celler Restaurant. On a sunny day, you'll also see locals enjoying maritime pursuits like crabbing along the River Aeron.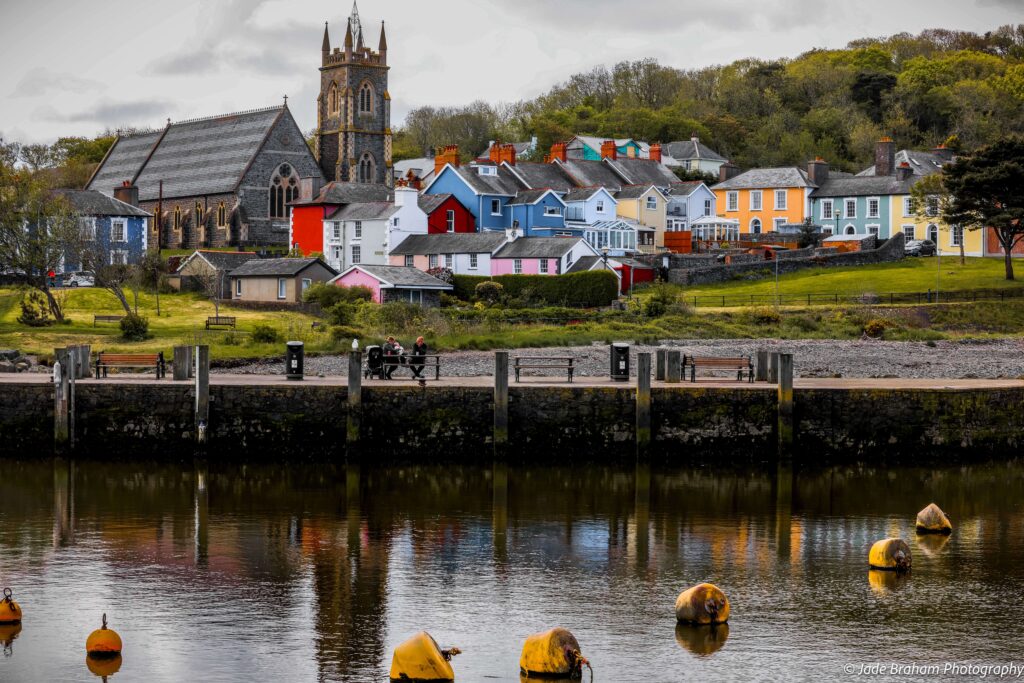 2. Cwmtydu Beach
Cwmtydu's surroundings – cliffs, caves, and lime kiln remains – hint at its smuggling background. Today, it's a nucleus for migrating birds, Atlantic Grey Seals, pearl-bordered fritillary butterflies, red kites, ponies, and glow worms that, at night, make the grass glimmer with green light. Kayakers, paddleboarders and anglers will likewise notice an active marine life, while sun worshippers can dart between the shingle beach and its facilities.
3. Castell Bach Beach
Castell Bach's shingle beach and dramatic cliffs are only surpassed in magnificence by its two stratified islands. Meaning "Little Castle", the beach takes its name from the original Celtic Iron Age Hillfort, the remains of which overlook the cove. The climb from Cwmtydu Beach (nearest parking and facilities) is not for the faint-hearted, but a beach all to yourself is worth the effort!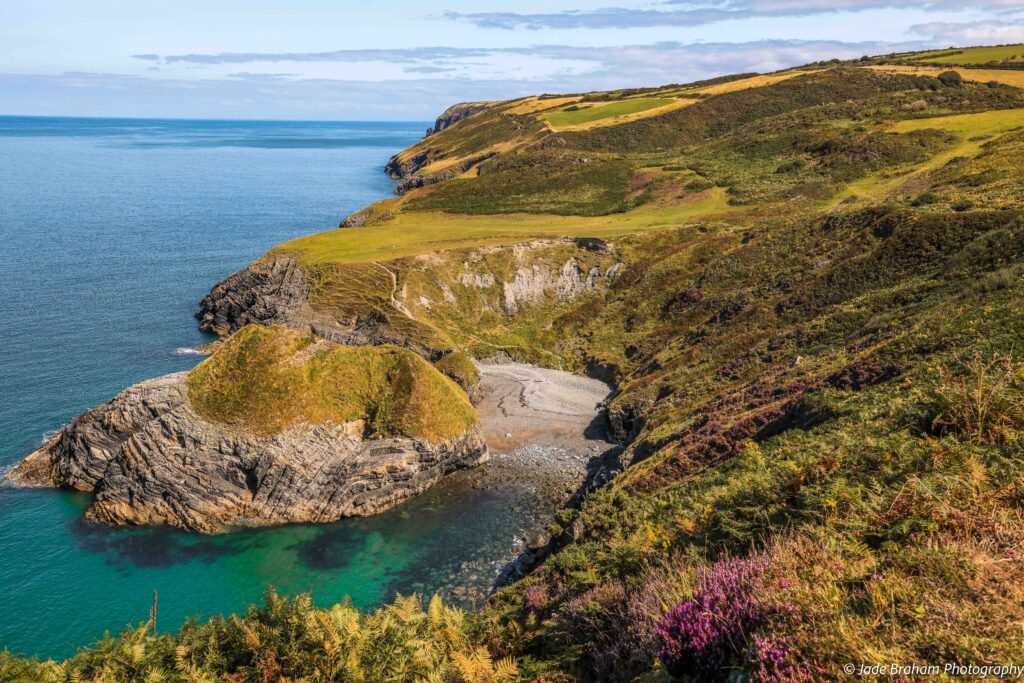 4. New Quay
New Quay is a compact town that's best explored on foot as its winding streets pass traditional fishermen's cottages and a turquoise sculpture of a woman blowing a kiss. This statue marks the halfway point of the Wales Coast Path, and several ice cream parlours are adjacently situated. The Blue Bell Deli & Bistro overlooks the harbour, serving the most delicious mango, kiwi, banana, and strawberry smoothie. This overlooks New Quay Harbour and Beach, which is where you should try spotting dolphins and porpoises. Make sure to venture on a one-hour boat trip with New Quay Boat Trips (£15 for adults and £10 for children), as you'll witness a magnificent colony of seabirds nesting on the surrounding cliffs.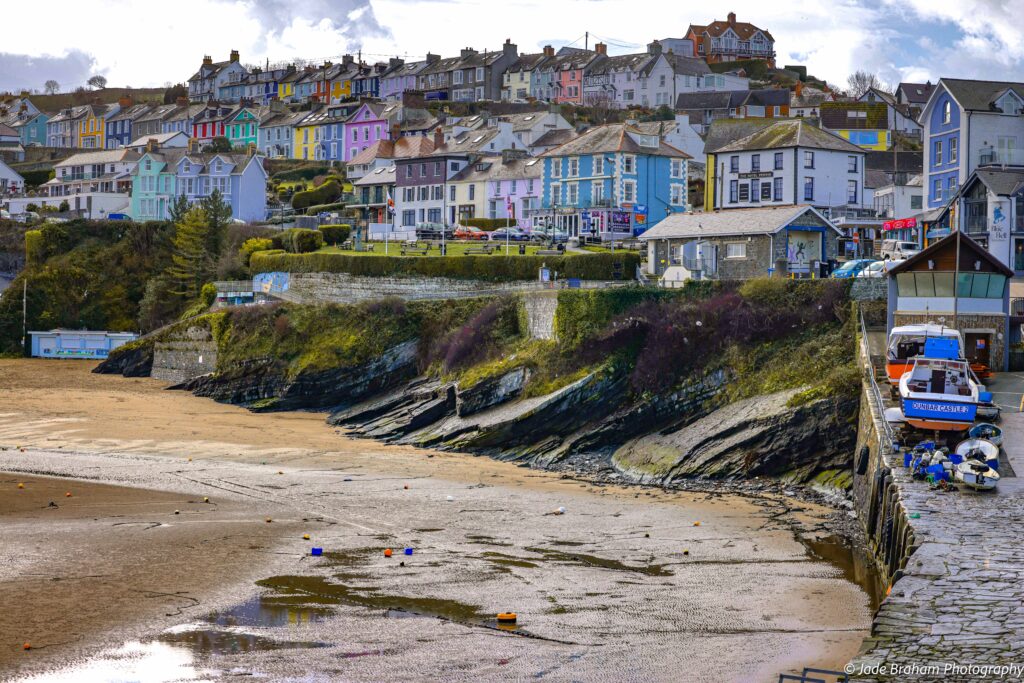 Wales Coast Path in West Wales
1. St Davids
One of the great things about the Wales Coast Path is that it's shrouded in religion and legends, and one of the most mystifying places to visit is St Davids in Pembrokeshire. It's primarily known for being Britain's smallest city with less than 3,000 inhabitants, but for those in the know, it's also popular for its gold-and-purple-hued cathedral and sustainability-driven businesses. The cathedral, named after Wales's patron saint, St David, was built in the 6th century, and it became so important that the 12th-century Pope Calixtus II declared that two pilgrimages to St David's Cathedral were equivalent to one to Rome, and three pilgrimages here were equal to one to Jerusalem. St Non's Chapel is David's birthplace, while The Bishop's Palace is where royal guests stayed when visiting the cathedral. For more eco-friendly activities, the Bug Farm offers a strange opportunity to eat insects – the mixed insect pakora is particularly delicious. Really Wild Emporium offers seaweed foraging excursions and a restaurant serving a seven-course tasting menu which incorporates wild ingredients and seaweed.
For an in-depth guide to St Davids, click here.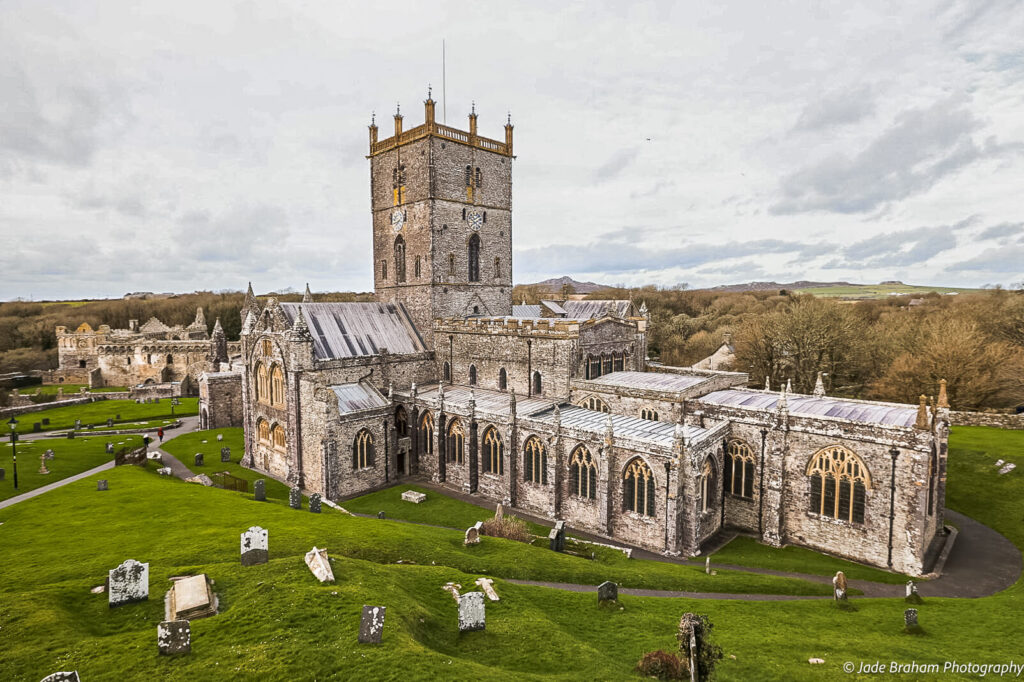 2. Caerfai Bay
A 12-minute walk from Twr y Felin Hotel is the Green Coast Award beach of Caerfai Bay. Amongst locals, it's known for being a great spot for wild swimming, sandcastle building and for the several caves worth exploring. The bay is sheltered, meaning it's a summer suntrap, surrounded by multi-coloured sandstone cliffs hiding many rock pools. The bay is a designated Site of Special Scientific Interest, meaning the beach is also perfect for wildlife lovers.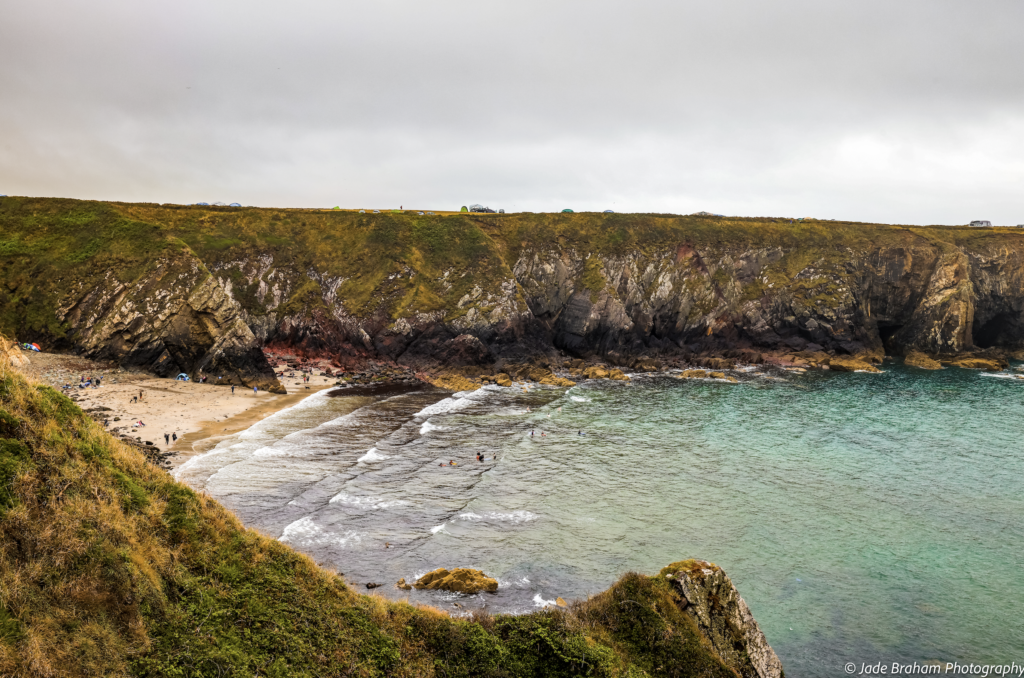 3. Moylegrove
Moylgrove (otherwise spelt Moylegrove) is a bucolic and undiscovered village in North Pembrokeshire. It lies in the exquisite Pembrokeshire Coast National Park, with its Ceibwr Bay designated as a Site of Special Scientific Interest Area! The village centre is a tumble of painted cottages and two stone bridges directing babbling brooks past charming private gardens. There are two Victorian chapels, one of which is fronted by a red postbox, a small spring and a Memorial Plaque dedicated to the three servicemen killed during the First and Second World Wars. For the walkers among you, Moylgrove is the access point for the Wales Coast Path that leads to Pwll Y Wrach, which translates to 'The Witches' Cauldron'. It's a collapsed cave with blue-green water that only kayakers can enter!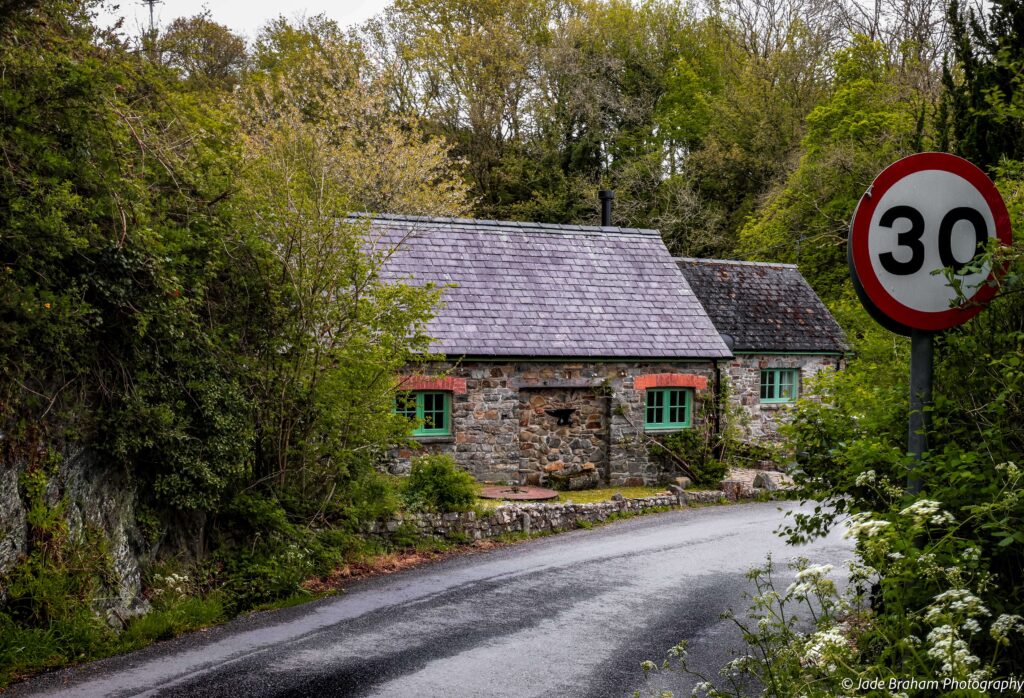 4. St Govan's Chapel
One of the most unusual places to visit on the Wales Coast Path is St Govan's Chapel, a small religious building that defies logic. The building is built into the rocky Pembrokeshire coastline at Castlemartin Range which makes the chapel look like the rock's extended limb. As the legend goes, a 5th or 6th-century saint by the name of Govan was seeking refuge from a band of pirates when the cliff above him miraculously opened, providing a place of refuge. This is the chapel we see today. The 'bell rock' at the top of the church is reputed to have been rung by Govan when the pirates returned, warning locals to find safety! You can also see a holy well!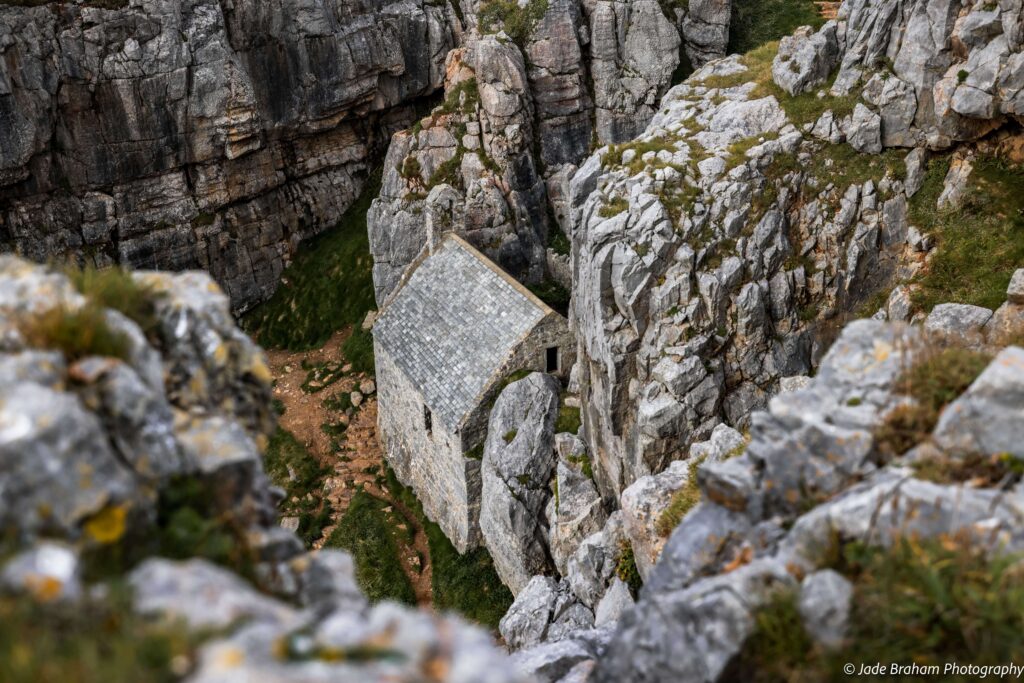 5. Bosherston Lily Ponds
Less than two miles from St Govan's is Bosherston Lily Ponds, which is situated in the Stackpole Estate and owned and managed by the National Trust. These ponds are believed to have been the spot where King Arthur first obtained his sword, Excalibur. It is also suggested it's from here that the king sailed to Avalon, which is supposed to be the nearby Caldey Island. Whether you believe in these legends or not, Bosherston Lily Ponds is magnificent, especially as a swan and pike-infested area. In June and July, the waterlilies cover the lake's entire circumference with cheerful shades of pink. In autumn time, Bosherston Lily Ponds offer some of the best walking in Wales, as its mile-long path around the lakes is a haven of vibrant oranges, reds, and yellows, which are exquisitely reflected into the waters. At this time, you might also spot an otter or two.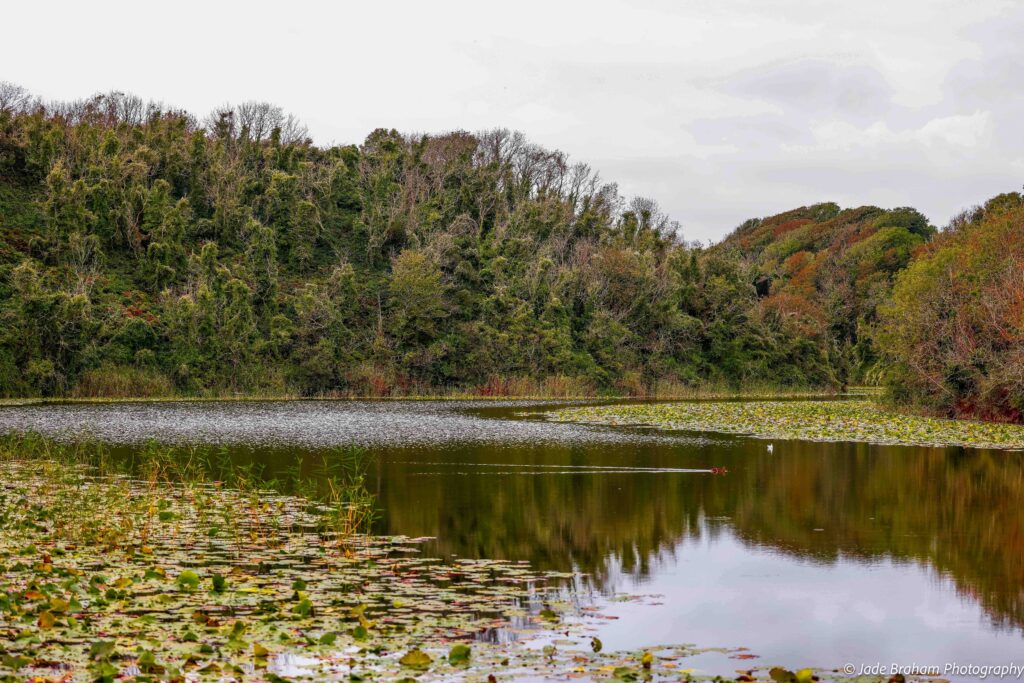 6. Barafundle Bay
Positioned between Broad Haven and Freshwater East, Barafundle Bay is one of those places in Wales that looks and feels like it should be abroad in Europe or the Caribbean. It's owned by the National Trust, forming a part of the South Pembrokeshire Heritage Coast and the Pembrokeshire Coast National Park. Parking is at Stackpole Quay, and from there, it's a half a mile walk over rugged fields to reach the beach, which has often been described as the 'Jewel in the Crown' of Pembrokeshire, and as one of the best beaches in the world. From waters of a cobalt blue and turquoise fusion, peppered with local and international fishing boats, it's easy to imagine blissfully curling your toes into the sand while the sun casts its rays across your skin. This pristine and tranquil beach is isolated, meaning there are no facilities, and it's backed by dunes and trees, providing a very rural and unspoilt landscape.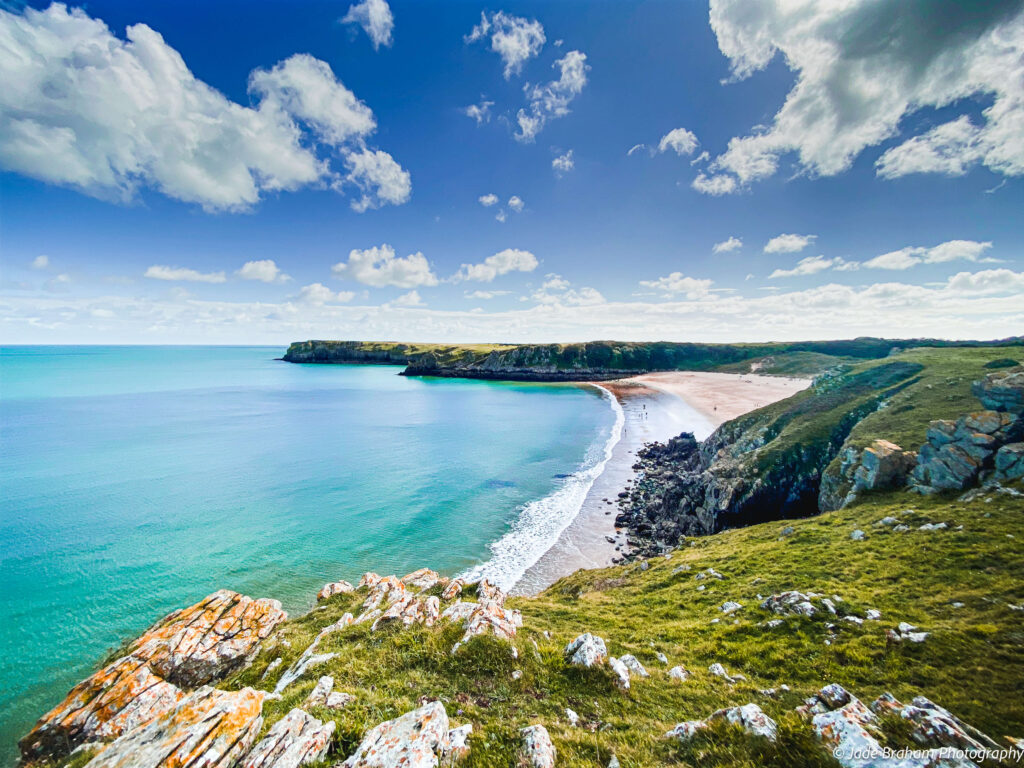 7. Church Doors Cove
Hidden at Skrinkle Haven on the South Pembrokeshire Coast, near Manorbier, is the geological wonder named Church Doors Cove. It's so-called because the sandstone cliff has a high-arched cave that looks like the doorway of a church. Its remote location means Church Doors Cove is often overlooked by larger beaches, but this adds to its charm. A seagull's cry can be heard overhead; the sound of waves crashing against rocks and no sounds of civilisation make Church Doors Cove a little haven in the Welsh countryside. The cove is backed by cliffs, and the only way down is via some sketchy steps. But the challenge is worth it! There's lots of sand at low tide, but at high tide, the beach all but disappears. There's a smaller cave to the right of the beach, and at low tide, you can scramble through this to Skrinkle Haven beach, which is inaccessible except by kayak or low tide.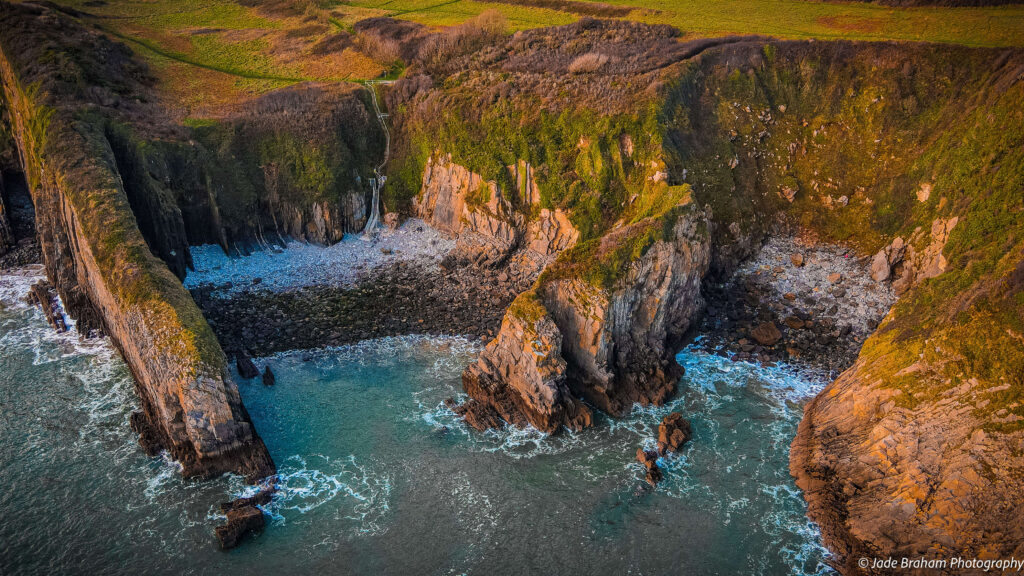 8. The Green Bridge of Wales & Elegug Stacks
The Elegug Stacks are two dramatic limestone cliffs bearing the semblance of two large pillars. Elegug is the Welsh name for guillemot, the sea bird that often frequents the tops and ledges of the Stack Rocks. Other birds to look out for here are razorbills, kittiwake, herring, fulmar, and black-backed gulls. During the winter, you'll discover lapwings, crows, and thrushes and thanks to its unspoilt surroundings, there's a rich colony of rare butterflies, including the dark green fritillary. A short walk from the Elegug Stacks is the Green Bridge of Wales, a natural archway that has been formed by crashing waves. It's about 80 feet high and has a span of 66 feet, and due to its dimensions, the bridge has been labelled as 'the most spectacular arch in the United Kingdom'. The top part of the arch is covered with green vegetation, hence the name 'Green Bridge'.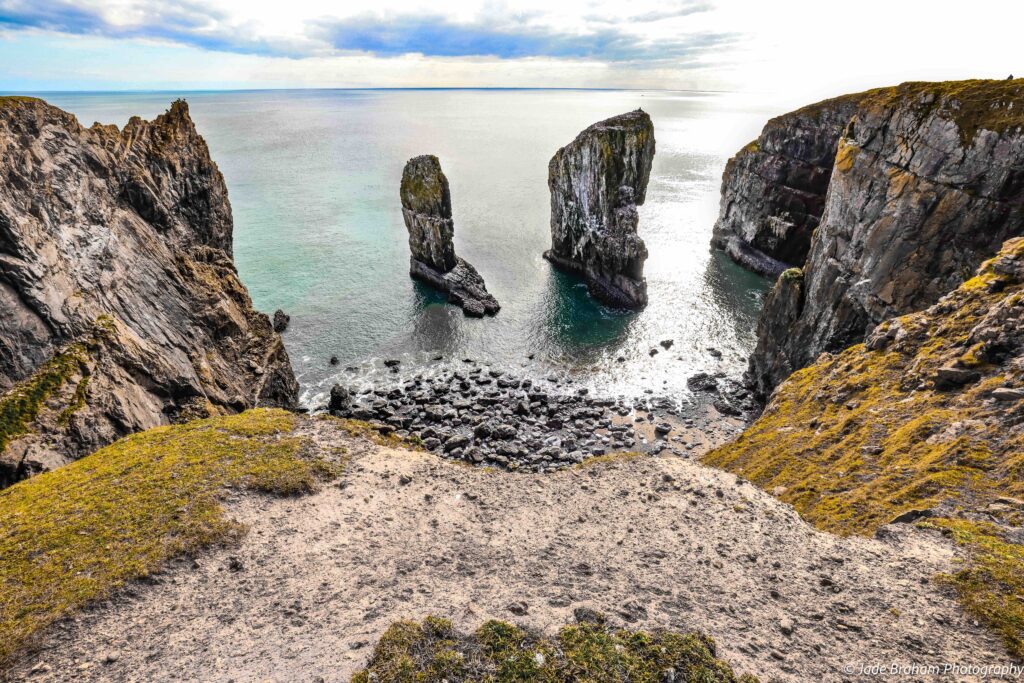 Wales Coast Path in South Wales
1. Laugharne
Laugharne is one of the cutest villages in Wales, with the River Taf flowing past the 900-year-old Laugharne Castle, which goes directly into Carmarthen Bay. It was dubbed "the strangest town in Wales" by our beloved poet Dylan Thomas who lived and worked here. The castle is one of the finest examples of a 16th-century Elizabethan manor house, and it has the UK's best 19th-century ornamental garden! The town is arguably still consumed by Dylan's everlasting presence as several of his homes remain intact, including the Boathouse, writing shed and Brown's Hotel. The latter was Dylan's favourite watering hole; he often gave the hotel's phone number as his own. Today the hotel's restaurant, Dexter's, serves some great beef burgers and has some wonderfully cosy rooms. Make sure to walk the "Dylan Birthday Walk", which follows the Wales Coast Path and the route the poet took on his birthday. He immortalised this walk in his 'Poem in October'. It's an easy two-mile walk and will finish at Sir John's Hill, which has some incredible views of Carmarthenshire's countryside.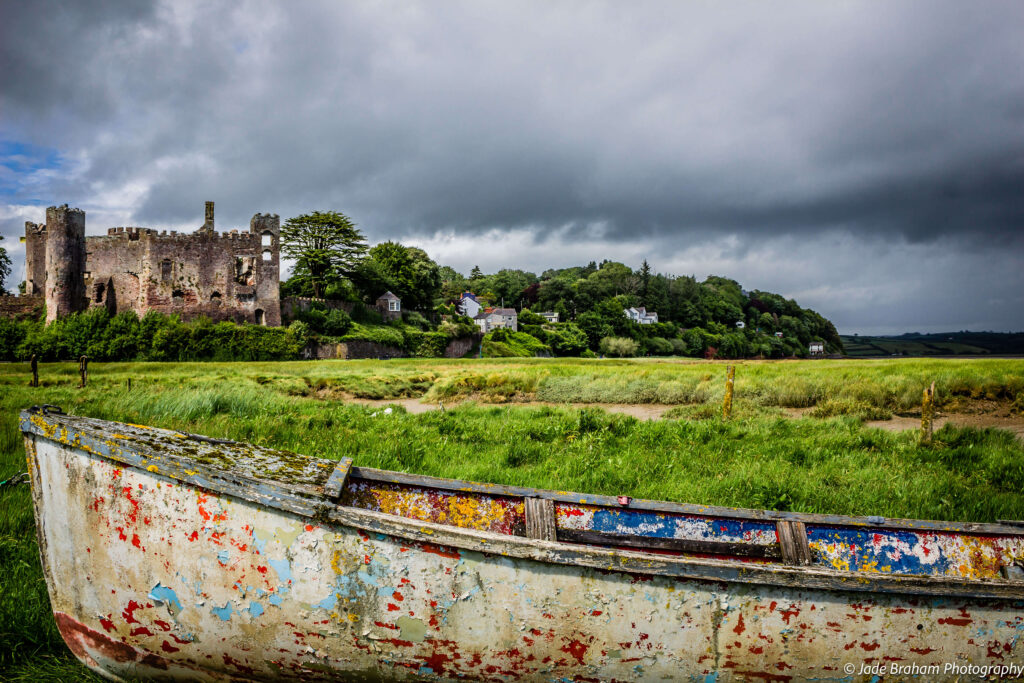 2. Llansteffan
Lesser known than other coastal villages but exuding as much charm is Llansteffan, a quiet estuary village with miles of golden sand ideal for building sandcastles. Around Llansteffan Beach's headland is the rarely-visited Scott's Bay – seldom seen as it's only accessible at low tide. Moreover, there are many coastal activities to enjoy here, including paddling in the Taf Estuary and cockle-picking. A mile from the beach is the magnificent Llansteffan Castle, which is perched over the headland with views as far as Pembrokeshire and Gower.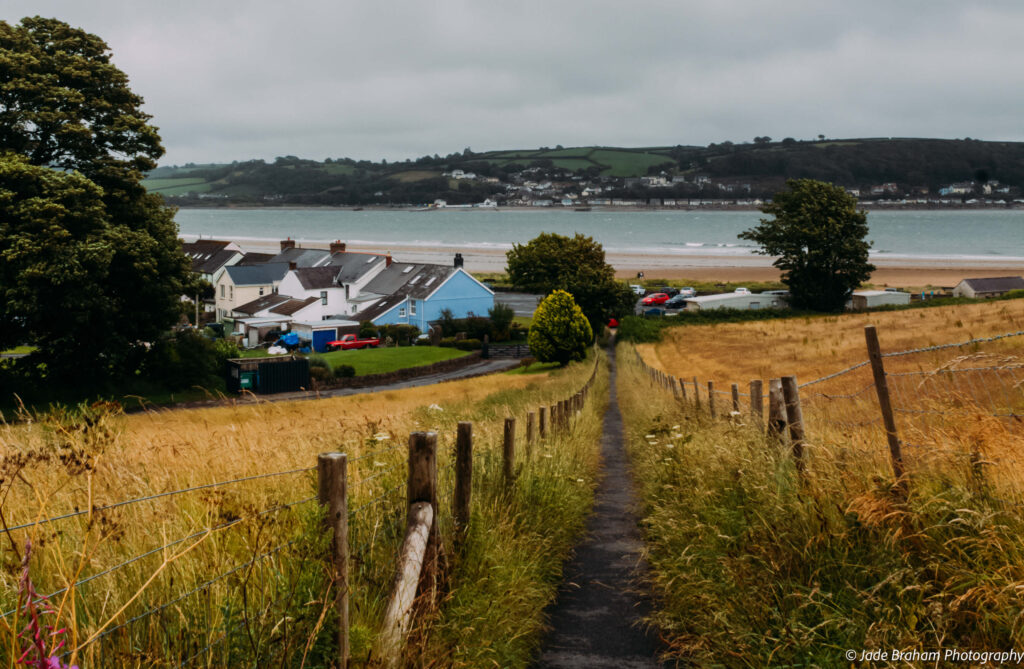 3. Rhossili Bay
Rhossili Bay is a breathtaking three-mile-long sandy beach, and if you visit the beach at low tide, you'll see the remains of the Helvetia, a ship wrecked in 1887. At this bay is Worm's Head, a headland that is the furthest westerly point on the Gower Peninsula. Known locally as the worm, the name Worm's Head is derived from the Viking word 'wurm', meaning 'dragon'. The island is accessible by a natural land bridge for around five hours a day, depending on the tide. Dylan Thomas initially described the Worm's Head as "the very promontory of depression" as he was forced once to spend the night on the Head after being trapped by the tide. Overlooking the bay is the Old Rectory which is considered the most popular National Trust holiday cottage. From the top of Rhossili Down, you will have sea views of West Wales, the north Devon coast and Lundy Island. Visitors will also find a variety of rare insects and birds here, including the black bog ant and choughs. There are plenty of coastal walks, some of which lead to Neolithic burial chambers, Iron Age forts and Bronze Age cairns.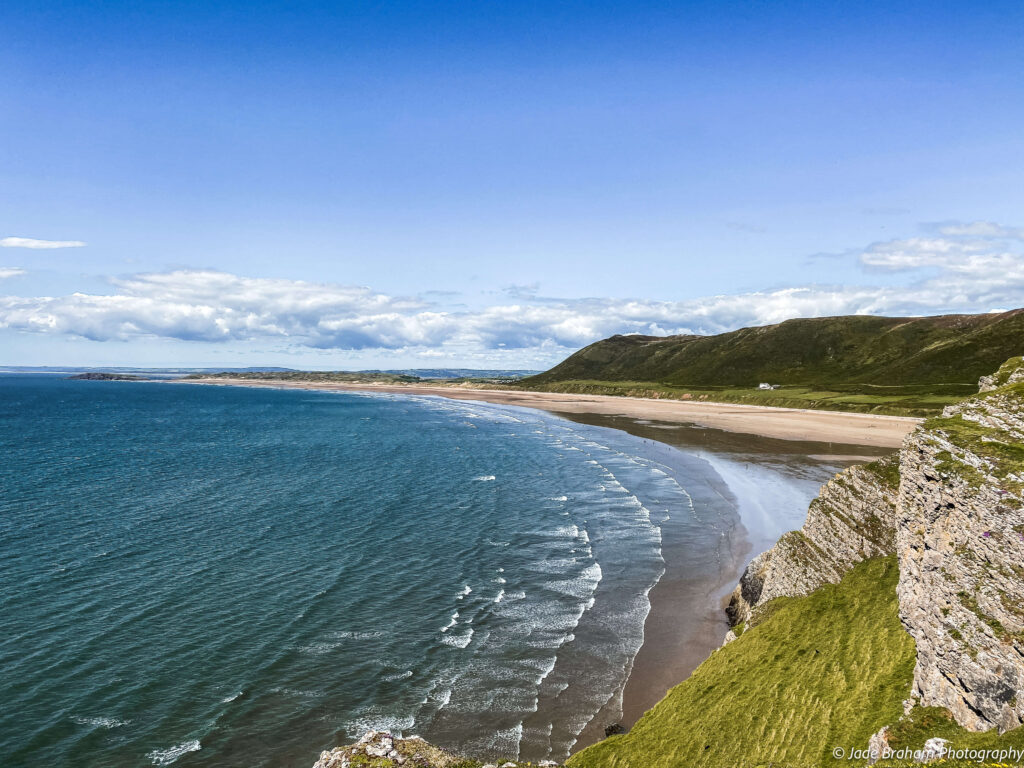 4. Brandy Cove
Brandy Cove is a dramatic beach with a historical timeline stretching from witches to smugglers unloading contraband into its many caves! At high tide, the beach is a shingle cove, ideal for small bonfires and watching the sunset. But at low tide, stretches of gold sand appear and many unusual rock formations to climb over (if you dare)! It is only accessible by the Wales coastal path or through the valley from a small town called Bishopston! The nearest facilities are at Caswell Bay (a half-hour walk along the coastal path), but it has a fish and chip stall, a few cafes, toilets and a beach known for its surfing!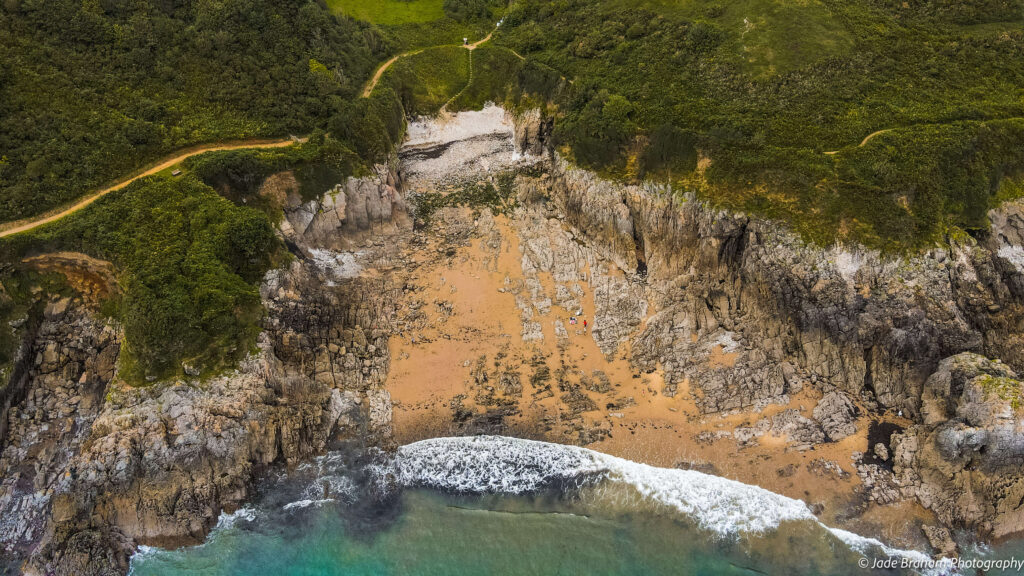 5. Three Cliffs Bay
Situated in Gower, Three Cliffs Bay offers a wilder experience with miles of sand dunes, salt marshes, the three limestone cliffs and the Pennard Pill stream running through the beach. Besides building sandcastles and splashing in the sea, you can walk underneath the cliffs through an archway which leads to Pobbles Beach. To the west is the sandy Penmaen Burrows which have Norman earthworks and a prehistoric burial chamber, while to the east are the spectacular ruins of Pennard Castle and its neighbouring church positioned high above the bay. North from the bay is the Neolithic Parc le Breos burial chamber – more commonly known as the Giant's Grave – and there's also the Cathole Cave, where in 1968, flint tools were found that indicated human occupation from around 12000 BC!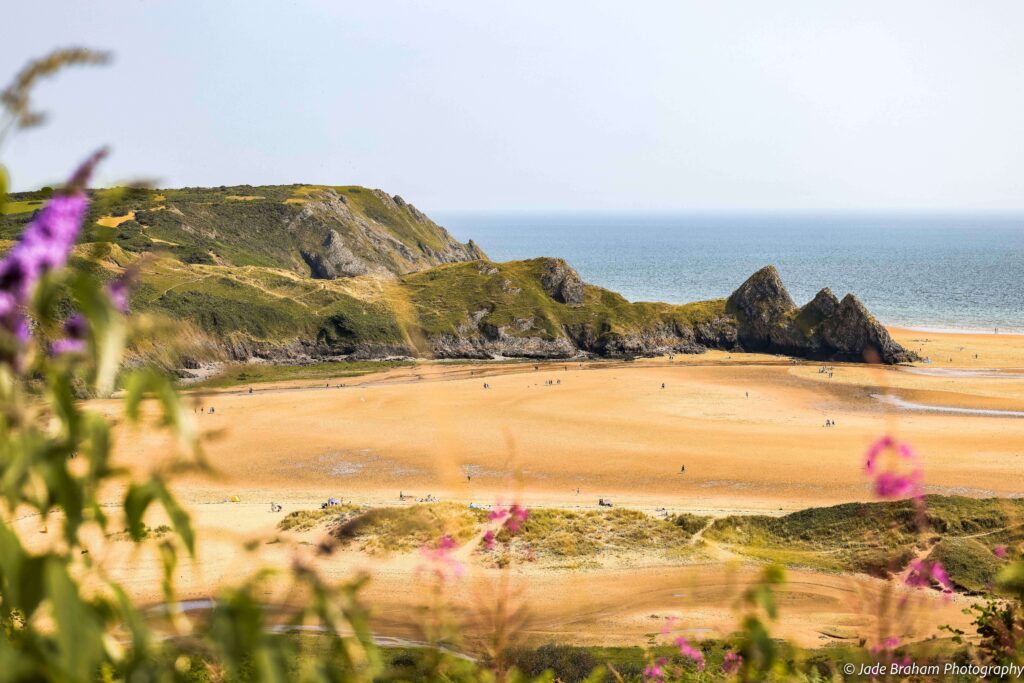 Final Thoughts on The Wales Coast Path
So there you have it, my ultimate guide to the Wales Coast Path. I hope this helps you plan your next adventure along Wales's coastline.
Is there somewhere on this list that you're looking forward to visiting the most?
For more inspiration on travelling around Wales, check out my ultimate South Wales road trip article here.
LIKE IT? PIN IT FOR LATER!