Calling South Wales my home affords many privileges. I don't have to travel far to find extraordinarily beautiful landscapes that are riddled in history and Welsh culture. Just under an hour away lies the Brecon Beacons National Park; 520 square miles of staggering mountains, mystical forests, sweeping valleys and ancient lakes. This national park covers the Black Mountains in the east, the central Beacons and the brooding Black Mountain Range in the west. The latter, known by its locals, as the Carmarthenshire Fans is perhaps the most underrated and under-acknowledged of them all. As a result, this remote area leading to Llyn Y Fan Fach offers an eerily silent hiking experience.
The magic lies in its divorced position from the man-made world; if you strain your ears and sight you still won't hear nor see cars, houses or people. In fact, all you'll hear is the consistently gentle flow of the river Afon Sawdde which is encircled by the amphitheatre-like escarpments that further barricade you from any signs of civilisation.
Like any inexperienced hiker I started my route from Llyn Y Fan Fach car park in Llanddeusant. However, within minutes I found myself alone on a picturesque path dotted with energetic yet crystal clear waterfalls. These waterfalls were icy blue, and I knew I should keep away lest I should fall in. But from a distance they looked like silver tear tracks, surging over weather-beaten rocks. The closer I got, the more rapid and thunderous the water flowed as if warning me to stay clear. They spilled over jagged ledges with a honeyed elegance into serenity-pools. These pools were as clear as cellophane, enabling me to see down into the depths of the rocky bottom.
Its rapidity over this craggy terrain threw up bubbles of spray which sparkled and shimmered like a spritz of fairy dust. As it trickled past, it turned into sleek robes of water with its glassy brilliance creating a dreamy and illusory facade of sorcery. This mystique landmark dazzled me with its beauty, and I felt that, for the first time in a while, I was shedding unnecessary baggage that I had accumulated from work and over Christmas.
If you continue on this path, as I did, you'll see the sharp peak of Picws du (which has disappeared in my photos) in the distance which becomes staggeringly more dramatic the nearer you get. While the path to the top is well defined by gravel, ensure you're properly kitted out in walking shoes as Welsh terrain, like its weather, can be wholly unpredictable.
As we reached the top, I was thankful for the flat surface, but mother nature had other plans than my contentment. The wind, having built up, caught my hair pulling me in multiple directions. Once I'd extracted my eyes from under my hair, I could see the wind dance through the yellow-hued grass while the serene lake rippled in the brisk breeze as if the natural world around me was having a party I was not invited to. The top of the amphitheatre-like escarpments of Bannau Sir Gaer had disappeared out of sight as an impenetrable mist cover ascended over the valley, conjuring images of a witches' brewing cauldron.
This was perfectly appropriate for Llyn Y Fan Fachs' part as the home to the lady of the lake. This is a centuries old Welsh legend that claims a young man saw a lady sitting on these dark waters combing her hair. He offered her bread and cheese, but she refused him twice. But on the third time she accepted and agreed to marry him but warned him "strike me without cause three times and you shall lose me". They lived together with their family, but alas he struck her three times. She returned to the lake but would appear to her sons, showing them herbs with medicinal uses. It is said that these young men later became the famous Physicians of Myddfai.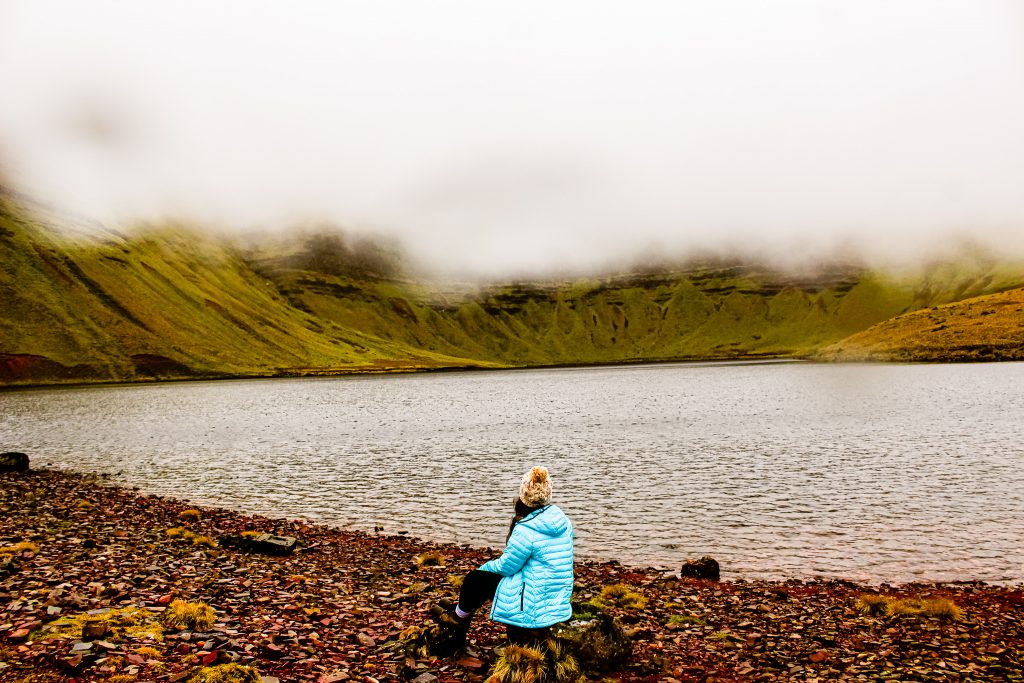 Whether or not this legend is true, the mythical atmosphere of the mist cover made it easy to imagine. With the weather-beaten rocks and hues of brown and yellow in the surrounding vegetation, one thing is clear; Llyn Y Fan Fach is an ancient site. Indeed, it is an exquisite example of a glacial lake that was created when waters filled a hollow eroded by a glacier during the last Ice Age 11,500 years ago.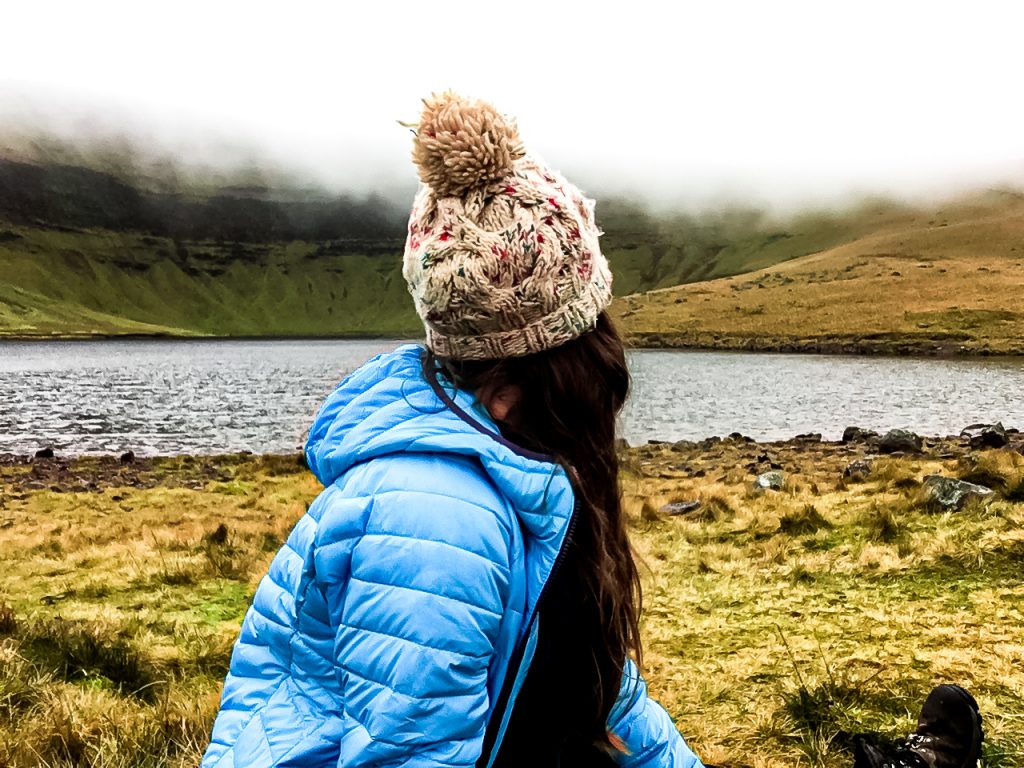 Llyn Y Fan's remarkable preservation of the past led me into a meditative state of thoughts and observations on the unchanging scenery before me. It led me to think of one of my favourite quotes by Janice Adderson; 'Nature is one of the most underutilised treasures in life. It has the power to unburden hearts and reconnect to that inner place of peace'. As I sat there bewildered by mother nature's endurance and longevity I was unburdened and distanced from trivial pressures of life and instead I was able to live in the moment. I enjoyed the peace and reconnected to what was important to me.
As I journeyed back down the mountain, the air was chilled and the sun broke through the shelf of heavy mist, illuminating angular hills in the distance before retreating once more.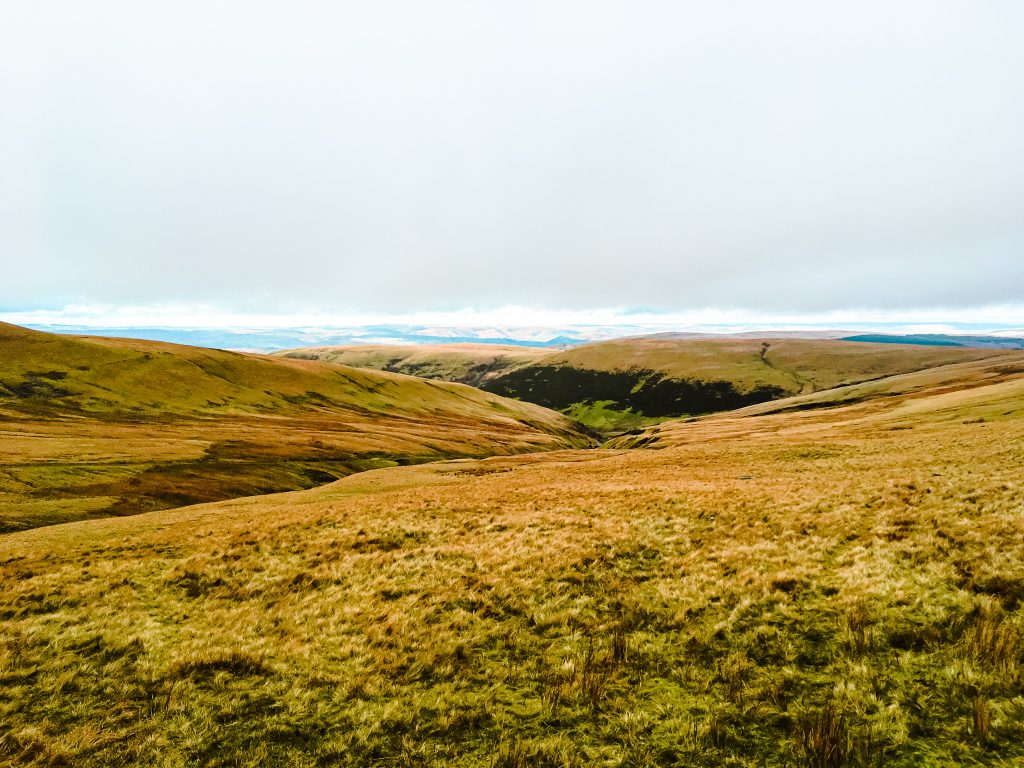 – – – – – – – – – – – – – – – – – – – – – – – – –
If you enjoyed reading about my adventure up Llyn Y Fan Fach, check out why I found Puzzlewood Forest enchanting. Finally, if you'd like to remain up to date with my journey across the globe, please subscribe to my email list.
Alternatively, head to the subscribe box to grab your FREE How to Take Professional Travel Photos Guide!