Looking to experience a South Wales road trip? Then make sure to use this guide to help you plan the ultimate Wales road trip itinerary so that you and your companions can have a holiday of a lifetime!
Wales is small, but mighty in what it can deliver. There are more castles per square mile than in any other European country, and there are many Blue Flag beaches, some of which are known for being the best in the world. Several twee villages have magnificent cathedrals, independent restaurants, and centuries of myths and legends. Connecting these places together are miles of zigzagging roads, passing undulating fields, craggy headlands and soaring mountains and valleys.
My favourite region to take a road trip in is South Wales. The scenic roads of Carmarthenshire, Pembrokeshire, and Ceredigion are some of the finest in the country and are also known as Celtic Routes, which you can follow to find your own "Celtic Spirit". Along the way, the irresistible appeal of nature couples with history, whether at a glacial lake sitting at an altitude of 510 metres or facing a statue of the 'Welsh Braveheart'.
I embarked on a ten-day road trip, but depending on timings, you can do this South Wales road trip route in 2-3 days. Or, if you've got time, head to North Wales to discover a Welsh-Italian village that looks plucked out of a fairy tale book. And, if you needed another reason to take a Wales road trip, then how about the fact that Wales is one of the cheapest countries to visit in the UK.
I personally started in Llandovery, a historic market town, before heading toward Llandeilo, Laugharne and further afield to Pembrokeshire, where I found St Davids – Britain's smallest city. I finished in Ceredigion, marvelling at waterfalls and magnificent abbeys!
Wales Road Trip Map
This South Wales road trip route is ideal for hardcore adventurers and travellers looking for a slow-paced holiday. You'll have plenty of time to explore the Welsh countryside and have the option to add or deduct stops along the way.
If it's easier for you, there's an option to start in Cardiff, Brecon, or Hay-on-Wye!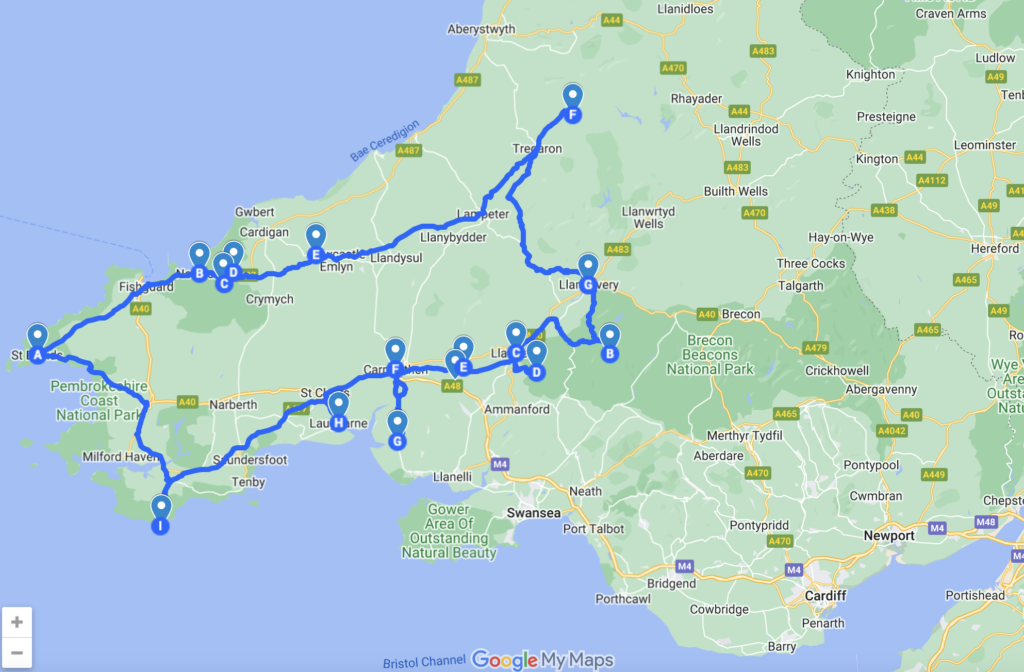 A ten-Day South Wales Road Trip Route
DAY ONE: LLANDOVERY – LLYN Y FAN FACH
Start your road trip in Llandovery, a small market town close to the Brecon Beacons National Park and the astounding Cambrian Mountains, and tricking around its centre is the River Tywi. While Llandovery might seem like any other Welsh country town, it is rich in history and culture, with links to the historic Drovers Route and a 'Welsh Braveheart'.
You'll find this Braveheart – a 16-foot-high stainless-steel statue – of Llywelyn ap Gruffyd Fychan at Llandovery Castle. This fortress (only the crumbling twin-towered gatehouse survives) was where King Henry IV ordered the disembowelment and dismemberment of Llywelyn's body. This was a punishment believed to fit Llywelyn's crime of supporting Owain Glyndŵr's guerrilla war against the English king.
Pick up a snack at one of the bakeries or head to the West End Café for a hearty lunch. Then check into The Castle Hotel. I would recommend spending only a few hours in Llandovery before detouring to Llyn y Fan Fach ("little lake near the peak"), which is about a 30-minute drive away.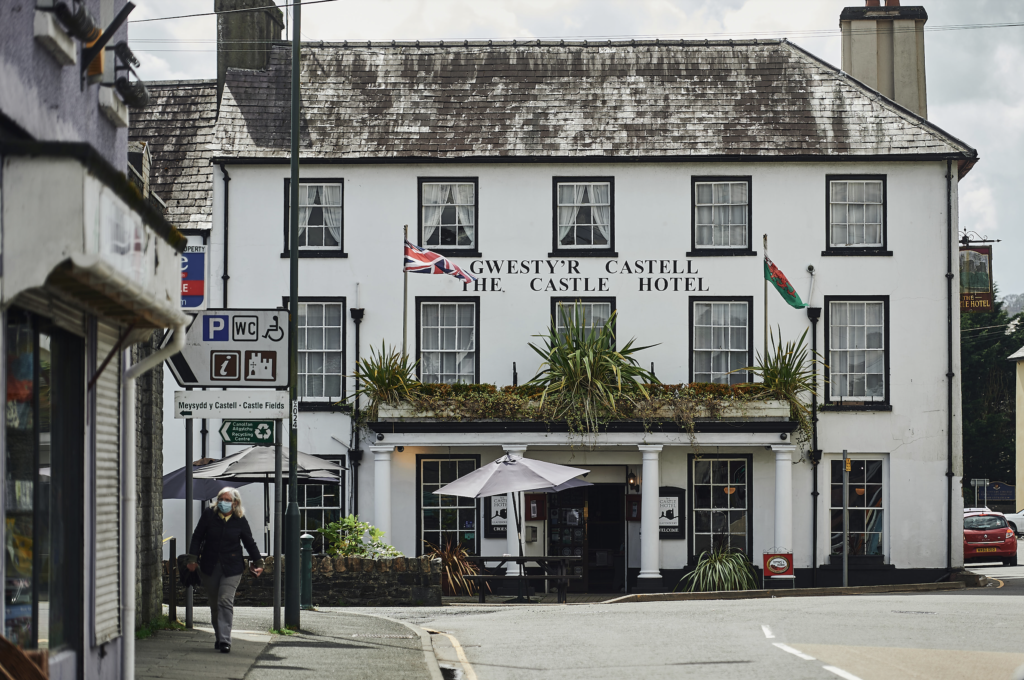 From the Llyn y Fan Fach car park (SA19 9UN), it's a moderate four-mile walk to the lake, which sits at an altitude of 1,600 feet in the Fforest Fawr Geopark. This park has over 480 million years of history buried within its landscape, including a large Bronze Age round burrow crowning the Picws Du summit. This summit sits directly behind the lake, and you can reach it by walking the path to the water's right.
What makes Llyn y Fan Fach special is that it's supposed to house the mythical Lady of the Lake, who dwells beneath the water's surface. She is meant to have married a local farmer, but after he hit her three times, she returned to her watery home, leaving behind three sons. These sons became the renowned royal Physicians of Myddfai.
DAY TWO & THREE: LLANDEILO – CARREG CENNEN CASTLE – LLANARTHNE
Your South Wales road trip will take you from Llandovery to the "Balamory" town of Llandeilo, known for its pastel-coloured houses. Spend a couple of days here as Llandeilo was once the ancient Kingdom of Deheubarth, whose princes formed the Wales we know today, meaning there is a lot to see! Its charming hilltop location makes it ideal for a UK staycation, and the Cawdor Hotel – excellent for fine dining – will do just the trick with its cosy bedrooms. Make sure to pop into Heavenly Chocolate Emporium, which is a chocoholic's paradise, as it has chocolate boxes wrapped with cute red bows!
Next up is Dinefwr Estate, home to Newton House, an ancient deer park and Dinefwr Castle: the main court of the Deheubarth princes, especially Wales's beloved Lord Rhys. Newton House is the most haunted property in the National Trust's care, and it has one of the couches featured in the Downton Abbey TV series! The castle is the first of three Deheubarth strongholds within 10 miles of each other.
Dryslwyn Castle, visible from Dinefwr's battlements, is the second fortress and best example of a Welsh masonry castle. It takes only 14 minutes to drive to Dryswlyn from Dinefwr. Then circle back to Carreg Cennen Castle, which is the third Deheubarth fortress and is associated with a prince sleeping in the castle's cave.
On the third day, pop to Llanarthne, which is only 10 minutes from Llandeilo. Here you'll find St David's Church, which is a Grade-II-listed building with medieval origins, Paxton's Tower, and Wright's Food Emporium. Wright's is famous in this part of Wales, and their pork belly Cubano is a musty try!
End the day by visiting the National Botanic Garden of Wales, which is one of the best things to do in Wales – and that's a fact! It recently reopened following a five-year, £7-million redevelopment project. Its Waun Las National Nature Reserve is a must-visit as it has several walking routes, some of which take you through woodlands, meadows, and past Regency lakes!
DAY FOUR: CARMARTHEN – KIDWELLY
On the fourth day of your South Wales road trip, delve deeper into Carmarthenshire, passing Carmarthen – the county's ancient capital – where you should stop at The Warren. This is by far one of the best places to eat in Carmarthen, as its low-carbon beef burger is an excellent example of the county's cuisine. Or slightly further afield is Jabajak Vineyard and Restaurant, which grows a special kind of cold climate grapes and has ties to President John Adams and THE White House in Washington.
From here, venture to Kidwelly to see Kidwelly Castle, whose medieval foundations you might recognise from the first scene of Monty Python and the Holy Grail. To locals, this is where Wales's only warrior princess led an assault against a Norman army! Unfortunately, Gwenllian was captured and beheaded, but you can visit her monument near Kidwelly's gatehouse.
After a day of exploring, Kidwelly Farm Cottages is a great base for the evening!
DAY FIVE: LAUGHARNE
Day five must be dedicated to Laugharne, which is one of the cutest villages in Wales, with the River Taf flowing past the 900-year-old Laugharne Castle directly into Carmarthen Bay. It was dubbed "the strangest town in Wales" by our beloved poet Dylan Thomas who lived and worked here.
The castle is one of the finest examples of a 16th-century Elizabethan manor house, and it has the UK's best 19th-century ornamental garden!
The town is arguably still consumed by Dylan's everlasting presence as several of his homes remain intact, including the Boathouse, writing shed and Brown's Hotel. The latter was Dylan's favourite watering hole; he often gave the hotel's phone number as his own. Today the hotel's restaurant, Dexter's, serves some great beef burgers and has some wonderfully cosy rooms.
Make sure to walk the coastal "Dylan Birthday Walk", which follows the route the poet took on his birthday. He immortalised this walk in his 'Poem in October'. It's an easy two-mile walk and will finish at Sir John's Hill, which has some incredible views of Carmarthenshire's countryside.
DAY SIX: ST GOVAN'S CHAPEL – ST DAVIDS
Now that you're halfway through this South Wales road trip, it's time to leave Carmarthenshire and venture into Pembrokeshire, travelling along the serpentine coastline.
The first stop in this county is St Govan's Chapel, a small religious building that defies logic. The building is built into the rocky Pembrokeshire coastline at Castlemartin Range which makes the chapel look like the rock's extended limb. As the legend goes, a 5th or 6th-century saint by the name of Govan was seeking refuge from a band of pirates when the cliff above him miraculously opened, providing a place of refuge. This is the chapel we see today.
The 'bell rock' at the top of the church is reputed to have been rung by Govan when the pirates returned, warning locals to find safety! You can also see a holy well!
A little over an hour away is St Davids – Britain's smallest city and Wales's first bee-friendly city. Now there's a lot to do here – in fact, you could spend an entire weekend or week in St Davids. But for this South Wales road trip, I'd recommend seeing the highlights, which include the gold-and-purple-hued St David's Cathedral, which is named after Wales's patron saint and has been a place of pilgrimage for centuries. In the 12th century, Pope Callixtus II declared two pilgrimages to St David's were equal to one to Rome, while three were equivalent to one pilgrimage to Jerusalem! St Non's Chapel and The Bishop's Palace are also must-sees!
If you've got time, visit The Bug Farm and Grub Kitchen – the only full-time edible insect and bug restaurant in the UK! This will make your South Wales road trip a UK staycation like no other, as will a night spent in Twr y Felin Hotel. The latter is a former windmill turned into Wales's first art hotel, with over 100 artworks decorating the walls.
Before calling it a day, head to Really Wild Emporium (only open on select days) to try a six-course tasting menu, which is designed around wild ingredients and local seaweed.
DAY SEVEN & EIGHT: NORTH PEMBROKESHIRE
After a restful evening, swap saints for Celtic warriors by travelling to North Pembrokeshire; a land once riddled with prehistoric tribes.
Your first stop is at Britain's only reconstructed Iron Age village to exist on the same spot tribes lived 2,000 years ago. This is Castell Henllys Iron Age Village, with roundhouses built from oak, hazel poles, hemp twine and wheat straw, which are the same materials Celts used. A costumed guide – supposedly from the real Demetae tribe – takes you on a tour of the site, passing the Barefoot Trail – a route following the exact terrain Celtic warriors traversed – and Chevaux-de Frise. They'll also teach you how to make Iron Age bread, start a fire and build your own Celtic home.
From here, visit Pentre Ifan Burial Chamber, a 5,000-year-old megalithic monument framing Carn Ingli (The Mount of Angels). This prehistoric tomb has six enormous standing stones delicately holding the weight of an even bigger horizontal capstone, spanning 16 ½ feet!
Then head into Newport and drop your bags at Llys Meddyg Hotel. This is another town that could be explored over a whole weekend or week. So, if you're looking for a UK staycation, then add Newport to your list.
Leave the car behind, and venture on foot to Carreg Coetan Arthur Burial Chamber and Britain's oldest intact medieval kiln. The latter can be found on the high street next to the Memorial Hall. There are many independent shops and galleries to visit, while The Castle Inn serves a delicious Sri Lankan curry. For architecture lovers, the 13th-century church will tickle your fancy as it has a magnificent medieval font and holy water stoup! If you're looking to spend some time in the Welsh countryside, head to Newport's beach, but be aware it can get very windy here!
DAY NINE & TEN: CENARTH – STRATA FLORIDA ABBEY
Your final two days will be spent in Ceredigion, spotting waterfalls and watching salmon at Cenarth Falls.
But before you arrive here, stop at Cilgerran Castle, known for housing Wales's very own Helen of Troy. As the story goes, a Welsh princess called Nest, who was the daughter of Rhys ap Tewdwr – once the ruler of southern Wales – was married to Gerald of Windsor. But in 1109, Nest was abducted by her second cousin, Owain ap Cadwgan, and later became mistress to a number of powerful men, including King Henry I. This earned her the nickname 'Helen of Wales'.
On the last day of this South Wales road trip, pop to Strata Florida Abbey, an important Welsh Cistercian church once known as "the Westminster Abbey of Wales". It was founded in 1164 by Robert fitz Stephen and later patronised by Rhys ap Gruffudd, who is now known as Lord Rhys, 'Glory of Wales' and 'Prince of Wales'.
While here, make sure to look out for the graves of several Welsh princes, as well as richly decorated 14th-century tiles. These designs highlight the fleur-de-lis (hinting at the abbey's Norman origins), a griffin, birds, coats of arms and images of a man looking at a mirror, which alludes to the perils of personal vanity.
A South Wales Road Trip: The Essential Information
Best time to take a South Wales road trip:
I'd highly recommend coming to South Wales during the shoulder seasons when the weather is still warm and dry (as dry as Wales can get), plus there will be fewer crowds.
December to February

: The winter months are colder and stormier, which is great for photography. Many historic sites will be closed, but mountains, beaches, and nature-based activities will be all yours.

March to May

: This is my favourite time to explore Wales, as spring brings sunshine, daffodils, and lambs to the countryside. Plus, many heritage sites, restaurants, and day-trip activities will be open, and there will be fewer tourists.

September to November

: Autumn is my second favourite time to visit Wales because the countryside is awash with amazing colours, plus there are fewer tourists. My favourite place to visit at this time of year is the Elan Valley.
If you're short on time …
If you can't do the full ten-day South Wales road trip, here's what you shouldn't miss:
Llyn y Fan Fach

: The views of the Brecon Beacons National Park are outstanding

Laugharne

: The hometown of Dylan Thomas, Wales' most beloved poet

Jabajak Vineyard and Restaurant

: The only property to have ties to President John Adams and THE White House in Washington

Kidwelly Castle

: This is the site where Wales's only warrior princess led an army against the English

St Davids

: Britain's smallest city and has the only full-time edible bug restaurant in the UK

St Govan's Chapel

: The most unusual church in the UK
FINAL THOUGHTS ON MY SOUTH WALES ROAD TRIP
So there you have it, my ultimate South Wales road trip itinerary! I took ten days to complete this road trip, but you can change it to fit a weekend schedule or even add to it and go north to Snowdonia.
I hope this helps you plan your trip to Wales.
Is there somewhere you're looking forward to visiting the most?
LIKE IT? PIN IT FOR LATER!