Amsterdam has always been high on my bucket list of European cities to visit. If that's the same for you, check out this 3-day Amsterdam itinerary for inspiration! At an early age, I studied World War Two and the effect it had on Jewish families. In doing so I was introduced to Anne Frank and became fascinated with and inspired by her heroism and stoicism. I read so many books about her; her city, her home, and the paths she walked became a place that I not only wanted to see but needed to.
But as I got older and caught the travel bug I fell in love with Amsterdam for numerous other reasons. I came to love how beautiful the city was; the strength and perseverance of its cultural heritage and for the continuance and celebration of traditional Dutch cuisines. But most importantly, as an artist and photographer, I have always been transfixed with its amazing architecture! This 3-day Amsterdam itinerary will show you how to make the most of the charming city.
Why did we chose amsterdam?
Last year I decided to book a quick getaway with my closest friends to Amsterdam. For all of us, this was our first solo excursion, meaning I'd never travelled without family before while some of us had never before left the UK. Being a little apprehensive about travelling as four young women we picked a location that we thought (after extensive research) was safe to travel alone. For any with the same concerns, I can assure you that Amsterdam is the perfect destination for a solo trip. The culture is relaxing, its people respectful and considerate and the many forms of transport means getting around is easy and stress-free. It is also a wonderful destination to experience true Dutch culture!
Getting to amsterdam
From 2 different areas of England and 2 from Wales we all made our way to London St. Pancras International Train Station. It just so happened that taking the Eurostar from London was the most convenient meeting place for us. But, after considering flying to Amsterdam we came to the conclusion, which I still 100% stand by, that taking the Eurostar is much more affordable. It is also much more relaxing and comfortable, and you get much more for your money than if you were to fly!
Why take the Eurostar?
For a return journey we each had to pay around £117. Ours were the standard tickets (the cheapest ones) and they included 2 pieces of luggage which could be up to two large suitcases and 1 hand luggage.
On top of this the seating is spacious and there's ample room for storing your luggage near you. You can either buy snacks, drinks and meals on board or if you'd like to save you can bring your own food. This instantly made us feel more comfortable as none of us wanted to spend huge amounts of money. Conveniently, Eurostar offer combined tickets that include train and hotel bookings which makes life much easier.
Where to stay in amsterdam
Being a European city, accommodation in Amsterdam can be quite pricy. We did find some hotels within our budget that were offering quadruple rooms. But after some consideration, we decided that more space was essential. We started looking into renting an apartment. We decided on one of the Amsterdam Harbour Apartments which are located in the city centre.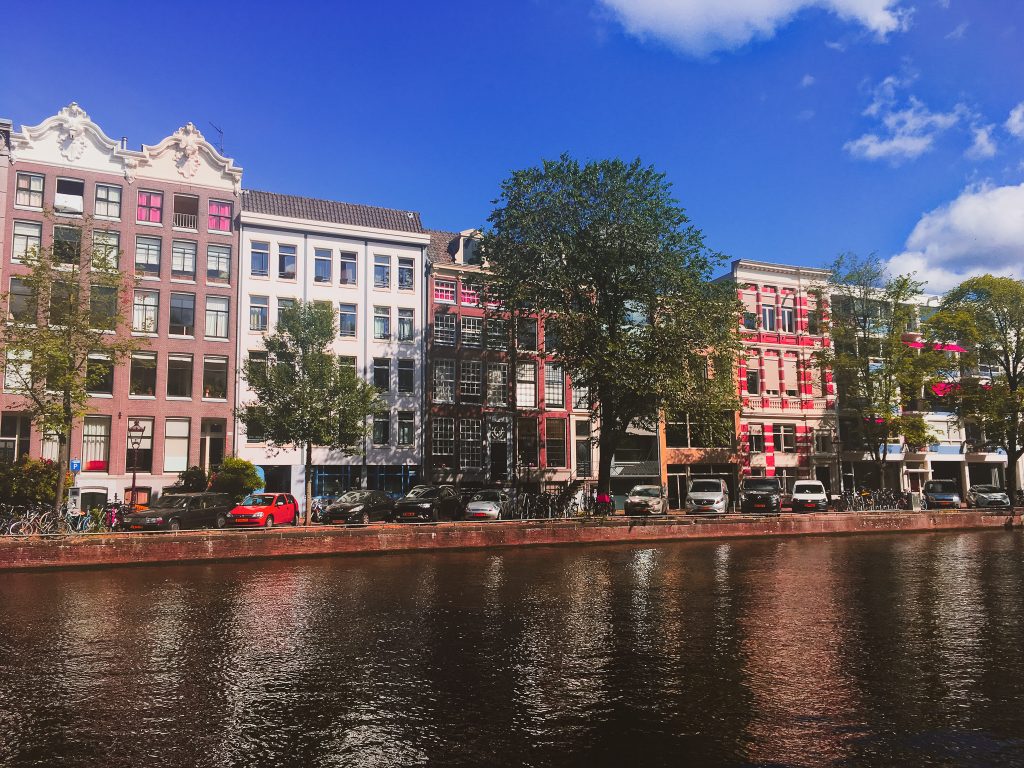 Overall, I loved staying in this apartment as opposed to a hotel because it was super clean, the beds were comfortable, and we were able to walk everywhere. I've stayed in apartments for short trips before and I'm starting to believe that they're more appropriate forms of accommodations for quick getaways.
For short trips are usually busy and not a lot of time is spent in the hotel/apartment, so paying hotel prices always seems a waste of money. Additionally, apartments, including this one, are a third of the price for a few rooms, a kitchen and a living room space. We also saved quite a bit of money by eating breakfast and the occasional evening meal in the apartment. So, if you're looking for budget-friendly way to explore Amsterdam, renting an apartment is a solution!
3-Day Amsterdam Itinerary: Day 1
After sorting our accommodation out we walked around the centre. Once you're in the centre, it is pretty easy to get around the city. If you're adverse to walking, I'd recommend renting a bike or alternatively there are many tram lines that run through the centre. It is important to note that the right of way is given to cyclists in Amsterdam. Forget being 'almost' run over by cars, here you need to watch out for bikes. It is easy to get hit by these if you aren't paying attention. It is also good to know that locals can get very angry if you're walking in their cyclist lane and quite often, they don't move around you. So, instead of seeing bikes coming head long at you, it's best to stay in the specific lanes designated to pedestrians.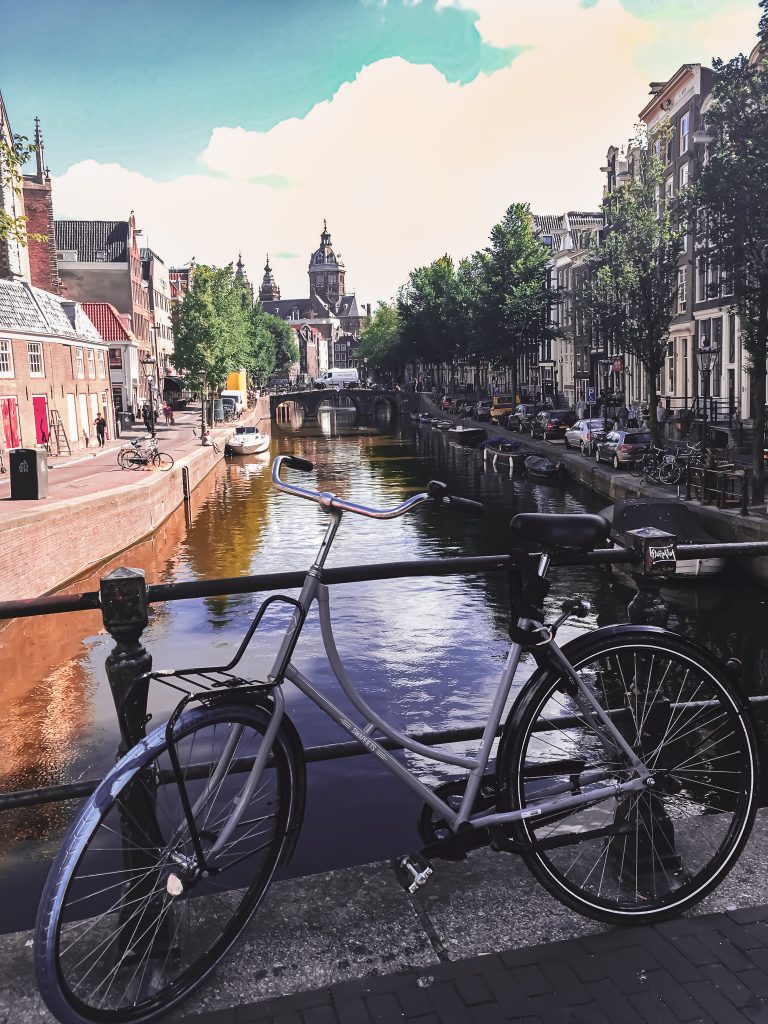 The Venice of the North
Known as being the 'Venice of the North', Amsterdam has 150 canals and 1,250 bridges throughout the city. While looking much like Venice, Amsterdam actually has more canals. For this reason, I'd highly recommend starting your trip ambling around, letting whatever takes your eye lead the way. That's precisely what we did and we ended up at a lovely local restaurant, Café del Mondo, opposite the New Market Square. Not only did we get delicious traditional cuisine, there is also a charming daily market here. Locals sell organic food, antiques, books, while food stalls make fresh smoothies from local produce and tasty traditional snacks.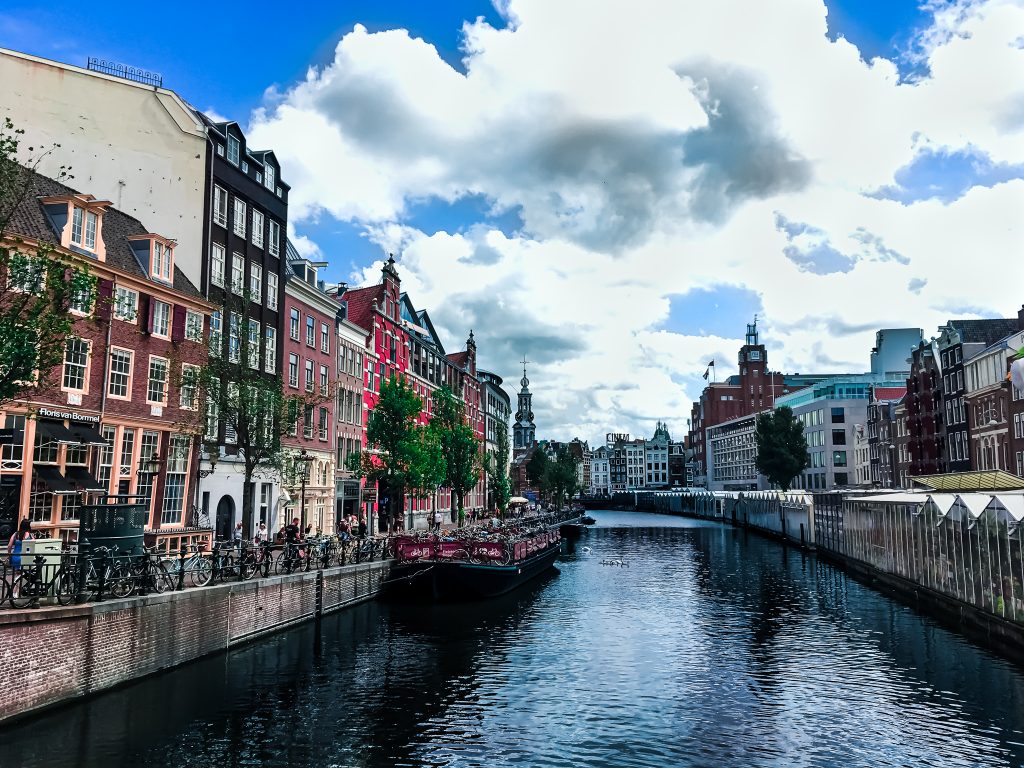 The Nieuwmarkt
There are also many small and unique bookshops around. We found one selling the Lord of the Rings Trilogy in Dutch, which trust me was a huge deal! I'd highly recommend seeking out these smaller bookshops as they sell stunning postcards shot by local photographers.
For any history lovers, strolling to the New Market Square is a delightful experience as it is dominated by a building known as the Waag. The Waag was originally a gate in the medieval city walls but has since been converted into a weighing house. Hence why this area became known as a market square!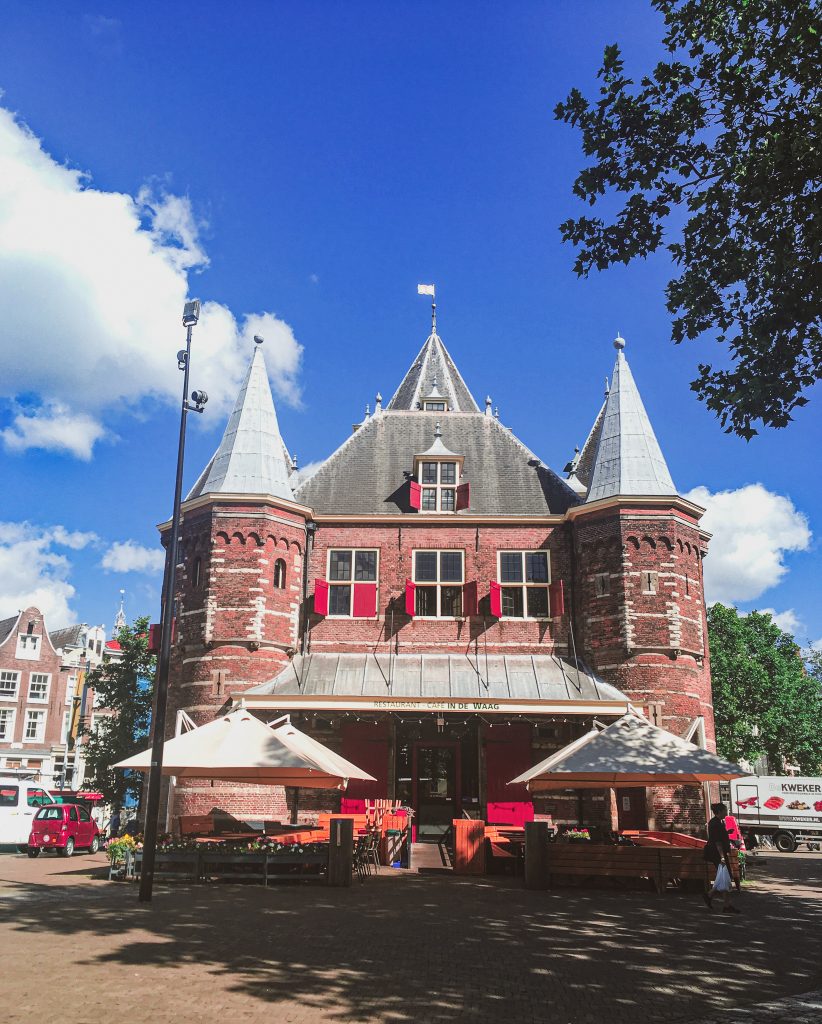 Dam Square & National Monument
It is very easy to relax in Amsterdam because there is a very chilled vibe and before we knew it, we had stumbled upon Amsterdam's Dam Square. The square includes the National Monument celebrating those who died during World War II and from subsequent armed conflicts.
But the true crown jewel here has to be the Royal Palace, Koninklijk Palace. It is definitely worth getting up super early to ensure a photo opportunity of this building without swarms of tourists.
Just behind the palace is the Magna Plaza Shopping Centre. It's probably the most beautiful shopping centre I've ever been to with an exquisite blend of Gothic and romantic architectural elements that Parliament buildings here in the UK are an example!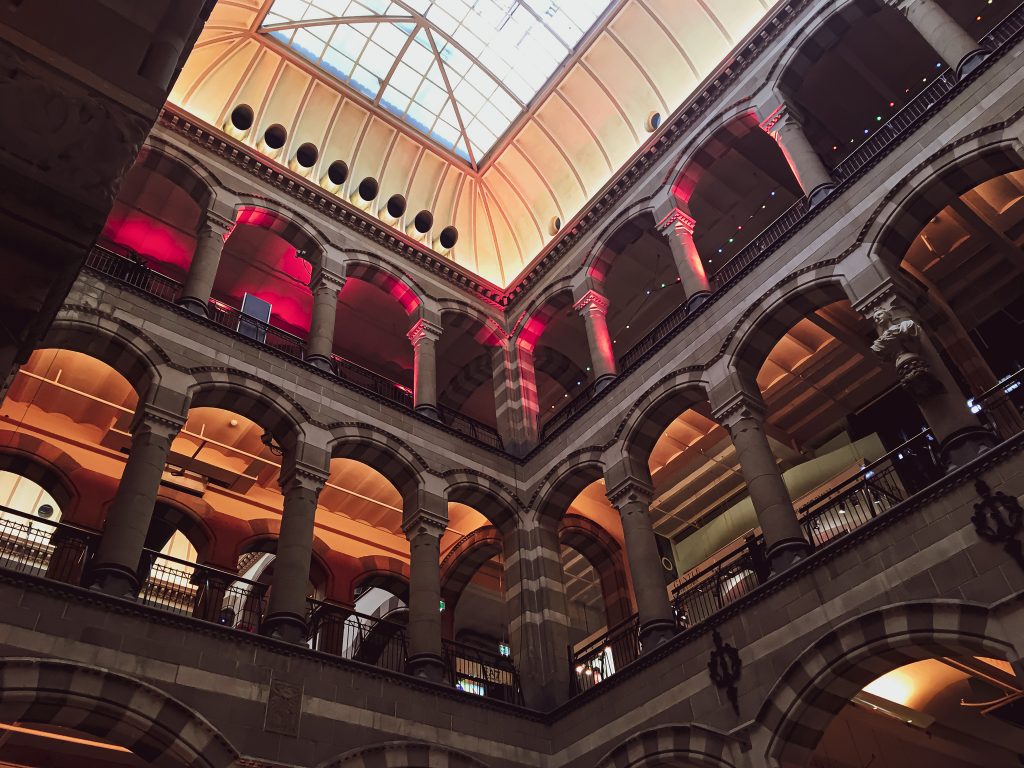 The Anne Frank House
Sadly, we weren't able to go inside Anne Frank's house because we hadn't booked early enough. It is important to book the Anne Frank House months in advance. For those who haven't or couldn't tour Anne's house, you can do a virtual tour on the website.
An overview of history
The Anne Frank House is located on a canal called Prinsengracht. It was here that Anne and her family and 4 other people hid for 2 years from Nazi persecution. There are hidden rooms at the rear of the 17th-century building, known famously as the Secret Annex or Achterhuis. Unfortunately, Anne and her family were found and later transferred to Auschwitz-Birkenau concentration camps.
While we couldn't see the Annex ourselves, it is still so surreal to see the exterior and the small plague on the door denoting it as Anne's house. For me, it was one of those moments where what you've heard or been taught finally comes alive. The cruelty and sheer lack of humanity from Nazi Germany was present for all to see!
3-Day Amsterdam Itinerary: Day 2
Visiting the Auschwitz Monument
On May 10th, 1940, Nazi Germany invaded the Netherlands. There were 140,000 men, women, and children living here at the time. Between February 1941 and September 1944, there were more than 107,000 Jews deported. Here, the Auschwitz Monument, known as the Monument of Mirrors, commemorates the millions of unknown victims.
Unlike Anne Frank's house, the monument is very well hidden from the public and unless you're specifically looking for it, the chances of you finding it are slim. It is located in Wertheimpark (which is beautiful in its own right) and features six broken mirrors with the words, "Never Again Auschwitz" inscribed. The blue mirrors are supposed to reflect the air and symbolise the sky and world around us that will never be the same again. While according to others, the reflection of the sky is supposed to announce that heaven is no longer unbroken since Auschwitz happened. Either way, it is a chilling reminder of the horror and violence that was and still is present in this world!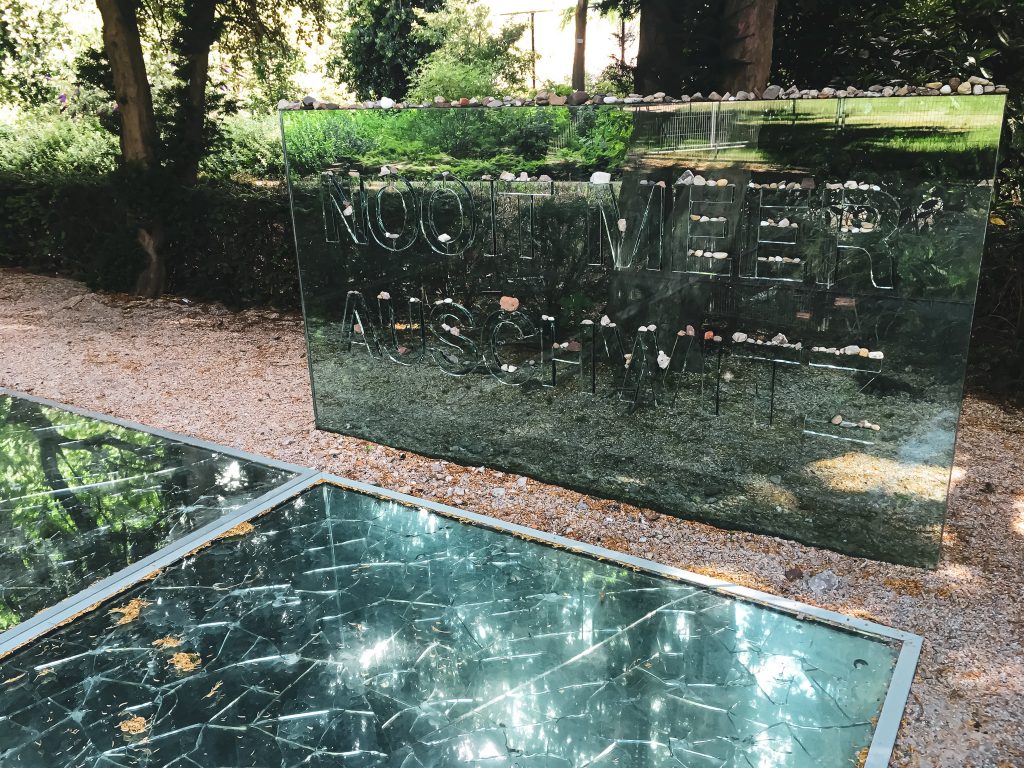 Rembrandt House & Chinatown
On our way to the Oude Kerk, we came across the Rembrandt House Museum. It is an historic house and art museum that celebrates Rembrandt's artwork. The house is located in the Jodenbreestraat and has been reconstructed on the inside to make the house look as it would have during Rembrandt's time.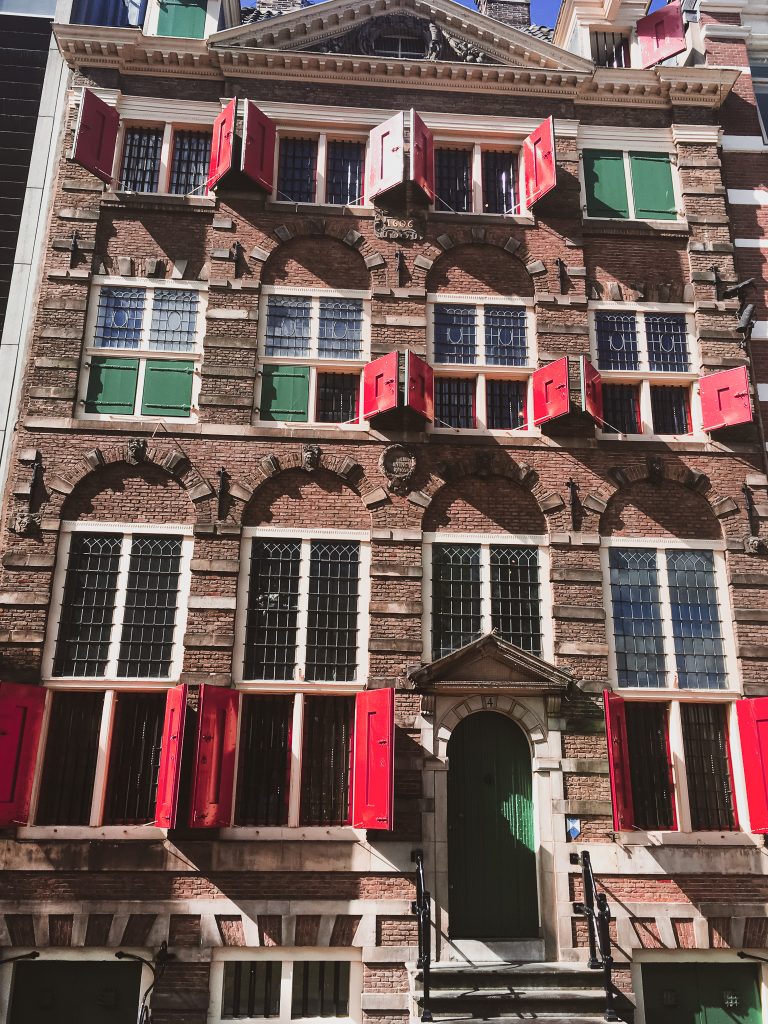 Continuing with our day, we headed over to Chinatown. Interestingly, I had never considered that there would be a Chinatown in Amsterdam but it signals the city's long and diverse history. The current community are determined to preserve and are loyal to their traditions and customs. This area offers a completely different perspective on Amsterdam and its history. It's thrilling to see such diversity and the smell of Chinese food will make you want to eat… a lot!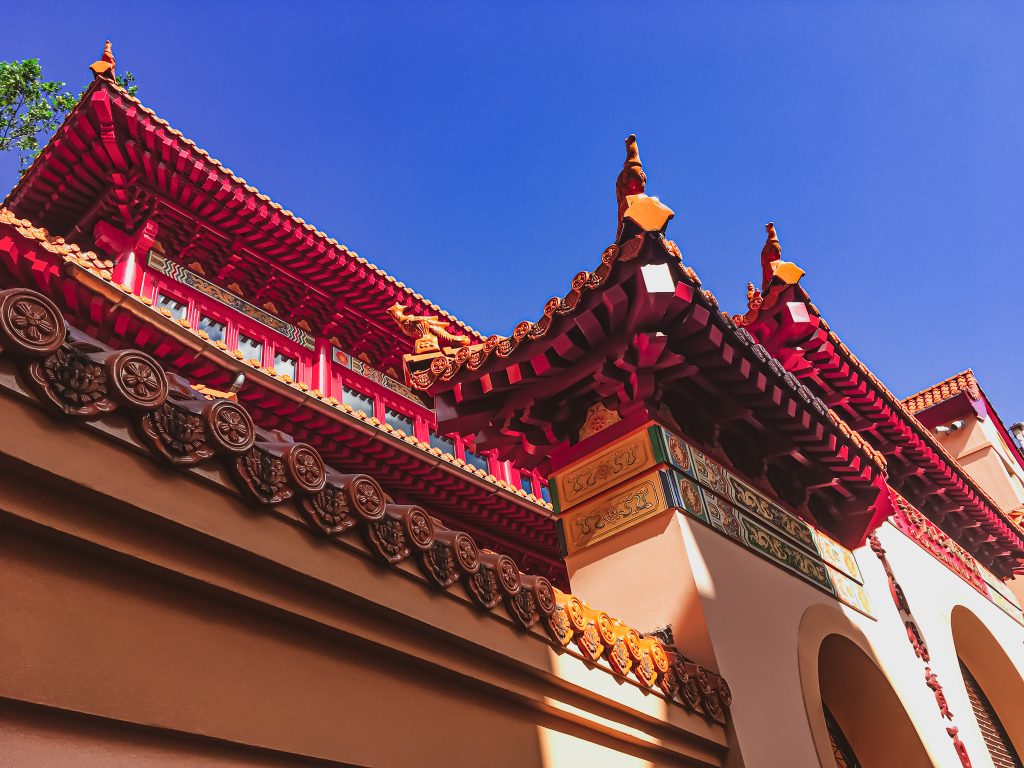 Oude Kerk & The Red Light District (by accident)
To get a true sense of the Original Amsterdam, head over to the Oude Kerk. Founded in 1213, it is Amsterdam's oldest building and oldest parish Church. It is quite hard to locate and Google Maps was utterly useless. We had intended, and tried incredibly hard, to avoid the Red Light District but without knowing it Google Maps took us straight through it. I was so ensconced in reading Google Maps that I was totally oblivious to the outer world but all 3 of my companions saw some things they didn't want to.
The church is actually located right in the centre of this district. I'm not the only one who finds this ironic, surely? Displaying an interplay between heritage, art, and Dutch music, the Oude Kerk occupies a unique cultural position in the Netherlands. The magic that lies in this church goes to the ceiling. It is the largest medieval wooden vault in Europe with the Estonian oak planks dating to 1390. For me, the illustrations of saints and other iconographical symbols on this ceiling add to the antiquity of the building!
Royal Palace of Amsterdam & De Krijtberg Catholic Church
The Royal Palace was originally built as the city hall for the magistrates of Amsterdam. Nowadays, by an Act of Parliament the State has placed it, along with 2 other Palaces, in the King's disposal. For only 10 euros, we took an audio tour around the palace and learnt the history behind it. All the rooms are fascinating, opulent and truly beautiful. With its beautiful yellowish sandstone exterior and marble covered interior the power and prestige of Amsterdam is evident.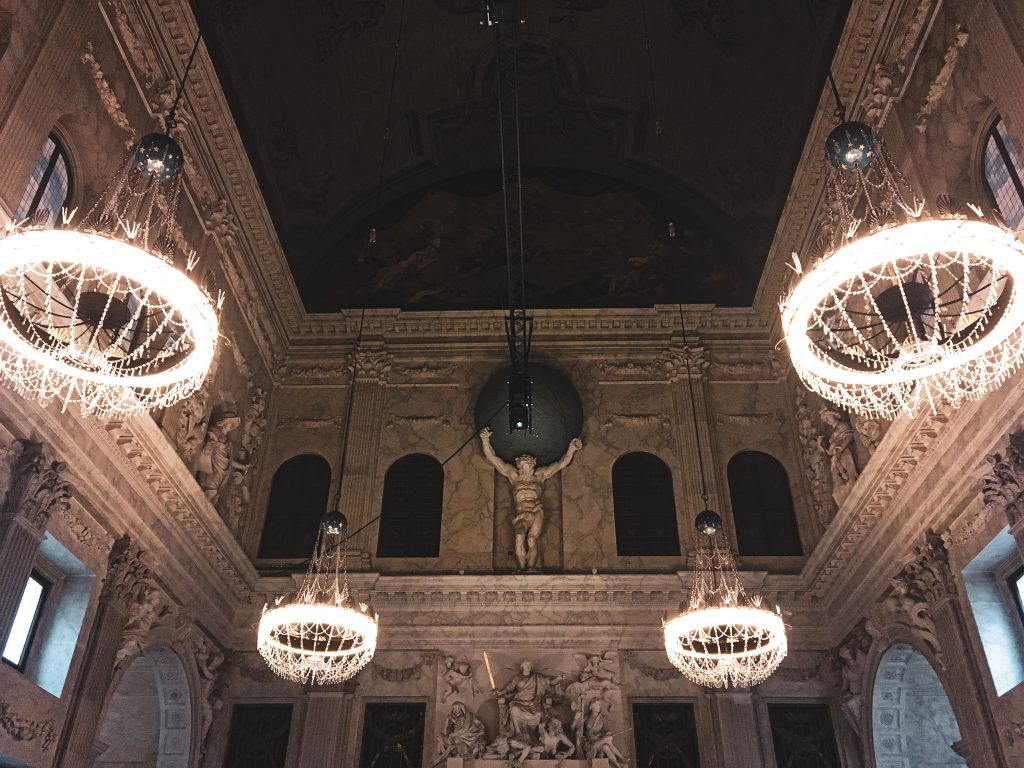 Alternatively, head over to the De Krijtberg Catholic Church. Catholicism is known for its ostentatious display of religious artefacts, colour and illustrations. De Krijtberg didn't disappoint on this! In fact, the array of colours was exquisite and its reminded me very much of my experience and awe of St. Peter's Basilica, in Italy!
Enjoy an evening Canal Cruise & a floating Chinese restaurant
Almost right outside the train station is a row of parked canal cruises to pick from. Most of them are quite large and are covered with a plastic ceiling. We decided to pay a little extra and take a tour of Amsterdam's canals with Floating Amsterdam, a 5-star luxury canal cruise. The open top, plump cushions, optional drinks and snacks just made the whole experience more relaxing and enjoyable! As we cruised the canals, the captain told us fun facts about the capital. We found out that the houses in Amsterdam are tilted because they are built on a wooden foundation and because Amsterdam is marshland these wooden poles have rotted away over the years, causing houses to tilt!
Our captain also told us that because the houses are so tall and thin, the staircases are super steep, meaning it is difficult to carry objects up them. For this reason, every house in Amsterdam has a hook at the top to enable residents to pull large pieces of furniture up and through the windows. Additionally, the reason the houses are so tall is because historically the city would tax residents on the width of their house. So, if you see a home that is wide, you'll know a wealthy person lived there at one point.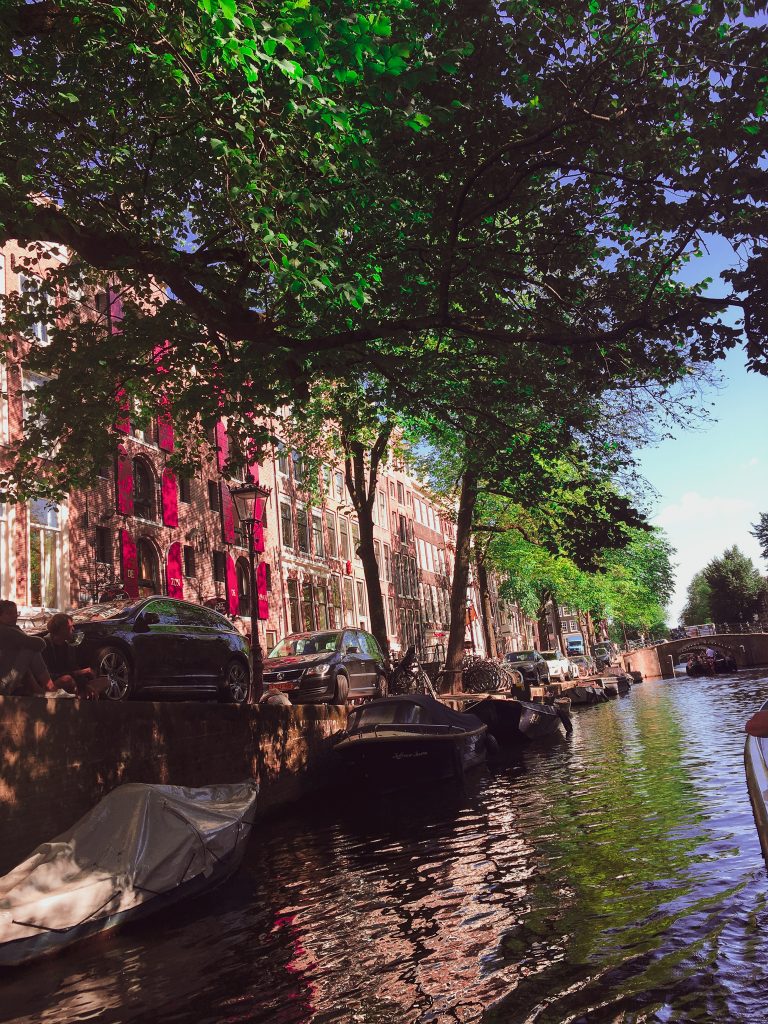 While on the cruise, our captain pointed out a pagoda-style floating Chinese restaurant, the Sea Palace. If you get a chance, go here! I mean how many times do you get to say you've eaten authentic cuisine in an oriental and exotic interior on the first floating restaurant in Europe? The food was also delicious!
3-Day Amsterdam Itinerary: Day 3
Since the day before was rather hectic, we decided to sleep in and get up for lunch at the Avocado Show. Everything from burgers to pancakes are made out of avocado or include an avocado in the meal! It's truly incredible how much can be made out of avocados. I'd highly recommend making your way over to the cafe at least 30 minutes before you want to eat because its popularity means there are huge queues outside.
Vondelpark & Rijksmuseum
Amsterdam is a city known for its museums. Day 3 was spent ambling around two of them. To get to the Rijksmuseum we walked through Vondelpark, the largest park in Amsterdam and the most famous city park in the Netherlands. During the summer you might also be lucky enough to catch one of the many free concerts that take place in this park.
Rijksmuseum is simply a must see! It is one of the largest arts and history museums in the world with an absolutely magical library. It is almost as incredible as the library in Beauty and Beast! Make sure to buy your tickets online before you go for a discount and so you can choose your own time to enter.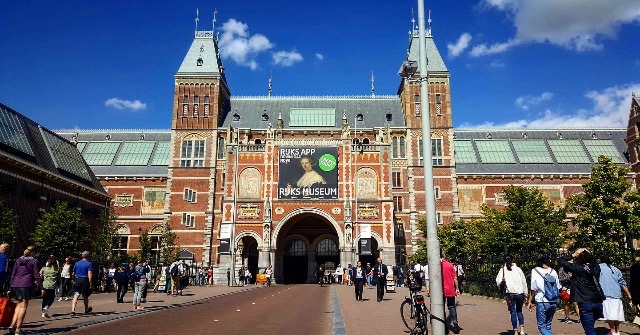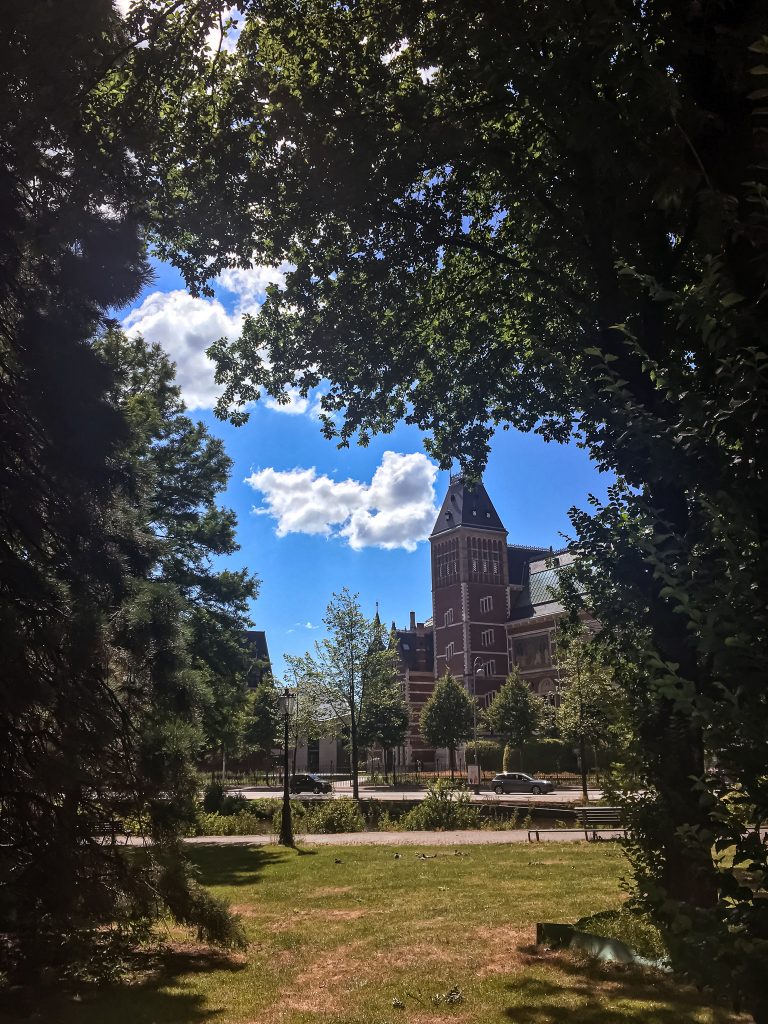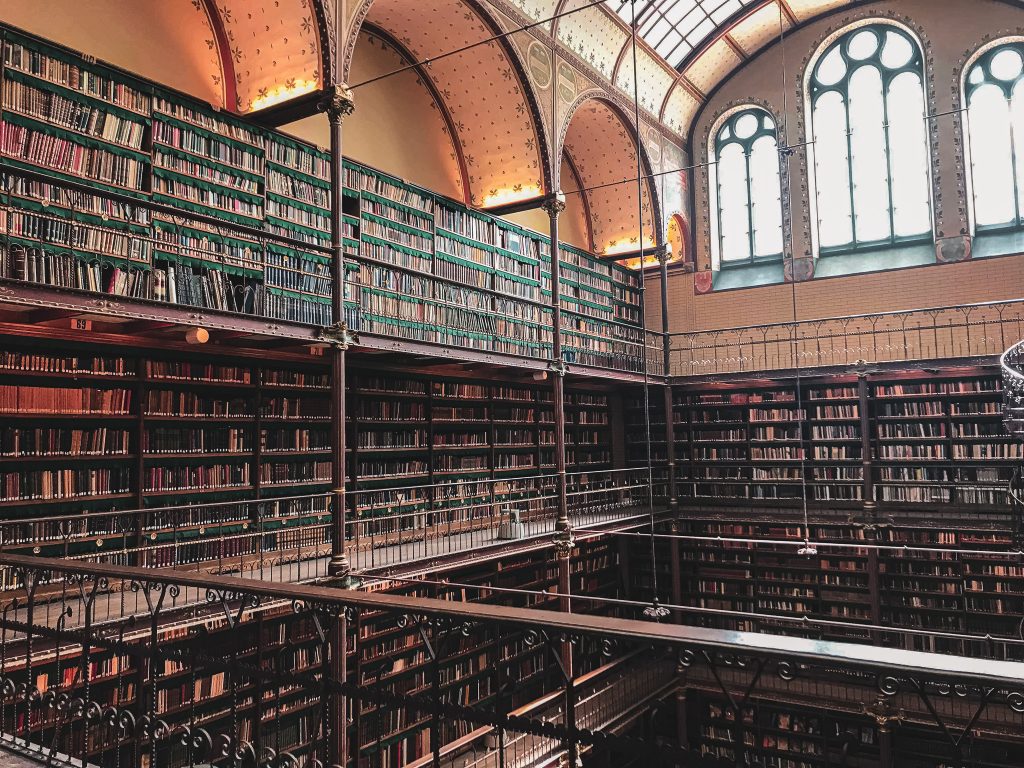 Since I was little, I have loved Van Gogh's artwork. I literally was in heaven in this museum and it was the perfect way to end our 3-day Amsterdam Itinerary. It houses the world's best collection of Gogh's work! As well as fantastic pieces of work on display, there is also an immersive lightshow exhibition. It is the perfect way to step inside his emotional journey during a time of exquisite beauty and tragic loss. At the end, there are a couple of dark rooms with flashing red lights. This is meant to represent the fragility and fragmented workings of his mind. Again, book your tickets in advance online to skip the queues!
– – – – – – – – – – – – – – – – – –
And there you have it our 3-day Amsterdam Itinerary! We had a blast in Amsterdam. It was the perfect destination for a first solo trip and for a cultural and historical experience. If you have any inquiries about my time in Amsterdam, please don't be afraid to get in touch. If you liked this 3-day Amsterdam itinerary, make sure to subscribe to my newsletter for more travel articles.
Alternatively, head to the subscribe box to grab your FREE How to Take Professional Travel Photos Guide!