Whether you are visiting North Wales for a few days or looking for a day trip from South Wales or England, Portmeirion is the perfect location for a day out beyond the tourist trails. Combining traditional Italian architectural styles with the rustic charm of the Welsh countryside, exploring Portmeirion is an electrifying experience. The best way to explore Portmeirion? By foot, of course. Make sure to follow this Portmeirion Day Trip Guide to make the most of what's on offer at this exquisite Italian village.
what is there to see in portmeirion?
Incredible Architecture
Begin your memorable excursion from the Gate House. The Gate House is one of the few unique buildings to exploit existing rock formations. Its deep arch contains a ceiling mural, a rather mythical and quizzical one, created by Hans Feibusch. Proceeding forward, en route to the main village, a second marvellous gateway, the Bridge House, towers over you. This one is a classical building of early eighteenth-century character. It brings to life the decadence and elegance of Italian culture as it sports a large Venetian ogee arched window from Arnos Court with diamond panes. The two entrance gateways open to a magical land of architectural beauty, vibrant colours and phenomenal topography. This land is made even more breath-taking by its intense sense of space.
A Coastal Village
What is before you now is architect, Clough Williams-Ellis', concept of a tightly grouped coastal village. Designed around a Mediterranean piazza and built on a private peninsula overlooking the tranquil coast of Snowdonia, rural Wales now meets the Italian Riviera. With a riot of colour and architectural styles of marked contrast to the design of neighbouring Welsh villages, Portmeirion celebrates two distinct histories. This celebration marks an acceptance of the amalgamation of Welsh and Italian cultures. A lesson perhaps needed now more than ever!
Here you'll first see the Battery Square; a group of buildings including the Toll House and its lookout tower and the Battery. The Battery is an eighteenth-century Kentish character building with three storeys while the Bell Tower dominates the scene. For the romantics among you, this will be your haven. Indeed, the building designs certainly make a lavish gesture towards splendour and gaiety. There's something very familiar here. I was reminded of the villages like Cinque Terre in Italy.
The Round House & The Dome
Heading towards the village green you'll come across a peculiar looking building, one I've imagined belongs to hobbits in Lord of the Rings. If you're a fan of The Prisoner TV Series, then you should make a beeline for this Round House as it was used as Number Six's residence in the show. The building is now known as the Prisoner Shop and sells all the memorabilia you could imagine.
Looking to the left of this building is the Pantheon Dome. An octagonal building surmounted by a dome and an octagonal cupola. Reminiscent of religious buildings in Rome, including the Pantheon and St. Peter's Basilica, this building is often assumed to be a temple and brings Italian religion, Roman Catholicism, to the foreground.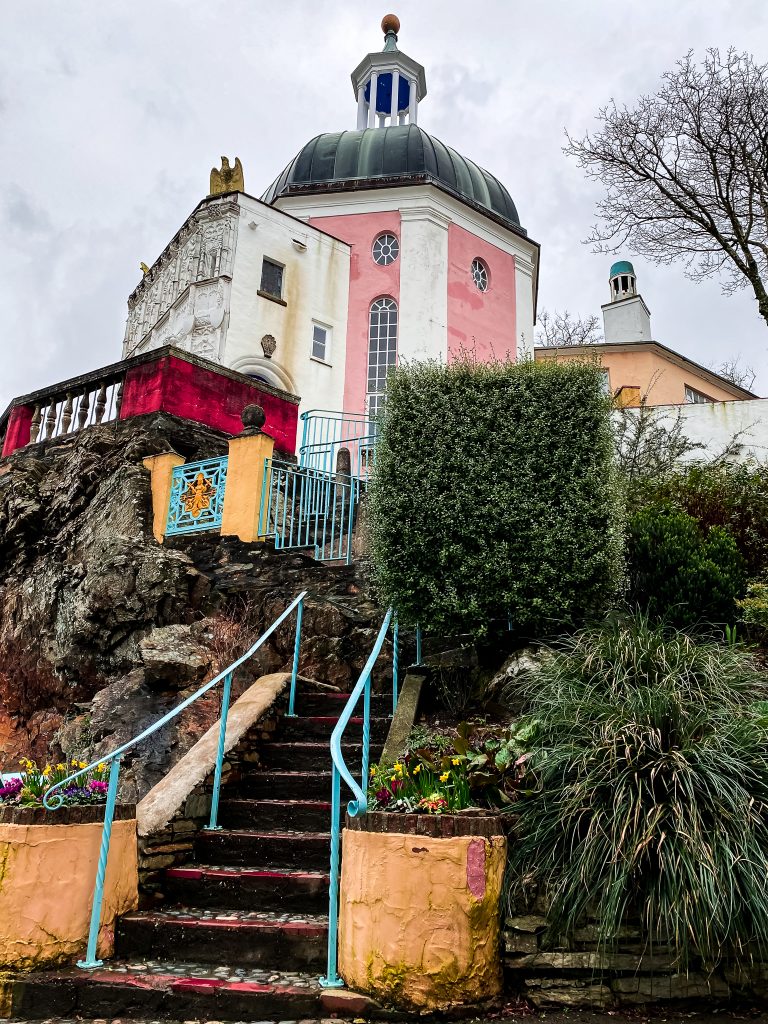 Italian Style & British History
Heading further into the heart of the village you'll see the Piazza and the Bristol Colonnade. Here, Italian design immortalises British history. Portmeirion is built out of unwanted artefacts or damaged buildings from around the globe and the British Colonnade is no exception. It was damaged by bombs in World War Two and had fallen into decay. Its high masonic craft reminds us of the glory days of the British Empire while its structure reminds us of one of Britain's darkest hours. The Piazza too has iconic columns, a fountain pool, Gloriette and a Gothic Pavilion. The columns are magic to the eye as they are adorned with gilded Burmese dancing figures; a style associated the court arts of Mandalay.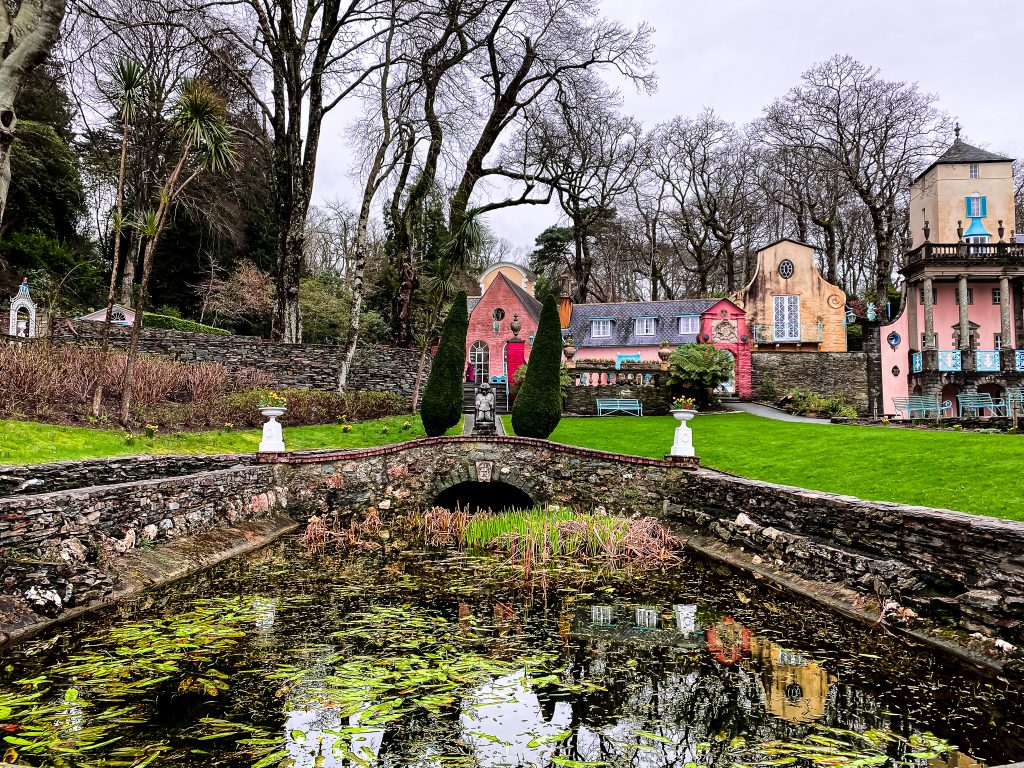 Mythological Statues & Astrological Carvings
Heading towards the estuary you'll come across Hercules Hall and Hercules Steps. At the head of these is a statue of Hercules whom Clough hoped would encourage a celebration of Portmeirion's splendour.
Inside the hall, there is a wonderful room with a marvellously ornate white plaster ceiling. Walk to the centre and let your eyes take in every nook and cranny. You'll notice fascinating carvings of 12 astrological signs. What's fascinating about these portraits is that they are all depicting a time before man, when giants were on the planet. The depictions are of huge people that are even twice the size of trees and had the strength and ability to fight lions.
The Garden
With 70 acres of sub-tropical forest, the gardens at Portmeirion are akin to the idyllic landscape in Disney's Mulan. There are 20 miles of paths that meander through the forest, otherwise known as Y Gwyllt. These paths bring the gardens design to the foreground as narrow vistas rise to a number of eye-catching focal points. From a gazebo, a Chinese pagoda and bridge, to a Classical temple, Y Gwyllt radiates Chinese culture. While the dominant conifers and Maidenhair trees enclose around you, cutting all ties with the outer world. The Chinese bridge and pagoda are reflected in the Lake but once you peer into the water, you'll notice these Chinese elements dance with the surrounding Japanese Acers. Again, you're instantly transported to another Asian country!
The Estuary & Amis Reunis
From here, you'll make your way to the Dwyryd Estuary where hidden caves, gullies and several fascinating plants lie. The coastal path leads towards the end of the peninsula at which point unforgettable mountain and coastal views come into sight. Around here, you'll notice the Amis Reunis, translated as meaning "Friends Reunited". As soon as Portmeirion Village opened in 1926, Clough bought and converted an old Porthmadog trading ketch which he kept alongside the quay. The idea behind this was that the sight of a sea-going ship tied to the wharf would suggest to seafarers that Portmeirion was in business. However, during a sudden gale the ship was carried out towards the island, Ynys Gifftan, where she was stranded. Today, her remains can be seen off the coast during low tide.
portmeirion day trip guide recommendations
---
How to get to Portmeirion?
While you can get a train to Blaenau Ffestiniog with the Conwy Valley line, you'll have to hire a taxi to take you from the train station to Portmeirion. If you're coming from Porthmadog there is a daily bus service which runs from March to October. However, I'd highly recommend travelling to Portmeirion by car. Put the address, LL48 6ER, into your Sat Nav and it will take you directly to Portmeirion's car park.
When is the best time to visit Portmeirion?
Speaking to the ladies who work in the shops, the best time to visit Portmeirion is now, November-February. All the shops, cafes and hotels are open to the public. Is there anything not there at this time? Yes, the swarms of people. With no-one around, you'll have the entire village and all its perks to yourself!
What is there to eat?
With a choice of award-winning restaurants to cafes serving freshly made traditional Italian gelato, you'll find plenty to eat. Angel cafe is the Italian Gelateria at Portmeirion. With a retro-style interior, relax and enjoy flavours including salted caramel to bara brith made with milk and cream from local Welsh farms. Glas Cafe also serves homemade Italian cuisine, from freshly made pizza to pastas. Get lost in Italian dining by watching the chefs prepare your meal in the gallery-style kitchen.
For something a little simpler head to Caffe No. 6 for freshly made sandwiches, snacks and light lunches. From toasted paninis to their signature Hot Roast baps, there's plenty to try. If you're looking for the best coffee in town, head to the Sgwar cafe. As a traditional coffee-house style cafe, Sqwar cafe serves scones, cakes, barista-style coffees and specialist teas.
Where to stay at Portmeirion
For a longer stay, I recommend Portmeirion's Flagship Hotel. This is a luxury 4-star accommodation overlooking glistening sandy beaches of the Dwyryd Estuary. The grand entrance retains much of the elegance of the eighteenth-century with an exquisite oak staircase and an intricate Italian fireplace.
– – – – – – – – – – – – – – – – – – – – – – – – –
There you have it, a Portmeirion Day trip Guide! If you have any questions about my time in Portmeirion, please don't be afraid to get in touch. If you liked this Portmeirion Day Trip Guide, make sure to subscribe to my newsletter for more travel articles. Alternatively, check out my 3-Day North Wales Itinerary for more inspiration!
Make sure to head to the subscribe box at the top of the page to grab your FREE How to Take Professional Travel Photos Guide!